Wisconsin Right Now, with a project-specific grant from No Better Friend Corp., Kevin Nicholson's non-profit organization, is investigating the Milwaukee County Museum's rhetoric, cost estimates and plans for a new museum. This story is first in a series. It explores the museum's racial and equity motives behind inflated cost estimates.
Milwaukee County Public Museum officials tacked on an additional $80-90 million to renovation cost estimates for updating exhibits in the current facility after saying that racial and equity concerns were not being met, according to internal documents and videos obtained by Wisconsin Right Now.
"The concept of remaining in the building fails to achieve racial equity outcomes," an internal museum document obtained by Wisconsin Right Now says. The document says museum staff believes "many exhibits are scientifically and culturally outdated," and it wouldn't be enough to update only two of them. They won't say which ones and why.
Racial and equity concerns have played a major role in why the costs for renovating the current building jumped by $120 million in a seven-year time frame, Wisconsin Right Now has documented.
The museum's officials have repeatedly told the public that it would cost $240 million to build a new museum and $250 million to renovate the current building instead. They have used those cost estimates to justify their arguments for a new museum; essentially, they have told the public that it would cost MORE to stay in the current facility.
[See Wisconsin Right Now's latest Amazon promo code deals for readers here.]
That claim is one of the key underpinnings for the museum's successful efforts to gain millions of dollars in taxpayer funding for a move, which caught many in the public by surprise.
As we will document in a future story, those cost estimates, and estimates for deferred maintenance, have constantly shifted over the years.
The new museum, despite its hefty $240 million price tag, will be about half the size as the current facility, according to internal museum documents presented to county officials in March 2022. Museum officials say they are using a 2015 estimate for the new building's square footage, but add that the square footage number is being assessed in greater detail at the moment.
It's still unclear what will happen to some of the museum's most popular exhibits, including the Streets of Old Milwaukee, European Village, the pow wow exhibit, and intricate diorama artworks. We have asked museum officials "which exhibits the museum considers 'culturally and scientifically outdated' and why."
Katie Sanders, chief planning officer for the museum, told the Milwaukee County Committee of Parks, Energy and Environment, in a March 8, 2022, video obtained by WRN, that a 2015 study by Gallagher and Associates, a leading museums consultant, estimated that it would cost about $131 million to remain in the current museum building. The committee approved the new $240 million museum proposal instead at museum officials' request, and the full County Board did so as well a short time later.
However, Sanders said the Gallagher study only anticipated updating two of the more than 30 exhibits [Wisconsin Right Now requested the full Gallagher report from the museum, and the museum still has not provided it.] She said it also underestimated deferred maintenance and did not account for the full cost of storage equipment and moving collections into that equipment, which she pegged at $40 million together.

Sanders told the committee that several exhibits have "not been updated since the building opened in the 1960s, are culturally and scientifically outdated." [We have asked the museum to name which exhibits are culturally and scientifically outdated, and we have not received a response.]
"By renovating only two exhibits, the concept of remaining in the building fails to achieve Milwaukee County's racial equity outcomes," Sanders said. "To fully upgrade the exhibits in the current building would cost approximately $80 to $90 million dollars."
Thus, "given these additional considerations," she claimed, the cost of renovating the current building today "would well exceed $250 million." She stressed the museum officials' desire for "updated, culturally relevant exhibits."
Sanders told Milwaukee County supervisors, "As noted, several of the exhibits are more than 50 or 60 years old and are culturally and scientifically outdated. A new facility gives the museum the opportunity to redesign the exhibits and ensure relevance for many generations to come."
Sanders told the committee: "The museum's move to a new facility provides a rare and significant opportunity to advance racial equity, diversity, inclusion and accessibility."
She told the committee that the museum consulted with the Office of African-American Affairs to do a baseline assessment of the museum's "racial equity work," and added that recommendations "are being implemented." [We asked the museum for this report; the museum has refused to provide it.]
The museum's timeline promised "Exhibit Conceptual Designs" would be done by May 2022, but it's still unclear to the public which exhibits the new museum will include. Madeline Anderson, the museum's earned media director, told WRN that museum officials "want to reiterate that MPM has not yet announced a future museum exhibit plan. We have stated before, we will share more details this spring, when the plans are further along." The museum's exhibits tab for the new museum is vague.

Exhibit storylines and development was supposed to take place in 2020, according to a chart the museum's executive director displayed in the spring 2022 meeting where the museum officials sought county funding for the new venture.

The problem with this change in the timeline is that state and county officials who approved $85 million in public money for the project did so without knowing which exhibits the museum plans to keep, change or eliminate. It also stopped the public from being able to weigh in on those changes at the time; judging from current anger over whether the Streets of Old Milwaukee will be eliminated, the public might have had a lot to say.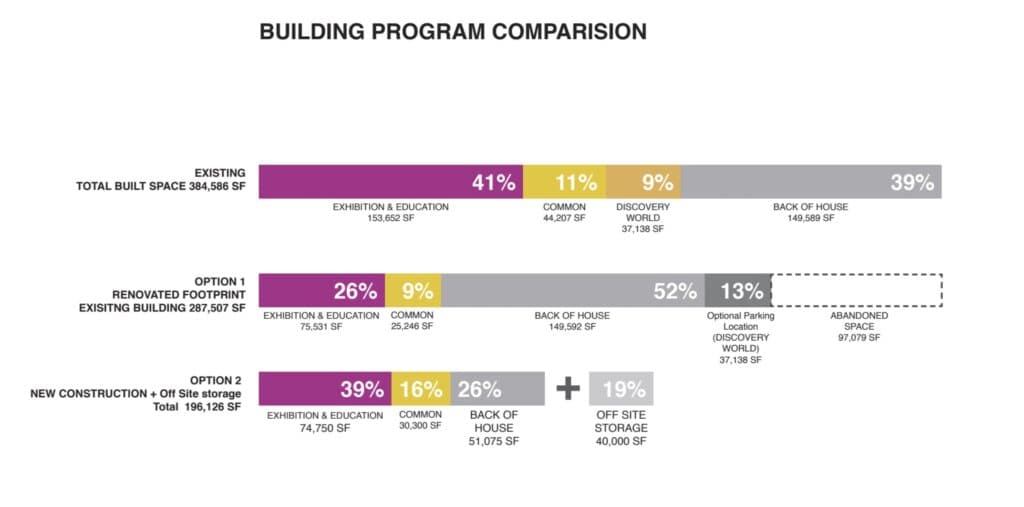 Sanders said: "We are rethinking the role of a museum."
She said that museum officials, when creating future exhibits, want to make sure "cultures are represented as they (community members) want to be, not how they are perceived or studied by others, as is often the case with Natural History museum exhibits. The future museum exhibits will be inclusive and will provide an opportunity for every child who walks through to see themselves represented. We are listening." She also said green space will be maximized, and focus groups were held.
The museum's website calls the new building, which is expected to break ground in December 2023, "the largest cultural project in Wisconsin history." The new name will likely be the "Wisconsin Museum of Nature and Culture," museum staff told county officials.

It's not that all new ethnic-based exhibits would be inherently bad; in a recent tour of the museum, we thought of ideas for new exhibits that could be added to the existing ones – perhaps more history on the great black migration to Milwaukee or on the Latino community or the city's German language press.
The issue is whether so much change is needed and why it can't be done in the existing facility. The issue is also whether history will be rewritten or other cultures' histories erased, including much-loved exhibits that themselves are historical or artistic artifacts. The concern is that the museum has been completely non-transparent about which exhibits need "updating" due to racial and equity concerns and why. This makes it impossible to judge the efforts accurately. Another core concern is that the museum has used such vague language to justify such a large portion of the cost, while promising "transparency" to stakeholders and the public at the same time.
Public officials used the museum's estimates when they approved $40 million in state and $45 million in county funding. They are also seeking federal funding. The museum has refused to say exactly how much private money it has raised to date. However, the museum admitted raising only $12.4 million out of its targeted $150 million in private donations as of October 2021.
The museum reiterated the racial/equity theme (and offered yet another cost estimate) in another memo to Milwaukee County, writing, "To bring the current facility up to museum standards would cost more than $100 million and that would not include updating any of the exhibits. Several of the exhibits, built in the 1960s and 1970s, have not kept current with scientific research and lack cultural competency."
There are problems with the $240 million estimate for the new building also; for example, internal documents state that it includes the cost of construction and moving the Betty Brinn Children's Museum into it.
However, in August 2022, Betty Brinn's board pulled out of the new project, due to rising costs and budget calculations that "changed dramatically." Milwaukee Public Museum's officials have not publicly revised their estimate.
We asked Anderson and Mia Tripi, of public relations firm Mueller Communications, to explain specifically how museum officials were reaching the cost estimate for renovating the current building. We have not received a response to that question, even though the museum has promised transparency.
Museum Executive Director Dr. Ellen J. Censky has refused to give Wisconsin Right Now an interview, although Anderson said we could submit written questions. Most of the written questions we have submitted so far have remained unanswered.
Aaron Hertzberg, Milwaukee County's Director Of Administrative Services, said in the same March 8, 2022, meeting on the new museum proposal that Milwaukee County Executive David Crowley "often asks us, his staff, to help explain how particular projects fit into the vision of racial equity and becoming the healthiest county in Wisconsin…we've had some  tangible conditions…that will help to effectuate that vision."
The museum has "been a great partner in helping to understand and incorporate that vision into their future success," he said.
Hertzberg said the museum can now reconsider how it's "telling stories."
He added that the museum has "an opportunity to reset when they look forward and think about how are they telling those stories, how are they holding up our past and ensuring that we are prepared to understand that past."
The museum's planned move sparked anger and petition drives after officials refused to clarify exactly how they plan on changing beloved exhibits like the Streets of Old Milwaukee and European Village or whether those exhibits will be scrapped completely.
The museum said in a statement that one of the new  "exhibit galleries will be a highly-immersive walkthrough of Milwaukee that explores our marvelous city's history, nature and cultures. It will not be called 'Streets of Old Milwaukee' as all exhibits are getting new names." But that's still too vague for a lot of people, and the vagueness is coming with only months to go before ground is broken and after public votes to provide taxpayer dollars to the project.
Julia Brunson, who started the Streets of Old Milwaukee petition, previously told Wisconsin Right Now: "I'm disappointed in the transparency and presentation of this project to the people…If they are leaving the Streets of Old Milwaukee behind, tell the people. We have a right to know. If you can't tell us that, tell us why you can't tell us that."
As an aside, Censky, a reptile expert, previously waded into controversy when she was director of an Oklahoma museum. She told the Chicago Tribune she wanted to put the word "evolution" back into exhibits because "this is what science tells us. If they're not teaching it in schools, and we're not doing it, where are they going to get it?"
"We are in the midst of establishing the design of the new exhibits, and therefore, do not yet know which elements of the current exhibits will be brought over or re-imagined," the museum says.
Wisconsin Right Now obtained a page from the Gallagher report that specifically breaks down how the consultants reached the original $130 million figure for renovating the current building in the first place. It indicates items that some might consider "wants" instead of "needs." For example, it includes a new facade, and Vivarium (butterfly exhibit), a rooftop glass pavilion and patio, and a student lunchroom "connector."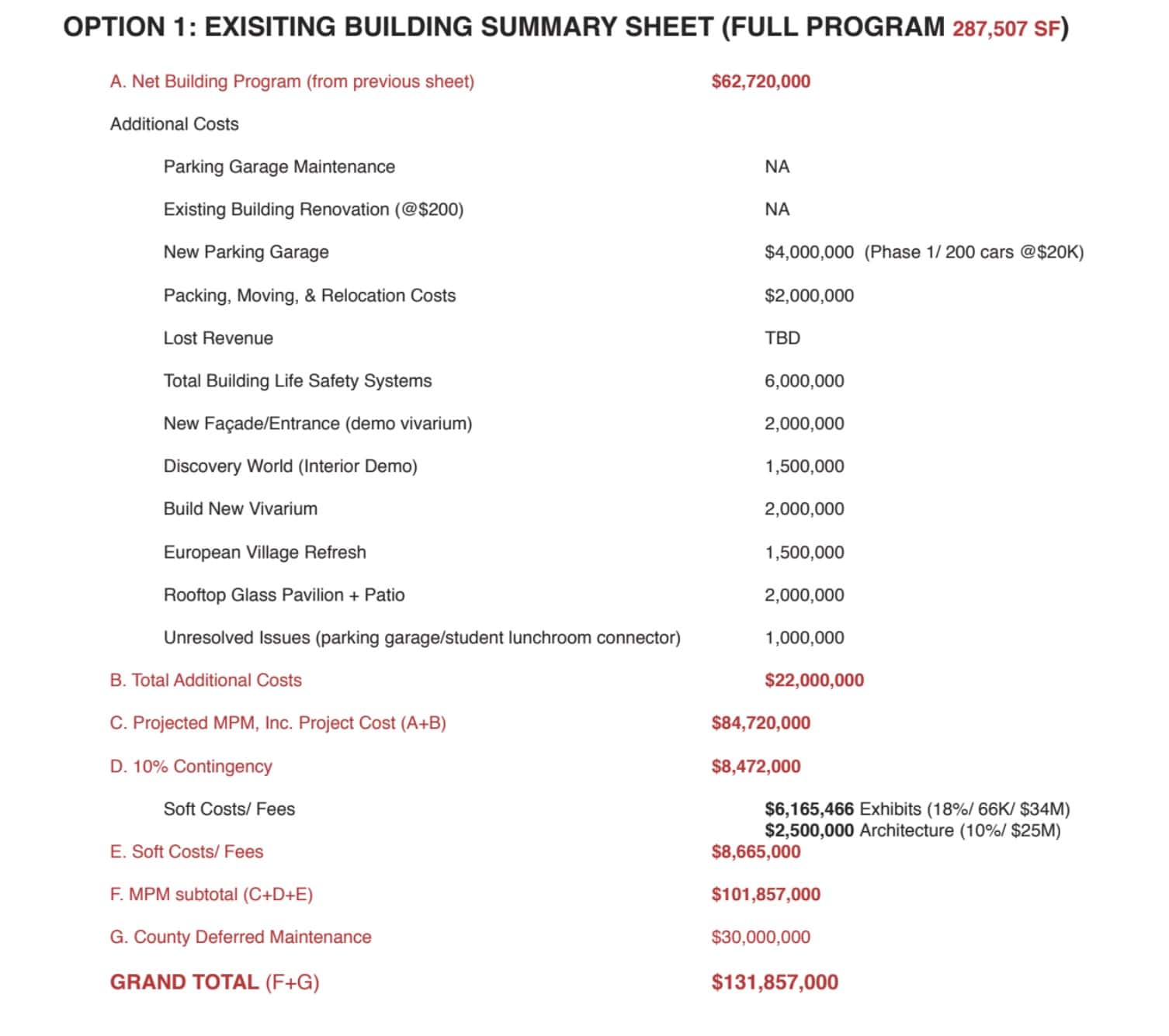 The museum officials have also claimed that they needed to choose the new museum option to not lose accreditation due to deferred maintenance problems and an inadequate facility that they say is endangering collections. Accreditation is based heavily on self-reporting and peer reviews. We will explore some of those claims in future articles.