Nick Alioto, the Serb Hall general manager, has died at the age of 55. A sign posted on the door of the establishment and a post from a fellow employee announced Alioto's death and his death was confirmed by the Milwaukee County Medical Examiner's office.
Nicholas Alioto was recently in the news when he fell at a Donald Trump rally on Nov. 14 while trying to get rallygoers to sit down to follow COVID-19 regulations. To be clear, it's not clear whether Alioto's death had anything to do with the rally or what happened there. However, we're bringing it up because that's what recently propelled him into the news, and it made him briefly prominent a few weeks ago.
According to a Milwaukee County Medical Examiner's report, Nick Alioto was found dead by his mother in the morning of Nov. 30 at his Glendale residence. Alioto's death was caused by hypertensive and atherosclerotic cardiovascular disease, and the ME cited other significant conditions as diabetes mellitus, morbid obesity and sleep apnea. The report states Alioto tested positive for COVID-19 on Nov. 17, but he had not been hospitalized for COVID-19.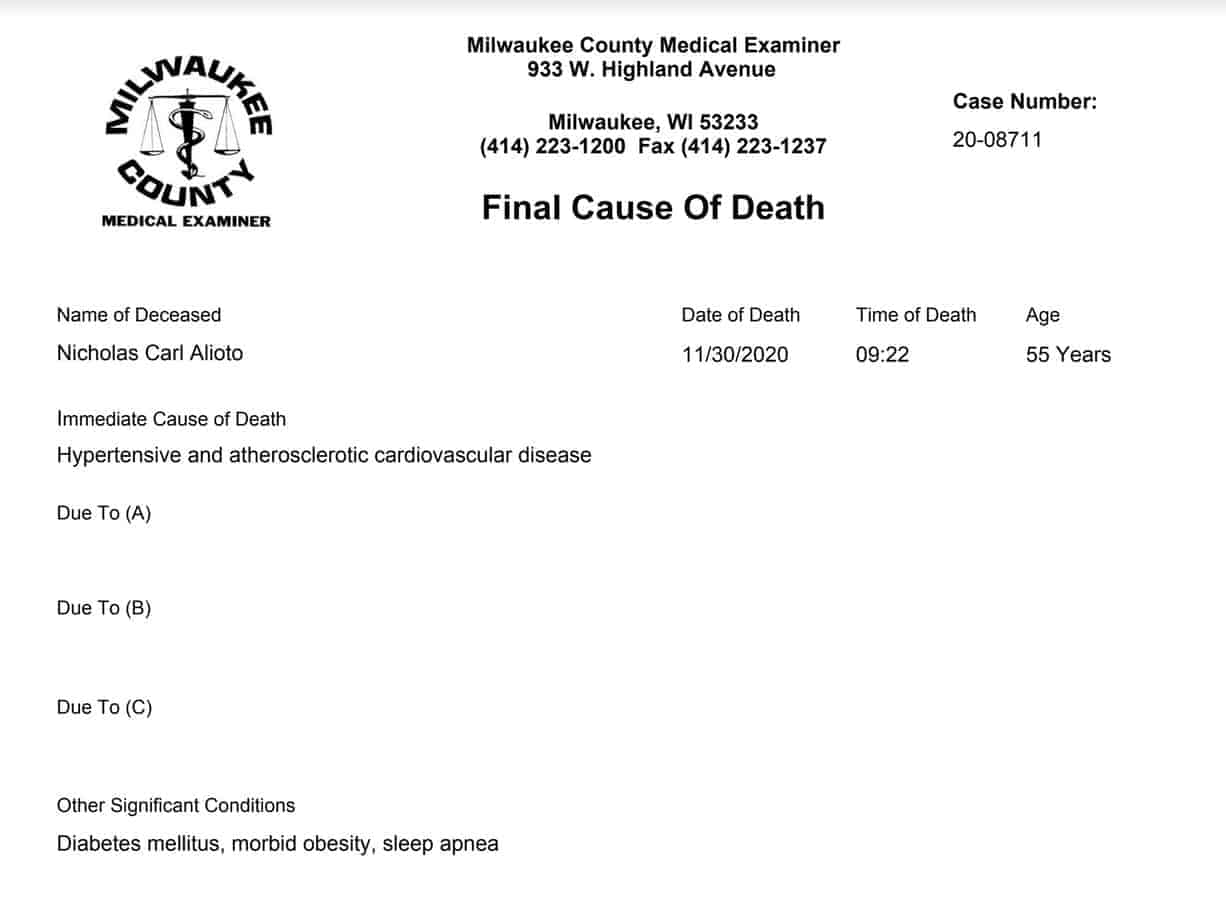 Grace Blunt, an employee at Serb Hall who has been quoted in news stories on behalf of the establishment before, confirmed Alioto's death on Facebook. "I just wanted to reach out to everyone on Facebook and let them know of the passing of our GM Nick Alioto. And send out our deepest sympathy to his family and friends. And we will be open again next Friday for drive thru and walk up," she wrote on December 4.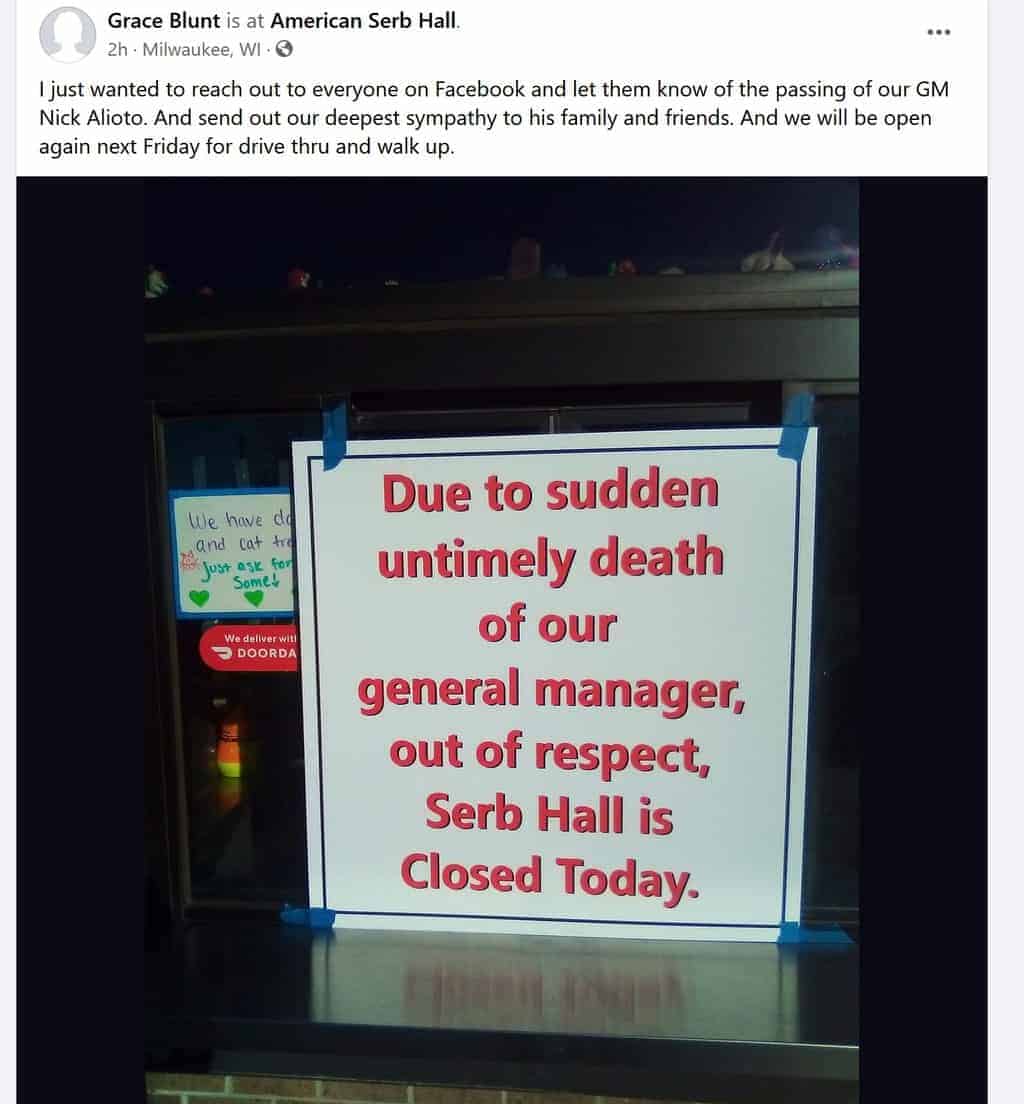 A sign on the door also confirms that Alioto, the GM, died, although it only gives his title. We also obtained this additional photo of the door.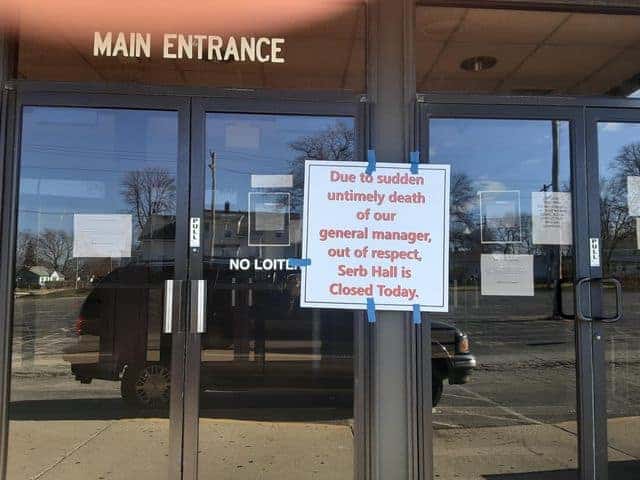 "Due to sudden untimely death of our general manager, out of respect, Serb Hall is closed today," the sign on the door of the well-known establishment said. We reached out to Blunt for further details.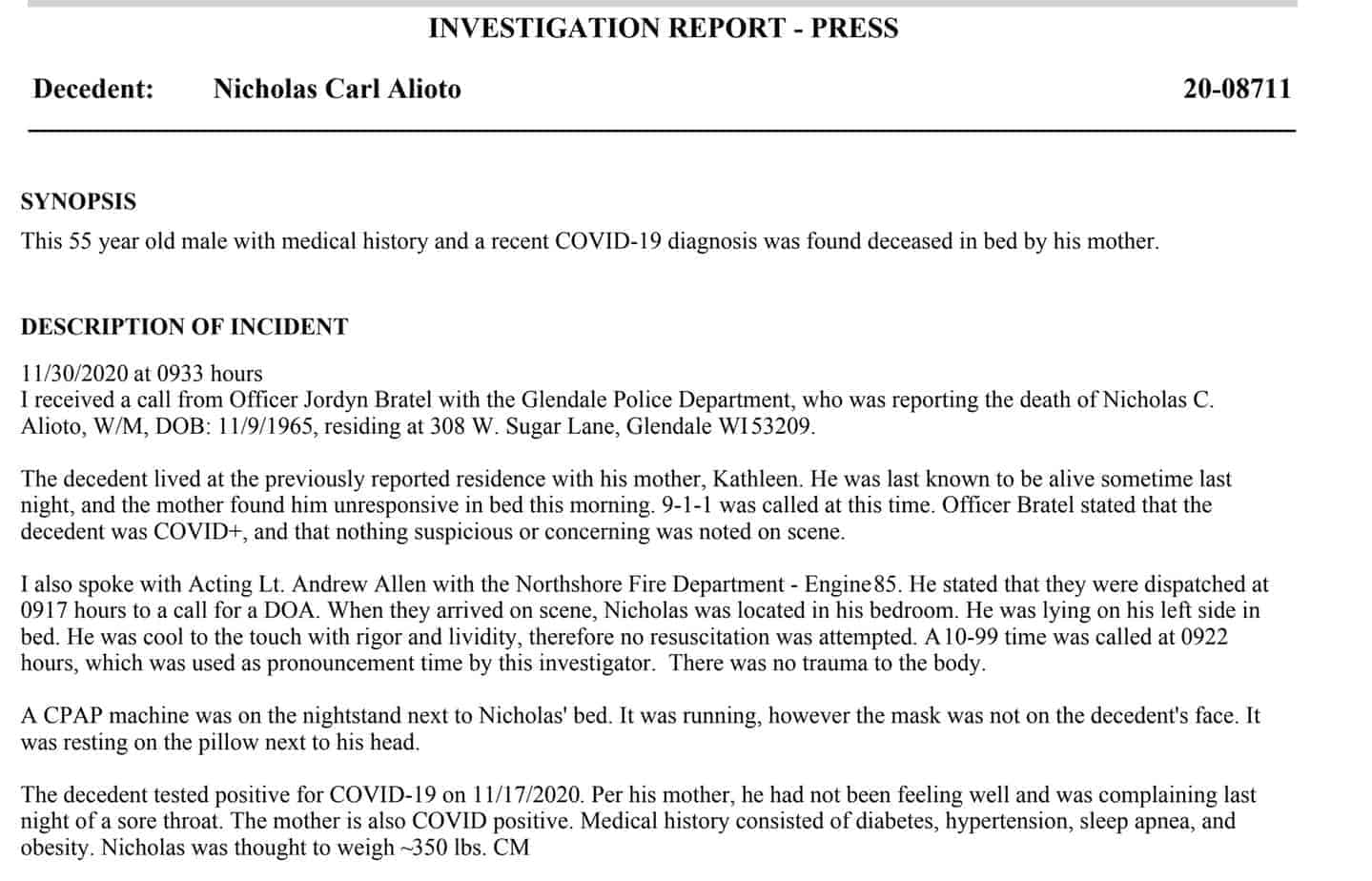 Nick Alioto's most recent Facebook post was a graphic on November 24 that read, "COVID-19 is hitting close to everyone's home. With a heavy heart but with strong faith in the Heavenly Father, today I kneel down in prayer, asking for a full recovery of those with COVID-19 and in pain." Again, though, his cause of death is not yet clear. That post was a general prayer for all of the nation's COVID-19 victims.
---
Why Alioto Was Recently in the News
Alioto was captured on video falling to the ground November 14 at the Serb Hally rally, which featured former Sheriff David Clarke. "City of Milwaukee is here. I'm not going to lose our license. I will stop the rally if you don't sit down. Sit down," he said to the crowd. The city was there because health inspectors believed the rally was in violation of COVID-19 restrictions. Serb Hall was hit with multiple COVID-19 violations as a result of the rally.
"Serb Hall will be receiving multiple violations," confirmed Jeff Fleming, spokesman for the Milwaukee Health Department, in an interview with Wisconsin Right Now. He said four violations would be issued at $500 each. At 12:30 p.m. on Nov. 14, health inspectors stopped by the event. "Four major provisions were in violation," Fleming said, listing them as social distancing, no masks, capacity, and "people were not seated."
Right before he fell, Alioto appears to attempt to take hold of a Trump supporter's neck, a video shows. "You choked him," several people alleged to Alioto in one of the videos when he claims, "You did this."
The Trump supporter, former WHEDA official Perfecto Rivera, reached for Alioto's microphone first.
Video of the incident was shared more than 250,000 times.
The video shows that Rivera tried to take the microphone from Alioto. He then turned his back on Alioto. Alioto then responded by coming at and trying to grab Rivera's neck from behind. At that point, another man holds Alioto from behind in what some observers felt was an attempt to stop the altercation/Alioto from charging further at Rivera. The man seems to be holding Alioto back. You can't see what happens at this point because a man is blocking the view, but Alioto says his microphone was taken. You can see Rivera is still present, although you can't quite see what he does. Alioto then appears to try to move away from the man restraining him and reaches for a table and loses his balance and falls. A group of people then help Alioto get back up, although one man does yell at him.
Rivera, 73, spoke exclusively to Wisconsin Right Now at the time. He said that "Sheriff Clarke was so eloquent in his commentary that we can't allow ourselves to be taken advantage of again. He asked us all to stand up. This guy for me was trying to steal our voice. This is freedom of speech. Our mistake was we held it on his private property."
Here's the more limited Fox 6 version that was widely circulated.
WATCH: The moment a #defendyourvote rally in Milwaukee abruptly ends after a representative for the venue ends up on the ground: @fox6now pic.twitter.com/KRHE2OBFvk

— Cassidy Williams (@CassidyWtv) November 14, 2020
Here's what Alioto told WISN-TV: "One gentlemen rushed me and pushed me and twisted the microphone out of my hand and as he was moving away, pushed me again, and so I attempted to get the microphone back and grabbed, him and at that point, a number of people in the crowd pushed me to the ground and started kicking me." The Milwaukee Journal Sentinel reported that Alioto said "several people kicked him in the ribs and chest," which the newspaper noted you can't see in the video. People who attended the rally told us they didn't see anyone kick Alioto, and that's not visible on any video.