Collegiate swimmer and women's rights activist Riley Gaines told a supportive crowd in Milwaukee that "feminists have abandoned us," and female athletes are being subjected to "unfair competition" because biological men are competing against them in sports.
"So-called feminists have abandoned us," she told a supportive crowd in Milwaukee, Wisconsin, at the Pfister Hotel. "Where are the feminists? Where are the men? Why has this battle fallen entirely on the shoulders of young women?"
Gaines noted that she was prepared to go to dental school when the controversy broke out over transgender swimmer Lia Thomas. In the 1940s, she said, "We had men lying about their age to enlist in war. Now men are lying about their sex to get into women's sports."
She said she hoped "these hard times garner strong men," and urged parents to "teach your sons masculinity and defend your daughters."
Gaines' talk was sponsored by the Leadership Institute, where Gaines now leads the Riley Gaines Center. A ragtag group of 20 protesters marched outside the Pfister Hotel, chanting "F*** YOU Riley."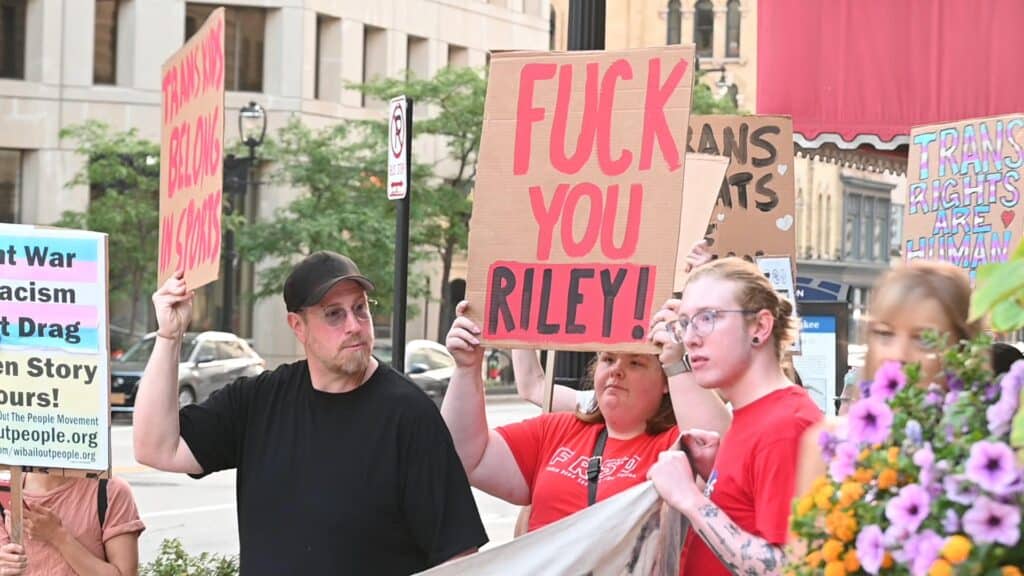 ---
Gaines appeared alongside college athlete Paula Scanlan, a University of Pennsylvania swim team member who was forced to share a locker room with transgender swimmer Lia Thomas. Gaines competed for the University of Kentucky NCAA swim team against Thomas, which sparked her activism.
Earlier speakers included Florida Sen. Rick Scott, Billboard Chris, and state Sen. Dan Knodl, with parents' rights activist Scarlett Johnson moderating a panel.
Gaines explained that she finished 7th in the country her senior year and hoped to win a national title.
"They announced we would be competing against male, Lia Thomas," she said, noting that Thomas was "at best 462nd" when competing against men.
In one event, she competed against Thomas, and they tied, even though she stands 5 foot 5 inches tall and says Thomas is 6 foot 4 inches tall.
"The official said, 'Great job but you guys tied. We only have one trophy so we're giving it to Lia," Gaines recalled. When she asked why, she was told "We don't account for ties."
She questioned why they were giving "a trophy to a male in women's freestyle. He said he was advised when pictures are being taken, Lia has to be given the trophy."
Gaines noted: "So all season I knew what was happening was wrong."
She said it was an "unfair competition," and the "locker room aspect was wrong; the silencing we were dealing with was wrong."
Gaines explained that she had "devoted 18 years to my sport, practicing six hours a day in the cold water at 5 a.m., swimming 10 miles every day." She added, "Every girl at that meet; you don't just get there by chance. It is impossible to put into words the amount of effort and sacrifices and time" required.
She said, "They reduced all of that to a photo op to validate the feelings of a man at the expense of our own."
Gaines said she thought someone would stand up for the female swimmers. When that did not happen, she realized "This has to come from us."
Scanlan explained that "the university I went to chose one male individual to be the priority over the rest of the team. It was not about us, it wasn't a team sport anymore, it was an individual sport: How can we help this one individual in their journey of their self-acceptance."
She noted, "The university wanted to control the narrative; they told us not to speak to the media," and said, "I know that I'm on the right side of this."
Gaines said, "These institutions follow the money."
"They're such cowards, they're spineless," she said of corporations like Target and Bud Light. "It's the same thing with these coaches and these athletic directors; they know this is wrong. They tell me but they're scared to lose their jobs; they're scared of a lawsuit," she added.
The parents "are silenced. They don't want to lose their jobs," she said.
She noted that a bill in the U.S. House of Representatives to protect women and girls in sports "fell entirely on party lines."
Gaines noted that young women were made to undress "in front of this 6 foot 4 fully intact male 18 times per week."
According to Scanlan, the university sent out letters indicating the team "was supportive of this situation. I wanted someone to know that was not true."
Gaines described how one team member went to the coach and said being forced to undress in front of a man was a "violation of her religious freedom," but the coach said, "It's non-negotiable." The next day, "the coach assigned lockers and put her locker right next to his (Thomas)," Gaines said.
"This battle is spiritual," Gaines said.
She noted that Rachel Levine, Joe Biden's transgender surgeon general, recently referred to women as "egg producers."
"They're reducing us down to our biological functions. That's crazy," said Gaines.
She said that the Dylan Mulvaney and drag show controversies "make a total mockery of women."
"They're doing it in the name of progressive but it's regressive. This is taking us back at least 51 years in time in sports when Title 9 was enacted," said Gaines.