U.S. Senator Ron Johnson said Saturday that it's "scandalous" that the national and Wisconsin news media are not widely covering the Janet Protasiewicz elder abuse and racial slur allegations.
"Can you just imagine if a Republican candidate was abusing their elderly spouse, might have a little bit of a drinking problem causing that, used the 'n word' liberally in their official duties. Can you imagine how the press would be treating that?" the U.S. senator said on Saturday night, March 24, 2023, during a speech to the Racine County Republican Party in Wisconsin.
"They would have broken into the original moon landing to bring you that news, right?" Johnson said. "It is scandalous what the mainstream media is not reporting on this race. I am here to tell you, It is not a fair fight. It's not a level playing field. I say that all the time and it's consistent. So it's going to be up to we the people."
Protasiewicz, a liberal Milwaukee County judge, is running against former conservative Justice Dan Kelly in the April 2023 election. The race is for control of the Wisconsin court.
Johnson, who was greeted by enthusiastic applause, praised the award-winning news site Wisconsin Right Now for its coverage of Protasiewicz, who has been accused by two people – her former stepson Michael Madden and a former restaurant/bar owner named Jon Ehr – of using the "N-word" while she was a prosecutor in Children's Court.
In addition, six people have accused Protasiewicz of physically abusing her then husband, retired Milwaukee County Judge Patrick Madden. Two of those people – Michael Madden and Ehr – say they personally saw then 34-year-old Protasiewicz physically abuse the now-deceased judge, then 70. Four other witnesses have told Wisconsin Right Now that they heard about the alleged abuse at the time from either Judge Madden or Patrick Madden.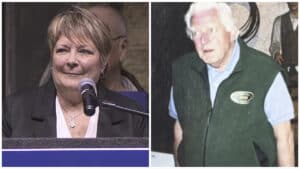 Protasiewicz denied the allegations in a story in the Milwaukee Journal Sentinel that reported she was considering a lawsuit over the allegations. Her campaign later walked that back and said she is not planning to sue, but the Journal Sentinel has not bothered to update its story. The newspaper has also censored the fact that the second source, Ehr, says he heard Protasiewicz use racial slurs and failed to tell readers the full extent of Wisconsin Right Now's corroboration.
Most of the other Wisconsin media, including all of the state's television stations, are refusing to cover the allegations, although they have gotten wide play both on inner city talk radio (such as Tory Lowe's show on The Truth) and on conservative radio stations, and even though some news outlets covered old allegations against Protasiewicz's former liberal challenger, Everett Mitchell, who is black.
Previously, Protasiewicz's challenger in the race, former Justice Dan Kelly, has called the allegations "credible," said they should be investigated, and called Protasiewicz's threat to possibly sue "wildly troubling."
The media have also censored Kelly's response, refusing to report it. In fact, Kelly has made comments about the allegations twice, once in a press release and once on a podcast, but the media have refused to cover his comments, even though the Journal Sentinel quoted Protasiewicz on the allegations.
As with Johnson, Kelly criticized the media's bias for censoring the story.
We previously confronted New York Times' reporter Reid Epstein, who is covering the Wisconsin Supreme Court race, and challenged him to report on the Protasiewicz allegations to be consistent with the newspaper's previous handling of #metoo allegations and its coverage of decades-old allegations against Donald Trump and Brett Kavanaugh. Yet, to date, The New York Times has also censored the Protasiewicz accusations. Epstein declined to comment.