U.S. Senator Ron Johnson said Saturday that his re-election is "literally about truth vs. lies and distortion."
"We need to tell the truth of who Mandela Barnes is and who Tony Evers is. They can't tell the truth," Johnson said. "They can't afford Wisconsinites who know what they really are and what they really believe."
Johnson spoke at the Conservative Political Education Conference in Wausau on Sept. 17, 2022. It was sponsored by Get Involved Wisconsin, Inc. He received a standing ovation.
"Freedom – that's what's on the ballot," Johnson said. "It's always been on the ballot. What this is, is a fight for freedom. It's not someone else's fight. It's our fight, and we absolutely must win."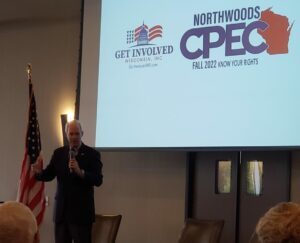 Johnson said he's "had the media trying to take me out for two years. It's not a level playing field. It's not a fair fight."
Johnson said Democrats, Mandela Barnes himself, and the media don't want voters to know the truth about Democrat Barnes' record. Democrats "can't defend their disastrous record that is destroying the country," Johnson said.
"All we have to do is tell the truth," Johnson said, and Republican candidates will win. He urged people to go to his website, wisfacts.org, to learn the facts.
As Johnson's campaign has increasingly exposed Barnes' actual record, Barnes polling numbers have dropped. Johnson was leading in the latest poll.
What won't the media report about Barnes? What doesn't Barnes want people to know?
For example, as Wisconsin Right Now has reported, the Evers/Barnes' administration's Parole Commission has released some of the state's most violent killers and rapists, but the liberal media won't cover it.
Barnes called reducing the prison population "sexy" on video. He advocated reducing the state prison population by half, supported eliminating cash bail, rushed to judgment against the Kenosha cop who shot Jacob Blake in self defense, and had an anti-public safety record as a legislator, even voting against making it a felony to assault a prosecutor or cop's family member.
In 2021, Barnes expressed disappointment that Wisconsin didn't "reduce Wisconsin's prison population by 11,000 inmates."
Barnes, while serving as a state legislator in 2016, sponsored a bill that would have ended cash bail and barred courts from using the severity of a defendant's crimes to argue against their release.
"68 percent of Wisconsin inmates are violent criminals, but that didn't stop Barnes from preceding over a roughly 15 percent drop in the state's prison population and a 16 percent increase in early releases during his term as lieutenant governor," the Republican National Committee wrote.
"I need to pay to get the truth out. Unfortunately, the media won't help us," Johnson said.
Johnson believes most voters support conservative ideas when they learn the truth about them.
Johnson said he wants to "secure our border, go back to energy independence, have a simple, rational tax code… focus on the things you have to do to grow our economy."
Johnson took wide-ranging questions from the audience gathered in Wausau.