"My bad! It's easy to confuse those small-town police departments with ours here in Wississippi." – Milwaukee County Supervisor Ryan Clancy
Milwaukee County Supervisor Ryan Clancy was at it again, displaying his contempt for police, this time by attempting to troll the Jackson, Wisconsin, Police Department's Facebook page. But instead, Ryan looked like a clown as he confused Jackson, Wisconsin, with Jackson, Mississippi.
In a Facebook post in which Jackson, Wisconsin, Police were showing off their "Senior Class Pictures," Clancy started his embarrassing trolling by saying:
"Your department just took millions of dollars of ARPA money for "hazard pay" raises away from actual human needs, and you're spending it on this? Not a good look."
When Jackson Police suggested Clancy double-check his information, Clancy responded,
"Which part, Jackson Police Department? Did your city leadership actually invest in things which make the community better instead of 'hazard pay' for photoshoots?" Clancy sniped, sharing a story by the MISSISSIPPI Clarion Ledger newspaper.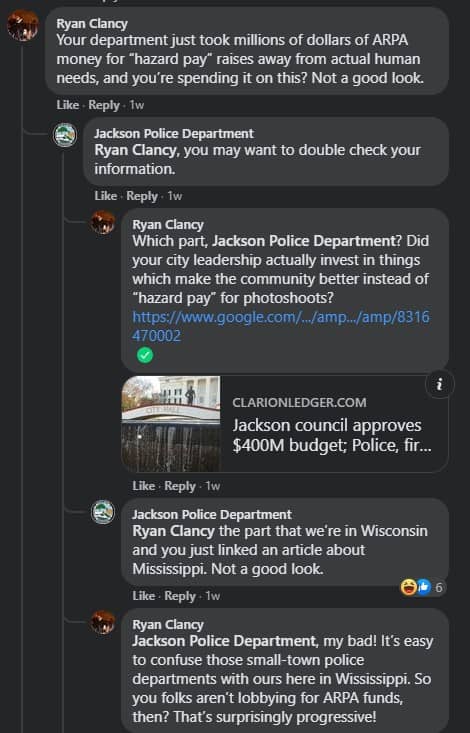 That story is headlined, "Jackson council approves $400M budget; Police, fire to get raises using COVID money."
But…but…
Clancy, of course, got hopelessly confused. The story was actually about the police force in Jackson, Mississippi, which, as another poster pointed out has a population of over 144,000 people as compared to Jackson, Wisconsin, which has a population of 7,000. They're 856 miles apart.
Clancy responded, "My bad! It's easy to confuse those small-town police departments with ours here in Wississippi. So you folks aren't lobbying for ARPA funds, then? That's surprisingly progressive."
One woman had the final retort: "Ryan Clancy just stay in your WOKE lane…"