Sabrina Carpino, of Madison, Wisconsin, is the woman accused of disrupting the Wisconsin Law Enforcement Memorial ceremony, hurling anti-police comments at the families of fallen police officers.
We obtained her name from the Capitol Police. After the actions by BLM protesters at the solemn memorial service came to our attention, we reached out to Capitol police and asked them who was cited and/or arrested. [Read our previous story on the disruption here.]
"Regarding the WI Law Enforcement Memorial Ceremony: On Friday, May 7, 2021, one subject was arrested and booked into the Dane County Jail on a criminal charge of disorderly conduct. The subject was later identified as Sabrina Carpino, age 35 of Madison," Capitol police wrote Wisconsin Right Now.
"The following criminal charges will be referred to the Dane County District Attorney's Office this week:
Disorderly conduct – 947.01
Disrupting a funeral or memorial service – 947.011
Pursuant to the directive of the Wisconsin Supreme Court, as found in Supreme Court Rule 20:3.6, Trial Publicity, you are advised that a charge is merely an accusation and that the defendant is presumed innocent until proven guilty."
An unidentified man who was also seen on video disrupting the ceremony – and who told the daughter of a fallen officer that her father deserved to die and was a murderer – has not been arrested or cited. When we asked Capitol Police why, they told us the investigation is still ongoing. WRN will stay on top of that.
---
Sabrina Carpino Arrested
On Facebook, Sabrina Carpino describes herself as "products of our environment" and called herself "#peacequeen #leader #revolutionary."
Actually, it's not her first brush with the law. She was convicted of criminal damage to property in August 2020, according to online court records. Her recent Facebook posts contain such comments as, "Who brings they mama to fight this lil bitch 😂 and bites to fight?"
Sabrina Carpino recently shared a graphic that read, "I'm a nice person but I'm about to start throwing rocks at people." She has posted posters for a march in support of Sylville Smith, the man who was shot and killed after fleeing Milwaukee police with a gun. A jury acquitted the officer of any criminal wrongdoing. She wrote that she is from Orange, California, but went to Madison West High School. Her top post was a video of marijuana that someone tagged her in.
Black Lives Matter protesters disrupted the Wisconsin Law Enforcement Memorial Ceremony, flying a "f-ck 12" flag and shouting negative comments about police during a chaplain's prayer in a despicable show of disrespect.
When the chaplain began reading a prayer, two protesters talked over her with a megaphone saying, "Let's pray for the black lives that were lost as well. We're shot daily" and "The police are not for you. They are here to harm you. These are not sacrifices."
The annual ceremony – which was attended by Gov. Tony Evers – is held to honor law enforcement officers who gave their lives in the line of duty. Some family members of fallen heroes were present at this year's ceremony. There are 285 names of heroes on the memorial.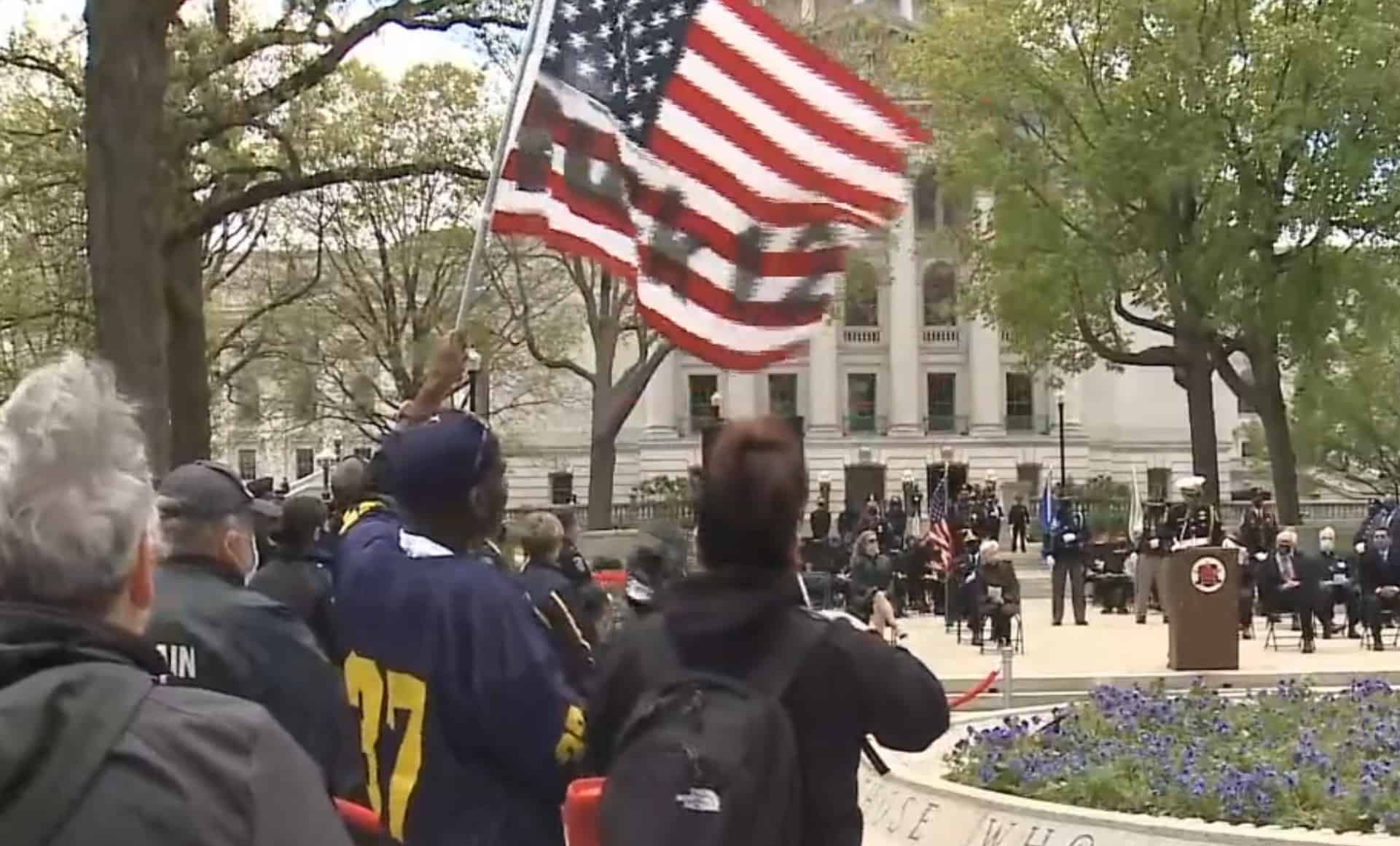 Yet family members and others present had to endure taunts shouted by a BLM protester through a megaphone and rap music that played "f-ck the police, f-ck the police" throughout part of the ceremony. The news media didn't tell readers and viewers about the BLM protesters. Instead, Channel 12's story on the memorial ceremony was headlined, "Former MPD chief speaks at Wisconsin Law Enforcement Ceremony; won't answer questions."
Milwaukee Police Chief Alfonso Morales, who retired but is seeking his job back, apologized to the families of fallen officers who were in attendance for the protesters' actions. "I want to thank all the family members of our fallen heroes who are present today, and I apologize for the distractions. God bless you," he said.
He told the officers in attendance that the law enforcement profession has "recently been demonized for the political advancement of those with special interests" and added, "Don't be surprised if you don't see the normal leadership out here. It's not the vogue thing to do. To support you in this climate takes courage."