My name is Sarah Count and I am running for Waterford Graded School District school board. As a mother with children in the district for the past 8-1/2 years, I believe I can help address concerns regarding the fundamentals of educating our children, ensuring student success, supporting teachers and staff, and promoting financial accountability. We need to give all students the skills now that will assist them in understanding how to be the most productive members of society.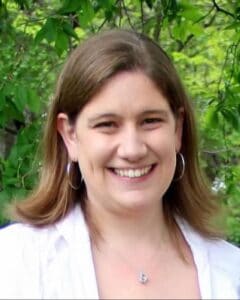 One of the greatest assets of our district is the staff. Last year, the turnover in 2021-2022 was significantly higher than in prior years. The teacher shortage will intensify in the coming years, and we need to start now on how to meet this challenge. The administration needs to analyze the data to summarize why staff is leaving, i.e. relocation, retirement, personal, etc. Efforts can then need to be focused on areas that are in the district's control. As a district, we need to confirm we are providing staff with the support, pertinent training and opportunities for collaboration not only within a single grade level within a school but across the district as a whole. We need to get innovative and get back on track to becoming a district that teachers compete to work at and once hired, do not want to leave. With my managerial experience, I will collaborate with the administration to help in retaining and attracting quality staff.
Annually a detailed report on the district DPI report card is presented to our school board. In the presentation there are three goals that stood out to me:
a. District Strategic goal: By the end of the 8th-grade year, 100% of our students will be on track for college and career readiness.
b. Learning and Academic Goals: Close the achievement gap and increase overall student growth by exceeding the state growth rate of 3.0 within 5 years.
c. Building Goals: Aligned to district goals.
The department of curriculum and student growth had already put some action plans in place to help the district reach these goals. I will encourage the board to support the department while at the same time holding the department accountable to make progress against the goals mentioned above. These are aggressive goals but the education of our children in core subjects (Math, Science, ELA) needs to continue to be a top priority in our schools. We need to find a way back to the high standards WGSD is known for.
Communication between the school board and community is a challenge that our district struggles with at times. It is crucial communication in either direction is open, clear, concise, and relevant. I will work with our board to find ways to ensure the community has the opportunity to be engaged early in the decision-making process. It is important to take a step back and talk to the stakeholders, not just those who agree with you when making a decision. I welcome an open dialogue on opposing views which can stimulate creative solutions to the complex issues our school district faces.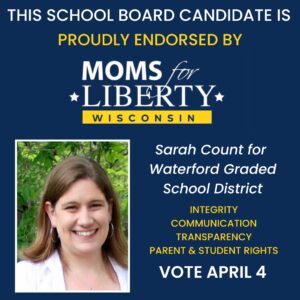 Our district will face a variety of challenges over the next few years and my balanced approach to this position will be oriented toward meeting these challenges to build on WGSD's past successes. With over 17 years of private-sector business experience, I will bring a customer-focused and outcome-driven perspective to the WGSD school board. I am confident that I can be a positive voice on the WGSD school board as we openly navigate community discussions and decisions.
Count is endorsed by Moms For Liberty.
For additional information please visit.