In a last-minute move, the speaking event was switched to another venue. We found video of UW-Madison Chancellor Rebecca Blank speaking without a mask and standing in close proximity to other people.
U.S. Sen. Ted Cruz called out UW-Madison for trying to silence conservative speech on campus and having a politicized double standard after the provost refused to grant Cruz and conservative author/radio host Michael Knowles an exemption from the mask mandate that exists for artistic performances.
As a result, the event was hastily moved off campus, but the university then wouldn't give organizers the RSVP list so they could let attendees know about the venue change, Cruz said.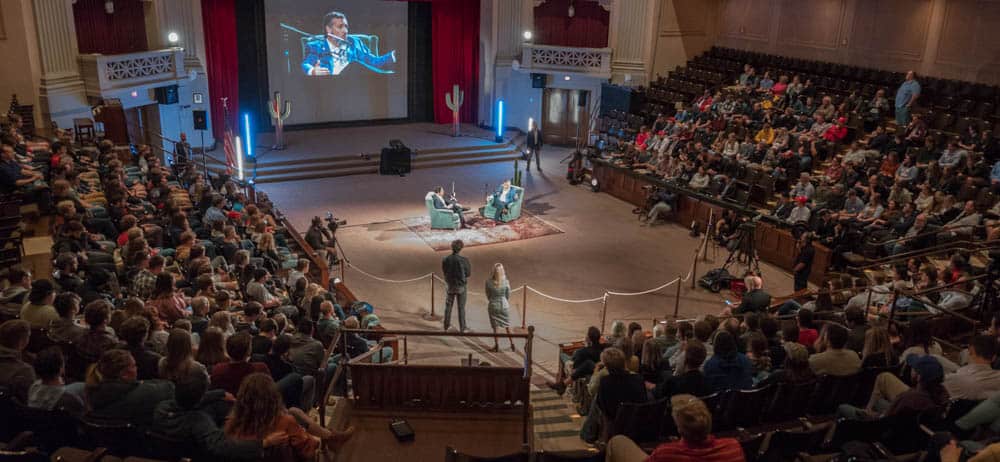 "Multiple speakers on campus haven't worn a mask," claimed Cruz, pointing out, "This weekend, they had 75,000 football fans … cheering, imbibing" without masks. He questioned why they "didn't pose a health threat, but the two of us are lethal."
Fun to spend the afternoon honoring Barry with some of our legendary #Badgers #OnWisconsin #BarryAlvarezField pic.twitter.com/FRqVU4sodp

— Becky Blank (@BeckyBlank) October 2, 2021
"We're not recording a frigging podcast" in a mask, said Cruz, who is vaccinated, and who said that liberal attempts to silence conservative speech are a sign of "weakness. If the facts are behind you, you would not be intimidated by those who disagree." For his part, he said he wants liberals like Alexandria Ocasio-Cortez to be heard as much as possible because "of the inanities that come out of their mouths."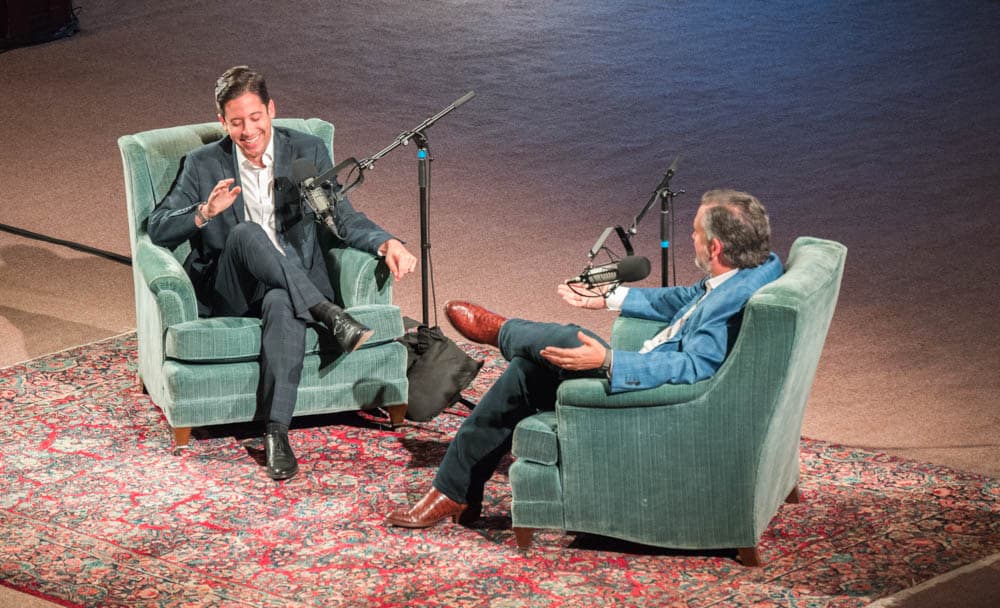 We asked UW-Madison for a list of exemptions to the mask mandate that university officials have approved, and their spokesman, John Lucas said, "I don't have a list of the exemptions granted."
Wisconsin Right Now discovered that Madison's chancellor Rebecca Blank gave a commencement address maskless last May 8. We asked Lucas about that, and he claims that was because the Blank address was outside and the policy only applied indoors; however, the March 2021 policy on the UW-Madison website, which was good through May 9, 2021, doesn't draw a distinction between indoor and outdoor events, saying merely, "Effective March 8, the new campus events policy will allow up to 50 people to gather indoors and up to 150 people outdoors. Facial coverings and maintaining physical distancing are required." We asked Lucas to explain that discrepancy, and he retorted, "The masking policy in effect at that time is here—it could not be clearer."
No better way to spend part of the afternoon than meeting with our students, @SecCardona , @GovEvers and @UWMadEducation Dean Diana Hess at the Terrace. #OnWisconsin pic.twitter.com/ymApusGrJX

— Becky Blank (@BeckyBlank) September 20, 2021
He provided a document called Chancellor-Order-RE-Face-Coverings-Revised-12-1-2020. However, in that policy, Blank says that masks must be worn "outside when not able to physically distance or when traveling in a group of two or more individuals." More than two individuals attended the commencement, and the university's commencement video shows Blank in close proximity to other people well within the six feet generally considered physically distancing.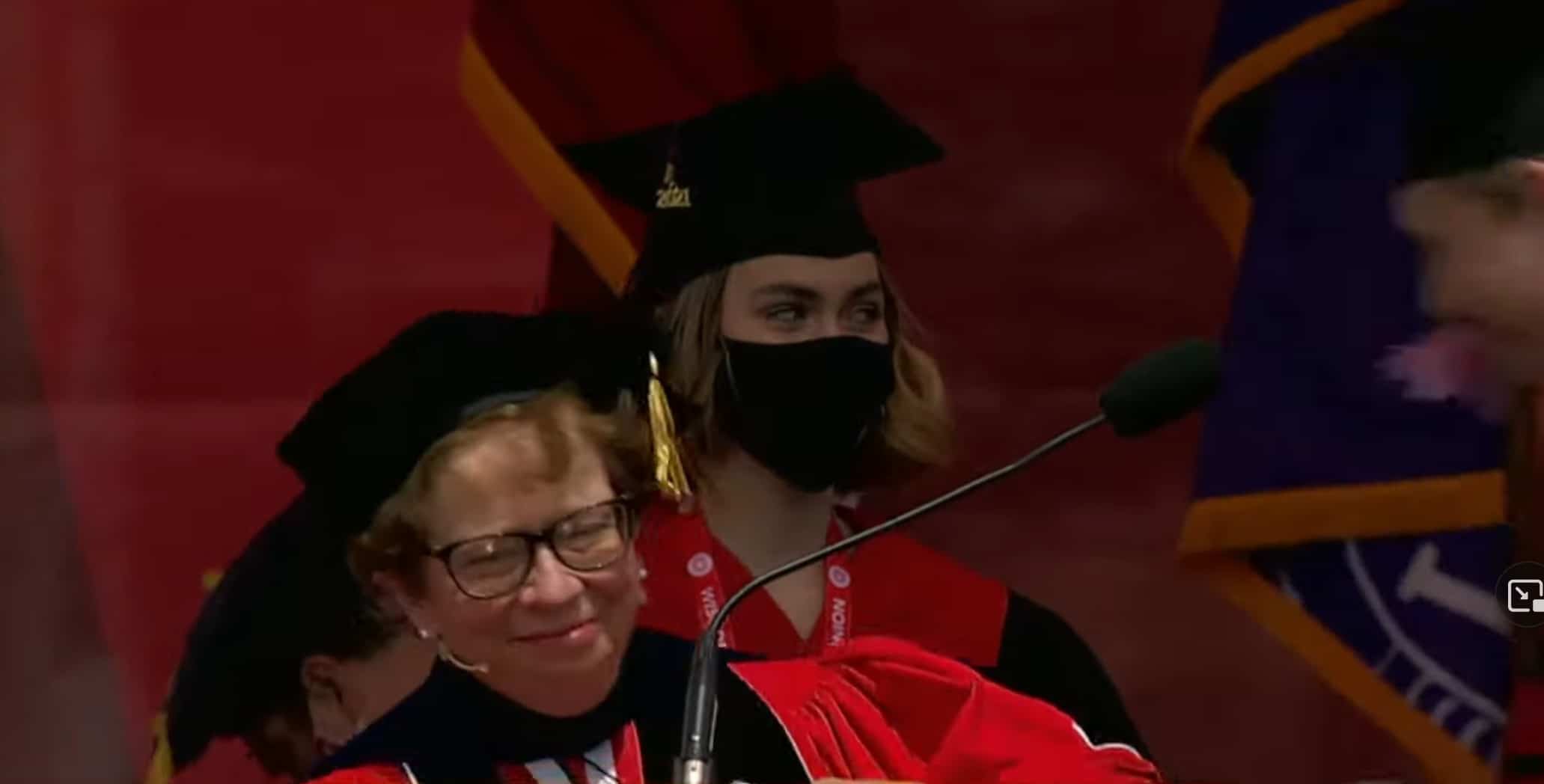 Other speakers, a singer, and some students also weren't wearing masks, some standing near other people.
The Republican senator and Knowles were scheduled to record a live podcast on campus in an event sponsored by the Young America's Foundation, a national conservative organization led by former Wisconsin Gov. Scott Walker, who was not in attendance. Instead, YAF moved it at the last minute to the Wisconsin Masonic Center in downtown Madison – off campus – because Cruz and Knowles declined to wear masks. Audience goers were told to wear masks, but many did not.
Cruz and Knowles were seated in two chairs about 12 feet from the audience during the podcast.
We asked Lucas why UW-Madison wouldn't give YAF the RSVP list. "UW made an effort to communicate the venue change to the list of people who had requested tickets," he responded.
Knowles said "petty leftist" officials at UW-Madison "tried to shut us up. They don't want any conservative ideas on campus." They want to "muzzle conservatives… they literally wanted to muzzle us," Knowles said, adding that the no-mask exemption "has been granted to other speakers."
The senator and Knowles held an animated and intellectual discussion on everything from the debt ceiling to cancel culture to Joe Biden's handling of the border. They also took questions from the audience, including from some critics. At one point, a woman jumped up and shouted, "f*** you ignorant as*holes," and ran out of the room, which Knowles said was a metaphor for liberal response to conservative debate. "For a moment I felt like I was in the House of Representatives," Cruz joked. The crowd responded by chanting, "let's go Brandon," the euphemism for "f*** Joe Biden" that has gone viral throughout the country.
John Karl Scholz, the UW-Madison Provost, who Cruz said is a "Democrat" who has donated to liberal political campaigns, wrote in an October 11, 2021, letter to YAF: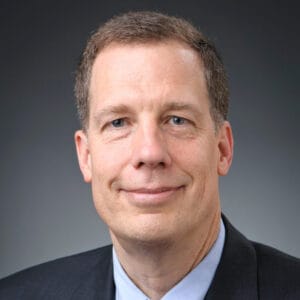 "I respectfully am turning down this requested waiver for speakers whose voices can be amplified for the audience via microphones. We recognize that this creates some inconvenience, but it is consistent with the approach we've taken for our instructors and other public events, such as convocation, this semester. The only exemptions we are granting at the present time involve artistic performers whose performance itself would be impossible or significantly compromised with a mask," Scholz wrote. Read his letter here.
Cruz said the provost's explanation for denying the exemption was "we will not grant you an exemption because I say so."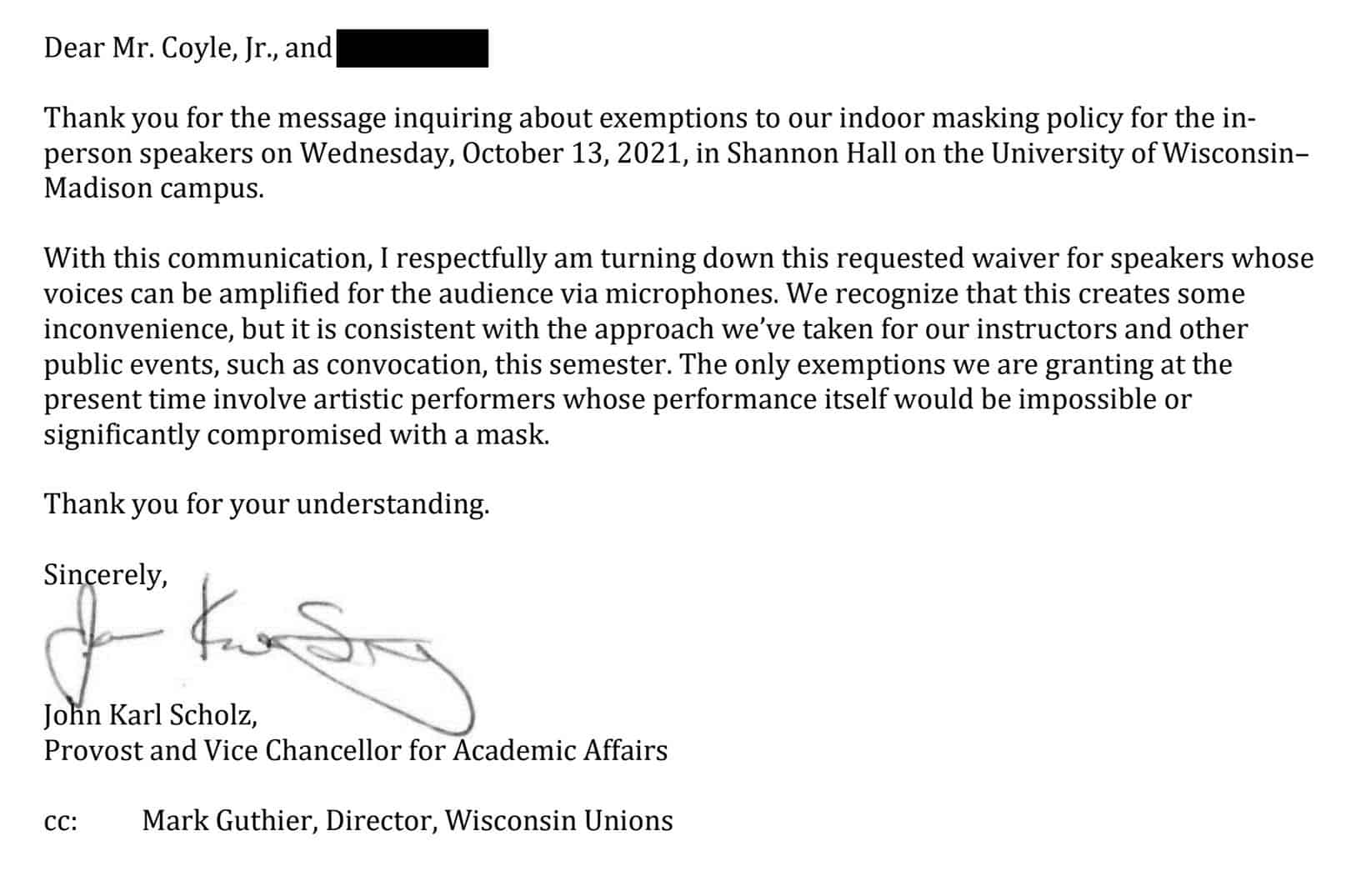 Kara Zupkus, spokeswoman for the Young America's Foundation, said the university system has a double standard.
"The university system's mask mandate has been regularly broken by university officials and other campus speakers promoted and sponsored by the university…which is why we see it as a double standard," she told Wisconsin Right Now.
"UW-Madison specifically has an exception provision in their mask mandate for 'education-related arts performances,' which a U.S. senator's live video podcast clearly should fall under––despite the provost denying our request. Additionally, the talent were to be on an elevated stage more than 20 feet away from the audience. UW-Madison should have followed the science on that one," she said.
She pointed to a September talk held by the Tommy Thompson Center on campus as a double standard example because the speaker was maskless. Lucas responded, "The speaker in the Sept. 17 Tommy Thompson Center event was also required to wear a mask but apparently failed to do so. There was no exemption granted for that event."
She also pointed to October 2021 photos of a Board of Regents university staff award ceremony in which speakers were maskless. There is also a photo with that article showing the UW-Platteville chancellor and a Regent without masks.
She also pointed to a photo of UW-La Crosse chancellor Joe Gow going maskless.
Blank herself tweeted a September photo of a campus speaker whose nose and mouth were not covered by a mask.
Huge day for #Wisconsin, #Madison and @UWMadison. But mostly for state's future students! @uwcdis building announced along with $125M gift from John and Tashia Morgridge. @WARF_News investing an additional $50 million. Fantastic vision and leadership from @BeckyBlank and team. pic.twitter.com/B4Iq1dgk9i

— Zach Brandon (@preZBiz) September 17, 2021
Blake R. Weiner, YAF chairman at UW-Madison, told the crowd that the change in venue happened "in the last 24 hours" and led to some "confusion over where the event was happening." He said that the student chapter of YAF exists because "we want to stand against…progressive madness."
We asked UW-Madison a series of questions about all of this.
"Young Americans for Freedom invited Sen. Ted Cruz and Michael Knowles to speak on campus and student life staff, UWPD and others worked to support a successful Shannon Hall event, meeting with organizers, assisting planning and providing security," Lucas said.
The organizers of the event had previously agreed, in writing, to ensure that YAF and 'persons involved with the event' followed campus public health policy, which requires masks to be worn indoors. This was communicated multiple times, both verbally and in writing. This is the same standard UW-Madison applies to all other indoor events, including university classes."
To back up the above claim, Lucas attached an email from YAF. But that email, which you can read below, says only that YAF was agreeing that "any team members from Young America's Foundation" would follow health protocols.
The document contains a response from Kendra Ramthun, general manager of the Wisconsin Union Theater, in which she says the university would need confirmation from YAF that "they and person(s) involved with the event will follow campus health protocols." But there is no further communication presented. We asked Lucas to document where exactly YAF promised that "all persons" would follow health protocols, as he claimed, and he did not respond to that question. See the communications here.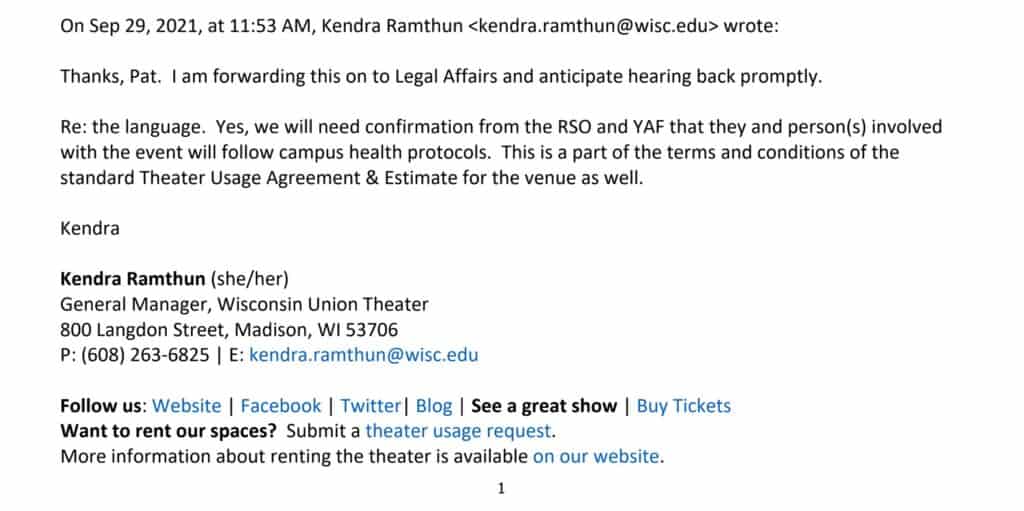 "Indoor masking is required except in rare cases involving artistic performances where the performance itself would be impossible or significantly compromised with a mask," Lucas continued. "The YAF group requested an exemption and the request was declined. Other groups have also had exemption requests declined, including the Cap Times Ideas Fest and auditions for the play Don Juan."
On COVID, and on masks, Cruz presented a nuanced point of view. He told the crowd he was "pro vaccine," praising the COVID vaccine as a "major technological accomplishment" and saying he took it because he wanted to "get back out there. I was tired of the dam* lockdowns." But he said he also believes "in individual liberty" and believes if people don't want to get the vaccine then "that's your right too."
Cruz said masks made some sense at the very beginning of the pandemic when little was known, but now, with the vaccine, he doesn't get the rationale. He said that Democrats wear masks to "virtue signal," and that, in Congress, some Democrats don't wear them when the cameras aren't looking.
He tackled other issues at the event too, saying the country would be more diverse today if so many babies had not been aborted over the last few decades. He criticized President Joe Biden for keeping children in "cages" at the border. He said he supports legal immigration, but not illegal immigration, saying the border is in "chaos" under Biden and that there are high rates of COVID among the children who cross the border, who also are victims of sexual abuse and sex trafficking.