Editor's note: The images contained in this article are EXTREMELY graphic, but we feel must be shown to tell the story in full. 
Part 1 of a series.
Trump handily won Sheboygan County in 2016 and 2020. In 2022, residents elected not only two Republican Assembly members, incumbent Terry Katsma, and political newcomer Amy Binsfeld, but also Devin LeMahieu, the Wisconsin State Senate Majority Leader. Considering these facts, how woke could a school district comprised of solid Republican voters be?
As it turns out, the red that covers any district map in Wisconsin is often deceiving and can tragically mask woke shenanigans in conservative and rural school districts. Don't believe me? Well, after I tell you about the woke war on Sheboygan, you will. This saga is such that I must divide it into several installments over the coming weeks. But first, I will focus on the recent discovery of pornographic materials in the digital and physical Sheboygan South High Library.
Grandma turned super sleuth
When a Sheboygan grandmother contacted me for help removing inappropriate books from the school library, admittedly, I wasn't expecting to find much of an issue. After all, this is Sheboygan, not Madison. Still, it didn't take long for me to figure out that something strange and terrible was happening in her district.
In early January, grandmother Judi Pool and a group of parents-turned-super sleuths wanted to know if lurid sexual content was in the high school Library, so Judi made an appointment with the Sheboygan South High School Principal and went to work. What she and the other parents found was shocking.
It wasn't just the graphic images, which, as you can see, are jaw-dropping, but the normalizing and ideation of adult/child and child/child sexual encounters. "For those that have seen the images, they are very disturbing, even for adults to see," according to a recent Sheboygan parent and resident Jon Paul who spoke in support of removing the harmful content from the school library at Sheboygan's January 24th school board meeting.
Another concerning aspect about this situation is the library itself; immediately upon entry, Judi couldn't help but notice the long row of various "Pride Flags" hanging from the ceiling. "I couldn't believe it, I saw a row of about ten brightly colored flags celebrating sexual and gender diversity, but I could not find even one American flag." Said the 71-year-old grandmother, "It broke my heart. Where is the celebration of all the men and women who gave their lives so we could be free?"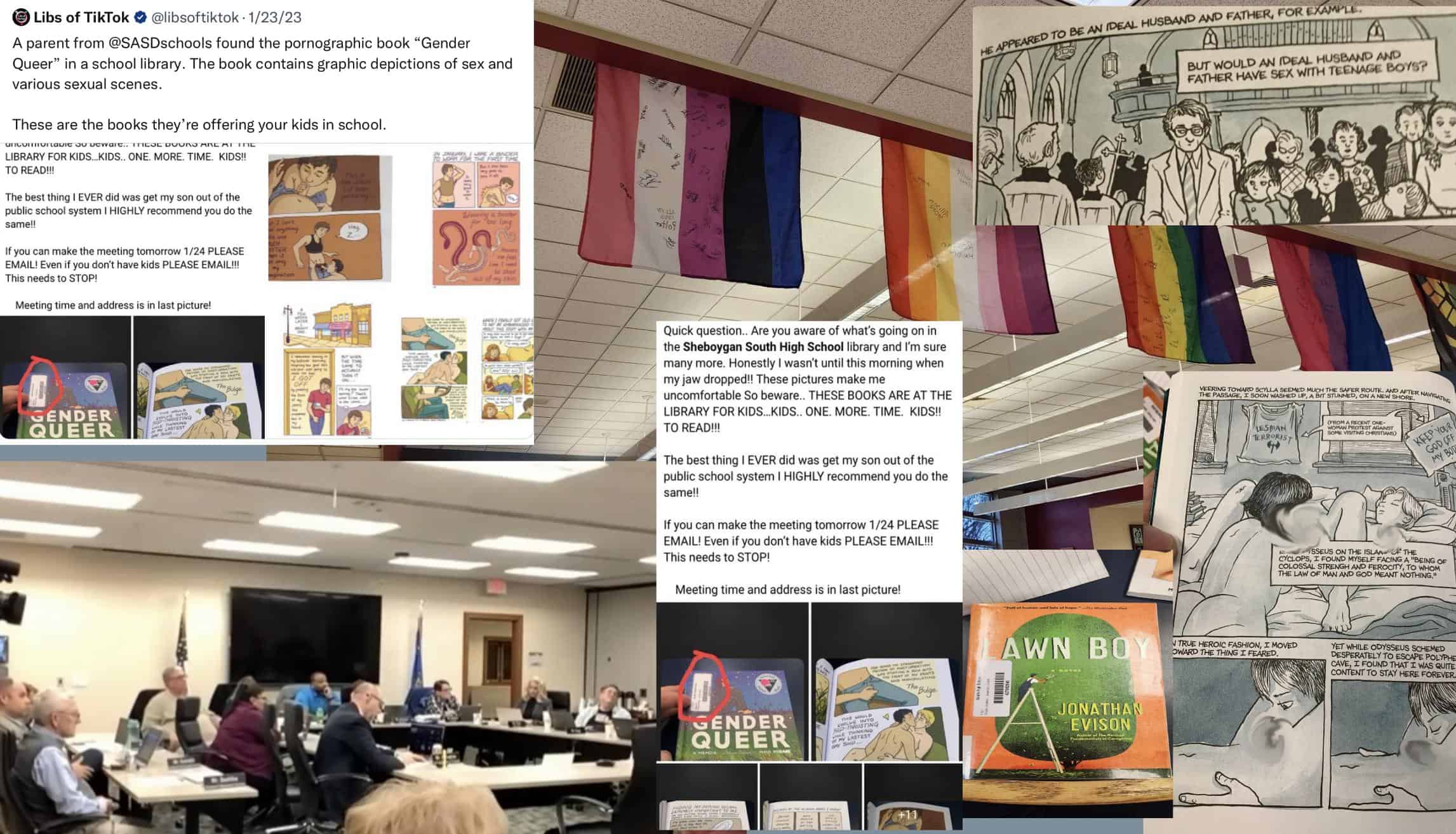 ---
The Parents Fight Back
Usually, revelations like these would be fodder for Facebook, the content would be shadow banned, barely able to reach the residents of a community. But with the advice and support of parental rights groups and other grassroots activists, members of the "Sheboygan County For Freedoms" were able to put out an impressive call to action, including a formal press release to local newspapers, tv stations, and conservative media. What happened next only solidifies a new reality; ordinary parents, grandparents, and community members are learning how to investigate, organize, influence, and spur their communities to action.
Soon images of the pornographic material in the South High Library were posted and re-posted by local and national influencers on Twitter and Facebook, including Libs of TikTok. As the news went viral, Conservative talk show hosts Vicki McKenna and Dan O'Donnell reported on the disturbing images of teens engaging in various sex acts and the alarming content that included pedophilia, incest, and rape. Even local news outlets covered the story, albeit with a dose of nauseating bias.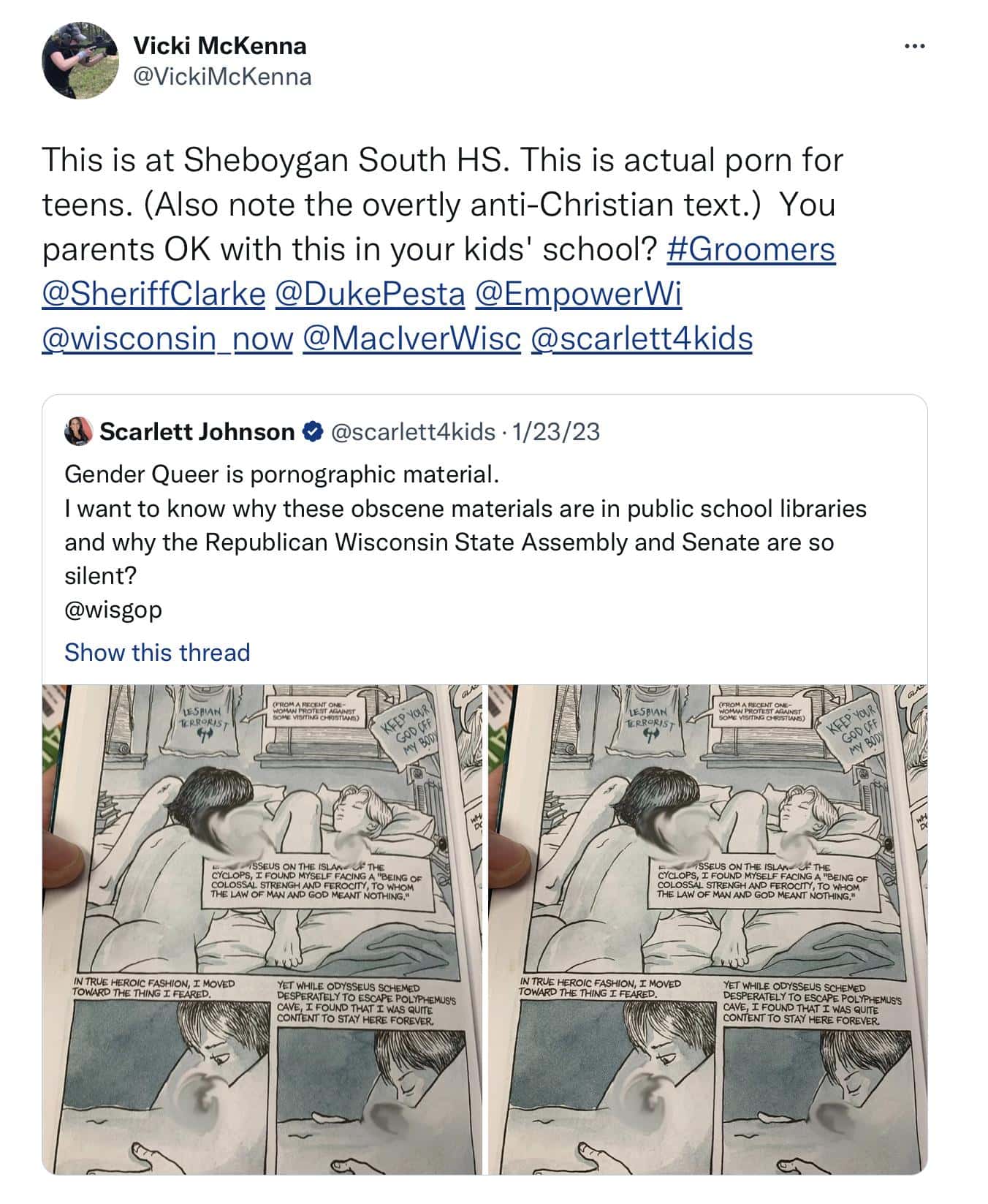 The public was urged to call, email and show up to the Sheboygan Area School District board meeting in order to make their voices heard. Concerned citizens put up the bat signal, and it worked.
Last Tuesday's school board meeting was packed; the woke were defenseless. Groups like The Sheboygan County LGBTQ Alliance seemed to justify the obscene and graphic materials arguing the content represented diversity and inclusion.
But try as they might to re-frame the issue, the disturbing images and gratuitous dialogue spoke for themselves, and only a crazy person finds educational value in pornography, particularly in public schools. Awareness sparked outrage and forced accountability. Three of the five questionable books with the most graphic images were removed.
"As you know, concerns have been raised regarding controversial books in the South High School library. Following the process outlined within the Board policy, Reconsideration of Materials Included in Library Collection, the principal of South High School decided to remove three books from the library's collection: Fun Home, Gender Queer, and Are You My Mother." –Sheboygan Area School District School Board President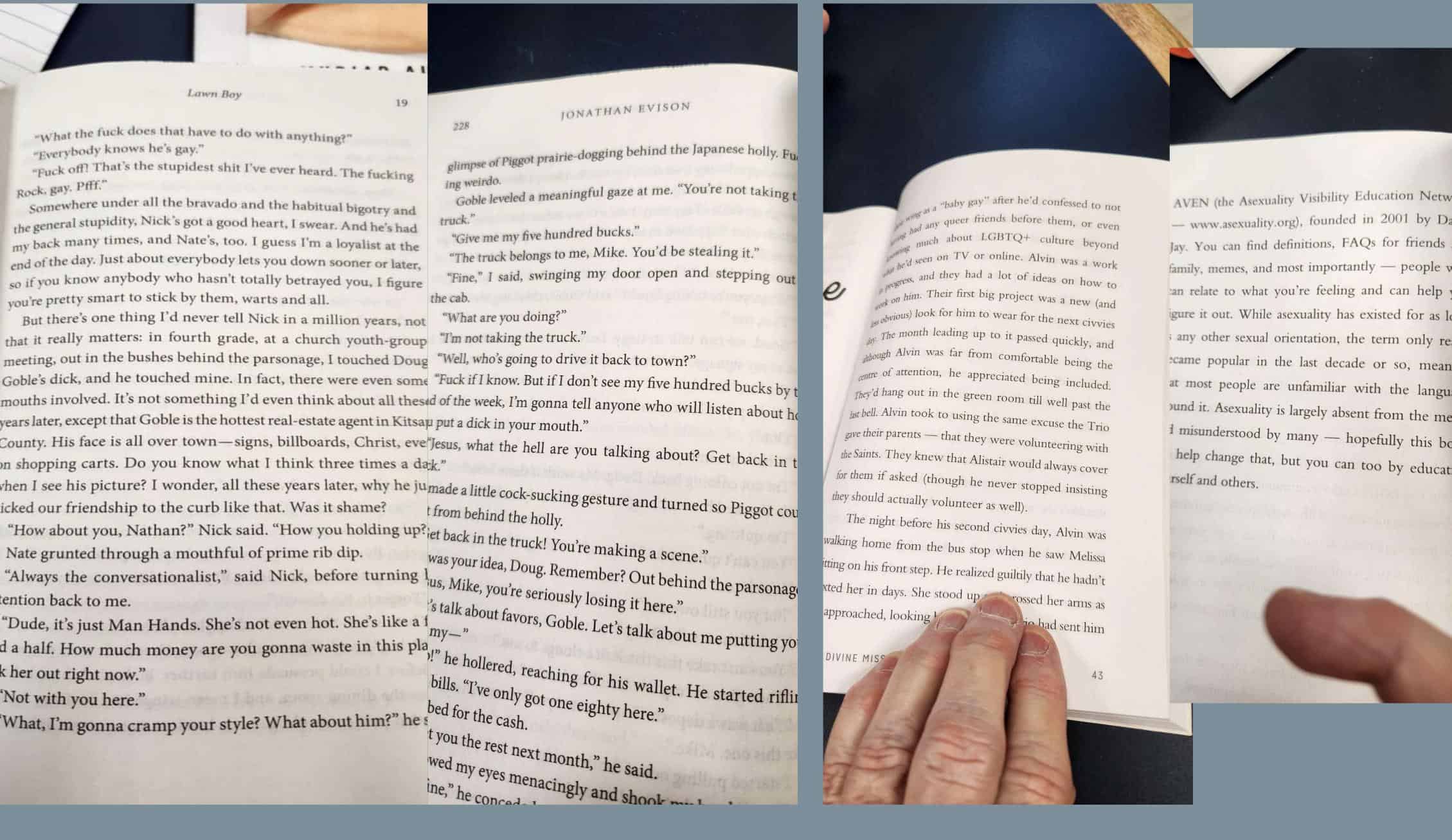 ---
Online libraries, purveyors of porn?
Another concern is the availability of graphic pornographic material to students on the district's online digital catalog. Schools and public libraries have digital platforms that intersect with one another, only recently did parents discover that children of all ages could access books on highly sensitive topics- through these digital platforms that can shield both teachers AND parents from oversight.
Most Wisconsin school districts use one popular app SORA; however, the Sheboygan Area School District (SASD) uses the Follett Destiny online book catalog. On this site, Sheboygan parents initially found dozens of controversial books, the five most objectionable were Fun Home, Gender Queer, Are You My Mother, Ace of Hearts, and Lawn Boy. Since the controversy, the SASD Superintendent has also ordered the deletion of all five graphic books from the online catalog.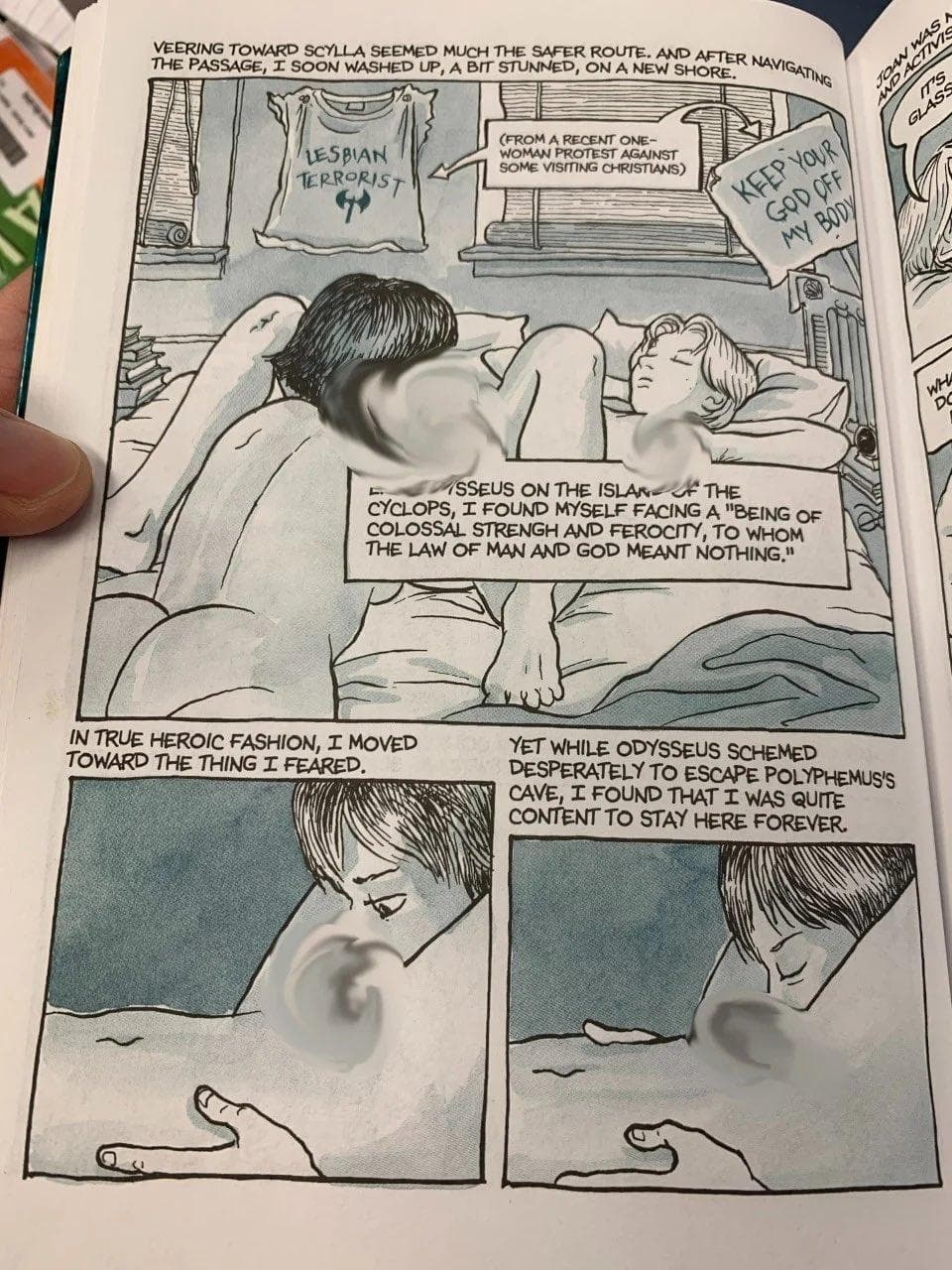 Despite this triumph of common sense, Sheboygan parents and community members have every right to be concerned administrators will once again turn a blind eye to woke activists – aka district librarians and DEI consultants – as soon as the controversy subsides. How long until the graphic novels and sexual 'how-to' guides return? After all, who will stop them?
Administrators have learned that it's easier to ask forgiveness than permission; they have also correctly observed that many elected Republicans in Wisconsin are NOT a force to be reckoned with; so they just have to wait out the pesky parents and then carry on "doing the work."
No more. It is time for a reckoning. Elected officials from school boards to state and national legislators must safeguard parental rights and protect children from harmful content and ideologies that absolutely do not belong in classrooms. We must return to reason.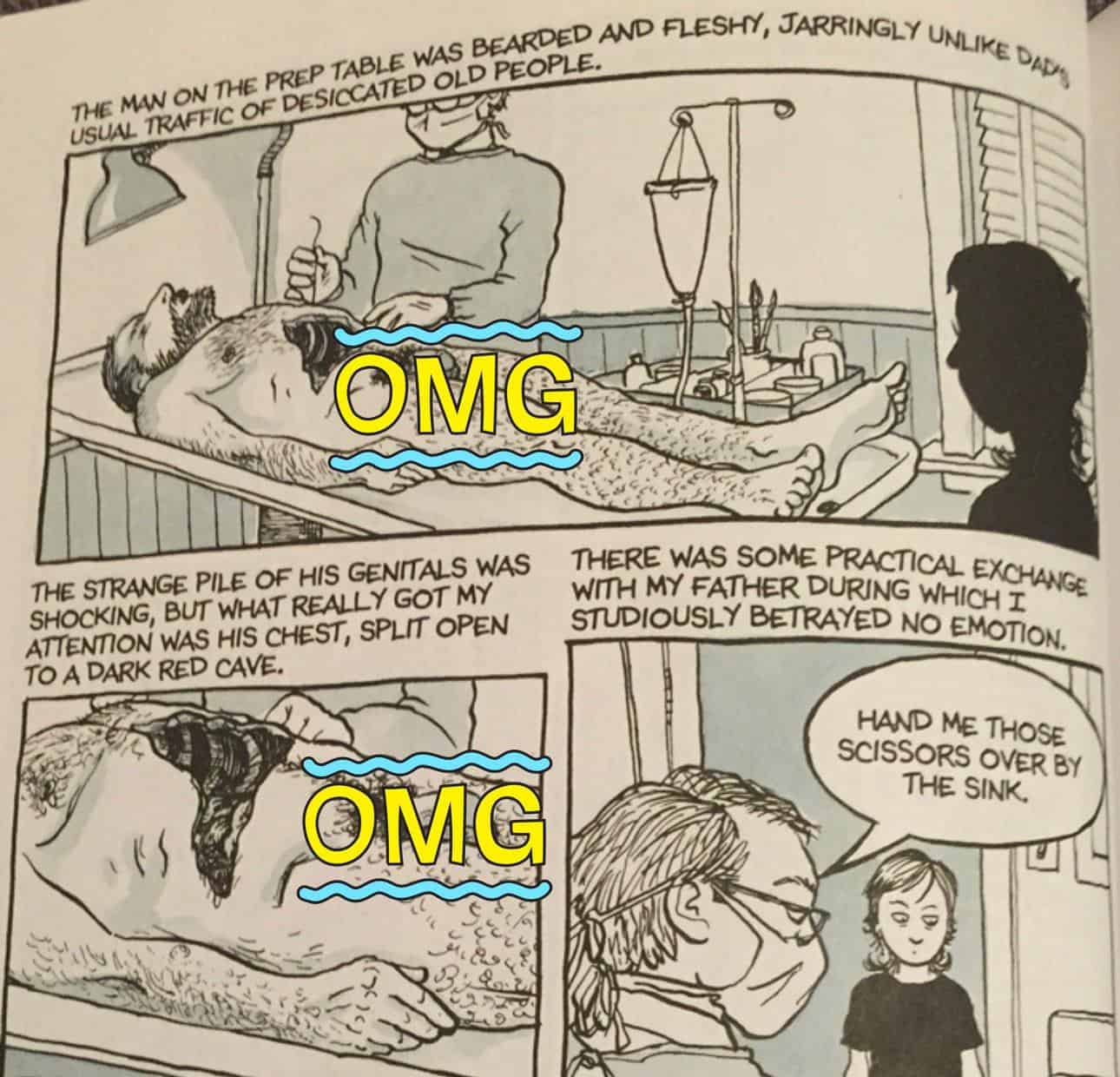 ---
The light of freedom, a depository of wisdom
Only a few years ago, overtly sexual cartoonish materials geared towards kids would have been considered pornographic and unsuitable by everyone, even the most ardent progressive.
Sadly, post-Covid woke derangement syndrome has addled the minds of some folks, which though small in number, make up the majority in the field of education. The good news is that common sense is slowly but surely making a comeback. Grassroots activists, parents, grandparents, and community members are on the front lines standing for academic excellence, parental rights in education, transparency, and acting as a shield against radical ideology.
Solzhenitsyn said, "We must recognize that a concentration of evil and a tremendous force of hatred is spreading throughout the world. We must stand up against it and not hasten to give, give, give, everything that it wants to swallow." For him, the West represented the light of freedom. The West was the stronghold of the spirit and the depository of wisdom. I believe we can be that again. I also think the grassroots cannot continue fighting against ideological culture wars and bad education policies alone.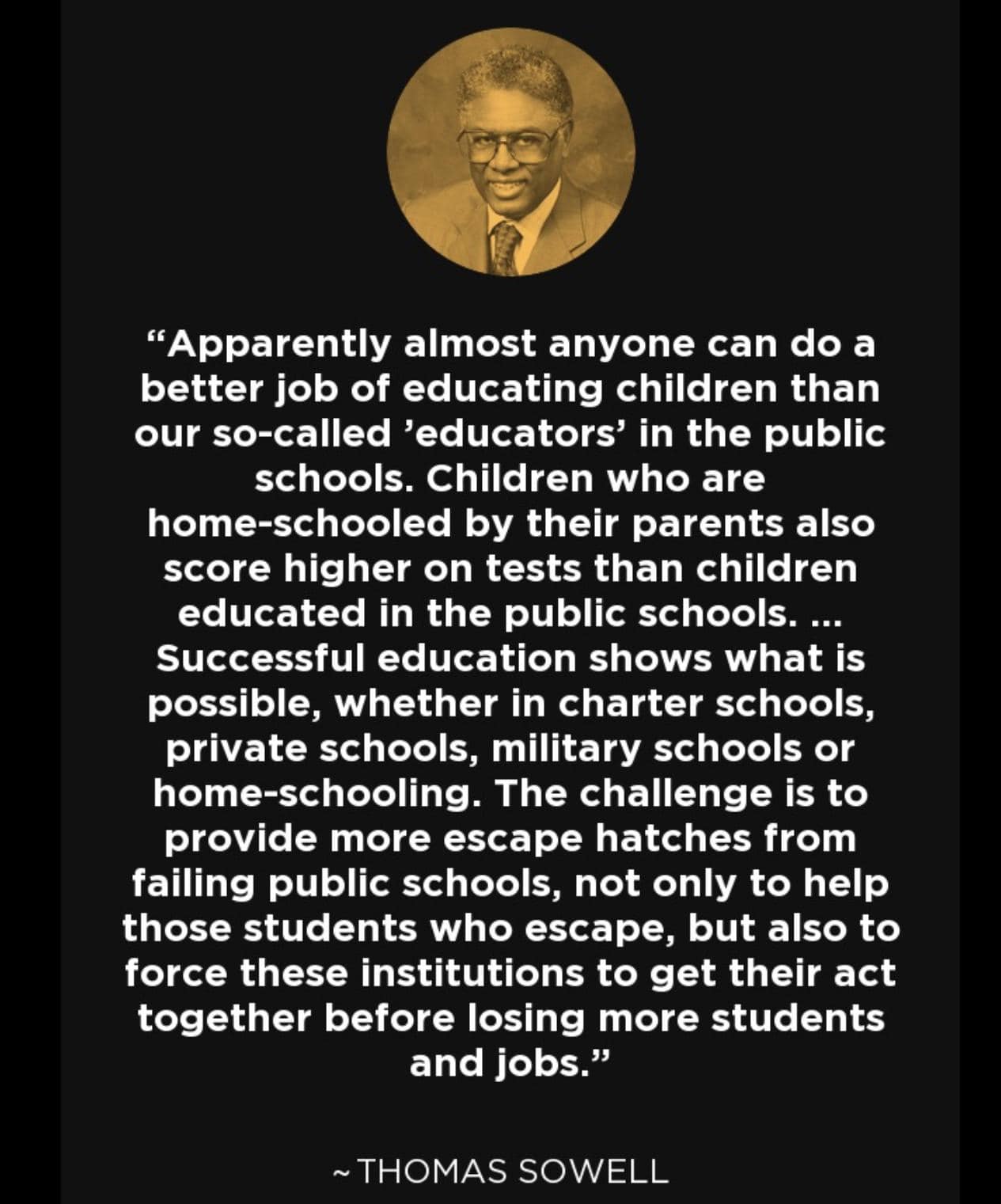 Save the schools, save the world
As I write this, the Wisconsin Legislature is deep in talks about a flat tax proposal. I wish I could say I knew more about this effort, I really do, but I lack the bandwidth to care about something as likely to happen as former President Trump dropping out to endorse current Florida Gov. Ron DeSantis as the Republican nominee for President. Like so many parents, I am too engrossed in the fight to save an entire generation of children from radical activists determined to "fundamentally transform" them AND our state and country.
And as much as I appreciate tax reductions, I cannot bring myself to prioritize that before protecting the children of this state from an onslaught of terrible ideologies and harmful content. I cannot take the blue pill and forget that public schools are becoming increasingly unsafe for students in every way possible.
The students in Wauwatosa are exposed to physical violence every day; too often, as they walk the halls, they must keep their heads down and hope to go unnoticed. Parents in Wauwatosa also have to trust the district will respect their "opt-out" forms and hope their third-grade daughter isn't exposed to a curriculum that explores "Wet Dreams, Spontaneous Erections, and Raging Hormones."
In Eau Claire, Kettle Moraine, and Steven's Point, parents worry, is today the day a Gender Sexuality Alliance (GSA) ally writes a Gender Support Plan for their kid? Will a school counselor and principal take steps to socially transition (the process by which a trans-identifying child makes others aware of their new gender identity) their child without their consent?
In Sheboygan, parents and grandparents are now concerned that the community they worked so hard to build, has become ground zero for an agenda that will cost them what they hold most dear, their kids and grandkids.

The truth is Wisconsin Republicans are not doing enough to help parents who feel trapped in broke systems and woke institutions that don't correctly educate; they indoctrinate. The Wisconsin Department of Public Instruction is a HYDRA, and Tony Evers' re-election makes bold change quite tricky.
But that doesn't mean the DPI should be allowed to continue to run as a fiefdom; Jill Underly is not my feudal lord and I am not her serf. Quick, subtle fixes in education are like trying to use Gorilla tape on a busted sewer pipe, but the journey of a thousand miles begins with a single step. There is a $7 billion surplus in Wisconsin coffers, and not a dime of it should go to the Wisconsin DPI until and unless they are held accountable to the parents and students of this state. To be blunt, this woke garbage has got to stop.
It took a long march through the institutions to get us here, and it will take another arduous march to recover lost ground. Let's take the first step. If we save the schools, we save the world.
Moms for Liberty Wisconsin/Legislative Chair
Stay tuned for the next installment of the woke war on red school districts.
***********
–PLEASE NOTE👇🏽
Sheboygan County For Freedoms is hosting an event:
"Critical Race Theory, DEI, and Sexuality Curriculum: What They Are and How to Fight It?" A Free presentation by Dr. Duke Pesta regarding the effect of CRT on school-age children.
Date: Saturday, February 18, 2023
Time: 6:00 PM
Location: Lakeshore Lanes-Windjammer Banquet Hall 2519 S. Business Dr. Sheboygan, WI 53081.
REGISTRATION REQUIRED.