We're not fans of cancel culture. That goes for all.
Fox 6 anchor Ted Perry made a comment on Facebook that was awful.
WISN's Mark Belling first shared a screenshot of the Facebook post, which read, "2020 takes Alex Trebek but leaves Mitch McConnell? Just end already."
The Ted Perry McConnell post: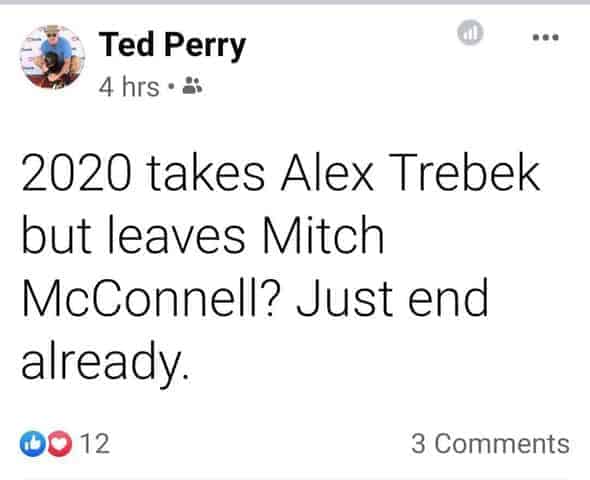 McConnell, of course, is the Senate Majority Leader.
Perry has now apologized.
https://twitter.com/thatwaukeedude/status/1325984760833957889
Some people on Twitter want Perry fired all the same.
https://twitter.com/Lcar1116/status/1325922406335180801
Here's our take.
We think the Ted Perry McConnell post was tasteless and ill-advised.
However, we're also not fans of cancel culture.
We simply believe that the totality of a person's career and their commitment to the community should be taken into account. We've always felt that Perry did not seem overtly biased. He always seemed like he had some common sense. He's been a fixture in Milwaukee for years. He's had an unblemished career here for a long time.
We fear that the election has emboldened a new era of cancellation games and schadenfreude. We won't play a part in it. We will say it again. We think people should be judged by the totality of their careers, not have them destroyed over one errant remark.
We don't know what got into Perry. It was a pretty awful thing to say.
But we don't think a person should lose an entire career over one social media mistake.
Thus, we would advocate that Fox 6 not fire Ted Perry. He apologized. He learned his lesson. Move on.
But maybe he should lay off Facebook for awhile.