I am a Swiftie. More than that, I'm the Swiftie. At the ripe age of five, I sang her songs and danced to her music videos. Now, at 18, I still sing her songs and dance to her music videos, but now I also analyze and cry to her lyrics, spend thousands (of my parents') money on concert tickets and merch, and spend countless hours online ruthlessly and knowledgeably defending her name from random strangers on Facebook and TikTok. But I love what I do for this 33-year-old woman who doesn't know my existence, and I'll continue to fight in her army and, eventually, die on her hill. 
In the last months, Taylor Swift has absolutely blown up in the pop culture atmosphere. Re-recording her albums, going on the world-renowned Eras Tour, and now, being the new face for the NFL (I'm just kidding, football bros. Not really, though).  So, what has caused this recent Taylor Swift phenomenon? Why is she booming now after 17 years in the game? And why do you have to see her every time you watch football?!
Miss Americana
Not only is Taylor Swift incredibly successful and brilliant, but she is a humanitarian. She is constantly sending money to fans in need, children battling cancer, and charity groups- often anonymous so as not to bring attention to herself through her donation. At each Eras Tour stop, she donated thousands upon thousands to local charities, with a local food charity in Seatle stating that they can now provide "hundreds of thousands of pounds" of fresh produce for families in need. 
This summer, in the midst of her tour, Taylor also gave around $55 million in bonuses to her tour workers, specifically truck drivers. Each truck driver received a bonus of $100,000.00 and a handwritten note from Taylor thanking them for their hard work and dedication to her tour. In an interview, one of her truck drivers said that the bonus was "life-changing money" and would be used on a down payment for a house or his child's college tuition. 
Now that I've gotten logical reasoning out of the way, let me tug my own heartstrings to tell you why I'm a Swiftie.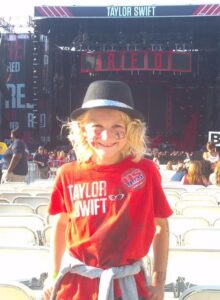 Taylor's music is unlike any other and is often confused with Shakespeare's work (click here to play Taylor Swift or Shakespeare). Her lyrics go beyond catchy radio tunes, so much so that I shamelessly spend hours annotating and interpreting them; they cut deep and resonate with your every emotion. She writes so vulnerably, truthfully, and intensely that it often feels like she wrote her songs about you. One thing I've loved about Taylor all my life is how my mother and I can listen to the same song and equate her lyricism to our own unique experiences in a way that feels so deeply personal. Every listener of her music can identify themselves within her lyrics, all in completely individual ways. 
Taylor Swift has inspired many things in my life, as well. I firmly believe that having grown up surrounding myself with a symphony of beautiful writing has made me a better writer (after all, you are what you eat) and more emotionally perceptive. Taylor was never one to party or have a rebellious phase; in fact, she struggled with friends- leaving messages for her younger fans that it was okay to strive on your own. Girls like myself needed this message- as I spent many lonely days in school listening to her music, feeling like I had nowhere to fit in. If I didn't have anywhere to go or anyone to hang out with, I could find a place to belong in Taylor's music. 
Years ago, in 2015, my dad took me to Taylor Swift's 1989 World Tour. It was my second Taylor Swift concert and a total surprise. Obviously, she put on an amazing and captivating show with a light-up dress, incredible vocals, and vivacious choreography. One specific moment that my dad and I both recall from that night was her deliverance of the "Clean Speech." Being 11 years old and struggling with friends and self-image at school, one line from her speech stuck out to me and has followed me every day since: "You are not the opinion of someone who doesn't know or care about you." Teenage girls struggle every day with high school politics, boys, social media, and beauty standards, just as I have and do. But Taylor has, too- and lived to tell the tale. 
Taylor offers peace and validation in tears and smiles; she told me that it was okay to be on a different track than others. She demonstrated kindness and generosity towards strangers and fans, making me want to demonstrate the same type of kindness. 
"I want to wear pink and tell you how I feel about politics" is a quote from Taylor's 2020 documentary Miss Americana, a quote that I've seriously considered getting tattooed in ink on my body. I've been interested in politics my whole life- and while my politics could not oppose Taylor's politics more, I still love that quote. Learning from Taylor, I'm loud about the things I believe in. I believe that if you're not willing to stand for something, you'll fall for anything. I have strong expectations of myself and others. I do wear pink. I love glitter and spend hours doing my makeup. But none of those things have to take away from my determination, intelligence, or success. 
Re-Recording Her Albums
In 2019, Taylor Swift's 15-year contract with Big Machine Records ended. Before she could step in, her entire discography was sold to Scooter Braun, making him the chief owner of Taylor's five studio albums (Self-titled, Fearless, Speak Now, Red, 1989, Reputation). This was devastating, but Taylor immediately took action to re-record her studio albums, adding the phrase "(Taylor's version)" to each re-recording, signifying she now owned it. Thus far, she holds Fearless, Red, Speak Now, and on October 27th, 1989. All over the world, Swifties have rejoiced, knowing that the music that Taylor wrote and recorded herself is now hers again. 
Adding to the success of the re-recordings, Taylor released her 10th original album, Midnights, last October. Midnights broke multiple records (something Taylor isn't unaccustomed to). The album caused a frenzy among all young girls and women worldwide, as Midnights was an album created unlike any other album: it was composed of songs written throughout her career and on her "sleepless nights." The album was a massive success and the perfect segway to her career's next and most fruitful era. 
The Eras Tour
The Eras Tour began in March of 2023 and is projected to end in late 2024, however, Taylor continues to add dozens of new tour dates due to high demand. Upon the announcement of the Eras Tour and the release of select ticket pre-sale codes, the ticket-purchasing company Ticketmaster crashed. Neither the company nor Taylor's team had anticipated such high ticket demand, and the site instantaneously froze, leaving millions of Swifties with pre-access (not even general sale) codes without tickets. Swifties were beyond devastated at Ticketmaster's failure, so they sued. 
The Eras Tour kicked off in Phoenix, Arizona. I was lucky enough to attend opening weekend (thank you, Dad!), and let me tell you, my life was changed. I'd seen Taylor in concert three times before, but the Eras Tour was the performance of a lifetime. The show pays homage to 17 years of her career as she performs all her albums/aesthetics as "eras" (Fearless Era, 1989 Era, etc.) The 3 ½ hour show features 44 songs and 2 unique surprise songs played at each show. I went on to attend two more Eras Tour concerts, and at each one, I was crying before she even appeared on stage. 
Some Era's Tour stats:  
For only the U.S. leg of the tour, Taylor Swift has grossed an estimated $13 million in ticket sales each night, with an average of 72,000 fans in attendance per

concert

So far, she has performed

146 dates

on 5 continents, but dates continue to be added due to high demand. 

The Era's Tour will generate an estimated

$5 billion

in consumer spending in the U.S. 
The Eras Tour has been electrifying in all senses and has also boosted the U.S. economy. Now, even world leaders like the Chilean President, the mayor of Budapest, and Canadian Prime Minister Justin Trudeau are asking Taylor to bring her tour to their countries to spike consumer spending. 
Football Era
Resounding screams were heard echoing across the globe when Taylor Swift was spotted at the Kansas City Chiefs football game on September 24th. I can honestly say that even after watching Packer's games, high school football games, and my boyfriend's college football games, this was the most interesed I've ever been in the sport. Her presence at the game, seated next to Donna Kelce (Chief's Tight End Travis Kelce's Mother), confirmed rumors of a budding romance between Taylor Swift and Travis Kelce. After that monumental game, Travis Kelce jersey sales increased 400%; Chief's game viewership raised 63% among women; and Heinz released a sauce named "Ketchup and Seemingly Ranch" after Taylor was seen eating her chicken tender with ketchup and seemingly ranch dressing. 
Right now, you may catch yourself thinking, I just want to watch football; why should I care about a celebrity's relationship? 
You should care. 
This relationship is what America needs. In the face of a failing government and low morale, a relationship between Miss Americana (Taylor Swift) and Hot Legendary Football Player (Travis Kelce) is the perfect image to boost patriotism. Since the relationship confirmation, young women across America have gained a sense of patriotism to Taylor's new American boy (as opposed to her usual type of London Boys)  All we need now is a photo op of them eating apple pie and singing "God Bless the USA" to fix the country. 
Closure
Taylor Swift brings folks together. Those with different cultures, experiences, and ideologies, young and old, can come together to enjoy a concert or sing her songs in the car. Her prodigious lyrical works combined with her miraculous showmanship attract millions all around the world because although we all may be different in every way, we all feel and dance in the same language, a language unspoken by anyone other than Taylor Swift.