Since 2019, Gov. Tony Evers' Parole Commission has released hundreds of convicted criminals, freeing them early on parole mostly into Wisconsin communities, including more than 300 murderers and attempted murderers, and more than 47 child rapists.
---
---
Todd York was one of them. His release was discretionary.

17th in the series.
---
Todd York's parents Wanda and William were talking about putting him in a treatment center, so he got his father's rifle and shot them both in the head in the family's home.
York returned to the home to shower over the next few days, with the decomposing bodies of his mom and dad lying inside the family's Spooner, Wisconsin, home.
His dad was found dead in the dining room and his mom in the kitchen. After shooting them, York  "proceeded to travel, party, and use drugs."
He even joked to a friend that his parents were probably "laying around the house."
---
Evers' Parole Commission Freed Todd York Early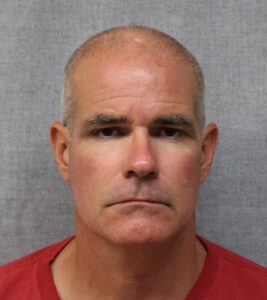 Date paroled: 08/10/2021 [You can check York's parole date for yourself by putting his name in this database and clicking on "movement"]
Currently Resides: Harvard, Illinois
Age: 51
Convicted: Washburn County 1989, two different cases. Two counts of first-degree murder, two counts of forgery, and escape.
Sentence: Two life sentences. Mandatory release is not available for inmates with life sentences. The parole was discretionary.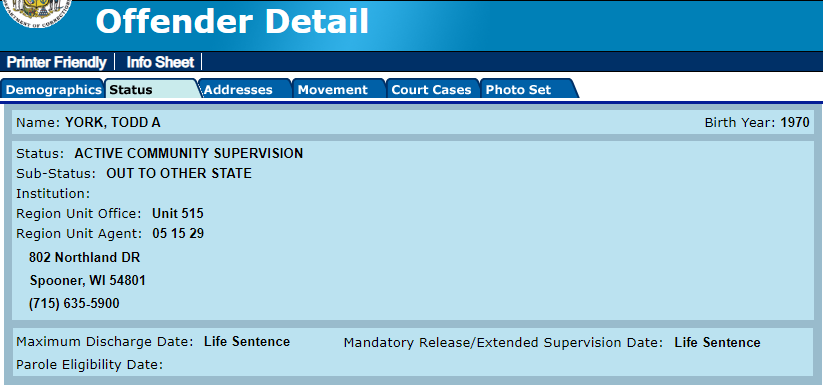 ---
The Victims:
William and Wanda York, his parents both 49. William was a general contractor.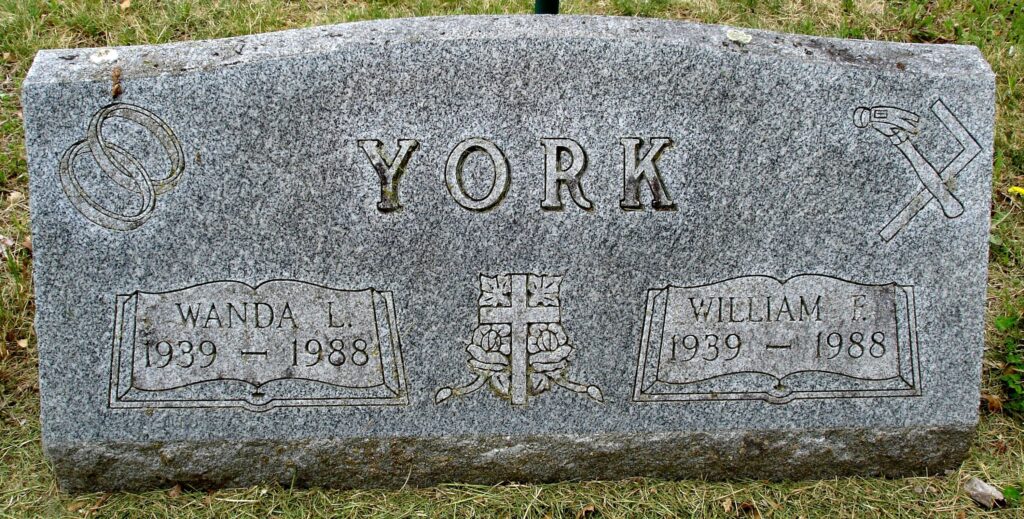 ---
What the Killer Did:
According to a criminal complaint obtained by Dryden Wire, people grew concerned because William and Wanda York had not been seen since the previous weekend.
According to court records, she missed a beauty salon appointment, he missed business appointments and they didn't show up to a typical Sunday morning breakfast.
On the way to check on them, a sheriff's deputy saw Todd driving his mother's car. Inside the York home, the officer found William and Wanda dead from gunshot wounds to their heads. Todd was 17 when he committed the crime. He ended up being waived into adult court.
When Todd was interviewed, he said that the murders stemmed from an argument that led to pushing between the father and son. Todd went for a walk, returned and took a rifle from his dad's office.
He heard his parents talking about putting him in a group home or treatment center so he shot William once in the head, turned and shot his mother Wanda in the head too.
Todd returned to the home over the next few days to shower with his parents' bodies lying in the house.
In 1989, he escaped from jail by sawing through metal bars and ended up charged with felony escape.
According to Spooner Advocate, after murdering his parents, he stole their money to buy marijuana and bongs. His friends said he acted normal after the killings.