It's time to cast aside the falsehood perpetrated by some that protests in Wauwatosa have been peaceful. While some demonstrators have been peaceful, overall, here's the reality of this one.
Wauwatosa Police and other law enforcement authorities arrested 24 people "during unlawful demonstrations" on Oct. 8, they revealed in a news release on Oct. 9. Before the arrests started, police say the marchers blocked an undercover police vehicle, trying to gain entry to it, throwing rocks at it, and pointing a gun at the occupants.
Is that peaceful? No.
They say members of the group then "began going car to car, demanding identification from occupants." (This was similar to behavior we witnessed when the group showed up at the West Allis Police Department later that night to check on arrested protesters whom they believed were moved there; they aggressively shined strobe lights into the windshields of passing motorists, screaming expletives at people they identified as being out group.)
A smaller group then tried to force entry at 7:48 p.m. to the Cigarette Depot at N. 76th Street and West Center Street, say police. That resulted in three arrests turned over to Milwaukee Police Department. Marchers then went through a residential neighborhood, violating curfew and "disturbing the peace," police wrote.
Police added: "These individuals made the choice to engage in public demonstration during an emergency declaration, which had been ordered with the purpose of protecting life and property during this tumultuous time in our community. The arrests were made without regard for who these persons were; rather, they were made based on those individuals' own decision to willfully violate the emergency order. We can appreciate the anger and frustration that exists among those closely affected by recent events. Moving forward, we ask that all citizens comply with the emergency order in place by remaining away from City of Wauwatosa public spaces."
Gas station looting in Milwaukee #Wauwatosa #WauwatosaProtests #WauwatosaRiots #AlvinCole #JosephMensah pic.twitter.com/TeK7WMcDf4

— Brendan Gutenschwager (@BGOnTheScene) October 8, 2020
At 7:48 p.m., a group of protesters broke away from the main group and attempted to force entry to the Cigarette Depot on the northwest corner of N. 76 St. / W. Center St. Three people were arrested and turned over to the Milwaukee Police Department.The demonstrators continued through a residential area, disturbing the peace all the while violating the emergency curfew order.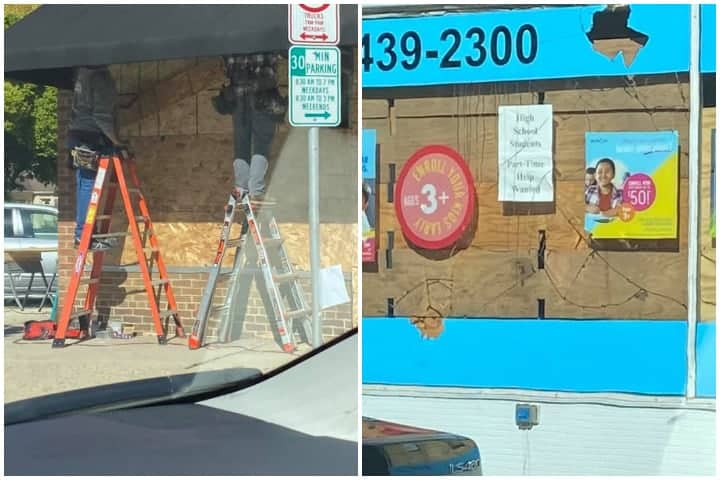 "Citations for violating an emergency order were issued to 19 people. Additional charges may be issued after a comprehensive review of videos, reports, and other evidence," they wrote.
Police did not release the names of those arrested, but video and widespread social media reports indicated that they included Tracy Cole, the mother of Alvin Cole, the armed teen shot by a police officer after the teen pointed the gun at him in a case ruled lawful self defense by the DA. Cole's two sisters and the father of Jacob Blame were among those arrested, according to social media accounts. We asked police whether they could confirm that, but haven't gotten a response yet on the names. Read the story on the mother's arrest here.
Protesters chased one of the mainstream news outlets off the scene. They rode their Yukon up on people's' lawns and the sidewalks as they darted away #Milwaukee #Wauwatosa #MilwaukeeProtests #AlvinCole #JosephMensah pic.twitter.com/hHbNDmYzqH

— Brendan Gutenschwager (@BGOnTheScene) October 8, 2020
In details that match that incident, police say that they encountered vehicles driving "across all lanes of traffic" and deployed tire deflation devices to protect the public. Some people refused to exit their cars when told they were under arrest.
Wauwatosa was operating under a curfew running from 7 p.m. to 7 a.m. The night before police made a single arrest. Sporadic looting broke out, businesses were vandalized, rocks were thrown at police officers, residential neighborhoods faced problems, and there was widespread defiance of curfew.
https://twitter.com/zerosum24/status/1314422387232976896
Around 5 p.m. on Oct. 8, police say "a large group of demonstrators, both on foot and in vehicles, departed Merrill Park, 435 N. 35 St., in the City of Milwaukee, and proceeded to the area of N. 59 St. / W. Center St. Once there, they stopped, and waited."
Once curfew hit at 7 p.m., they "entered the Wauwatosa city limits, in immediate violation of the emergency curfew order. At 7:02 pm, law enforcement units declared the group an unlawful assembly, and made such announcements to the group. The group, consisting of marchers and vehicles, paraded through Wauwatosa streets, honking car horns and blocking all directions of traffic."
According to police, law enforcement tried first, with the National Guard, to establish "a protective line" in the 6700 block of West North Avenue, "with the goal of preventing dangerous and destructive acts, similar to those that had occurred the previous evening."
Again marchers didn't comply so arrests started for violating curfew. After the first few arrests, a smaller group broke off. At 8:25 pm, law enforcement officers "encountered a group of vehicles that were driving across all lanes of traffic, southbound on Wauwatosa Av., near Wauwatosa East High School. Law enforcement deployed tire deflation devices to protect the motoring public from the oncoming vehicles. The occupants of these vehicles were all subsequently arrested for curfew violations."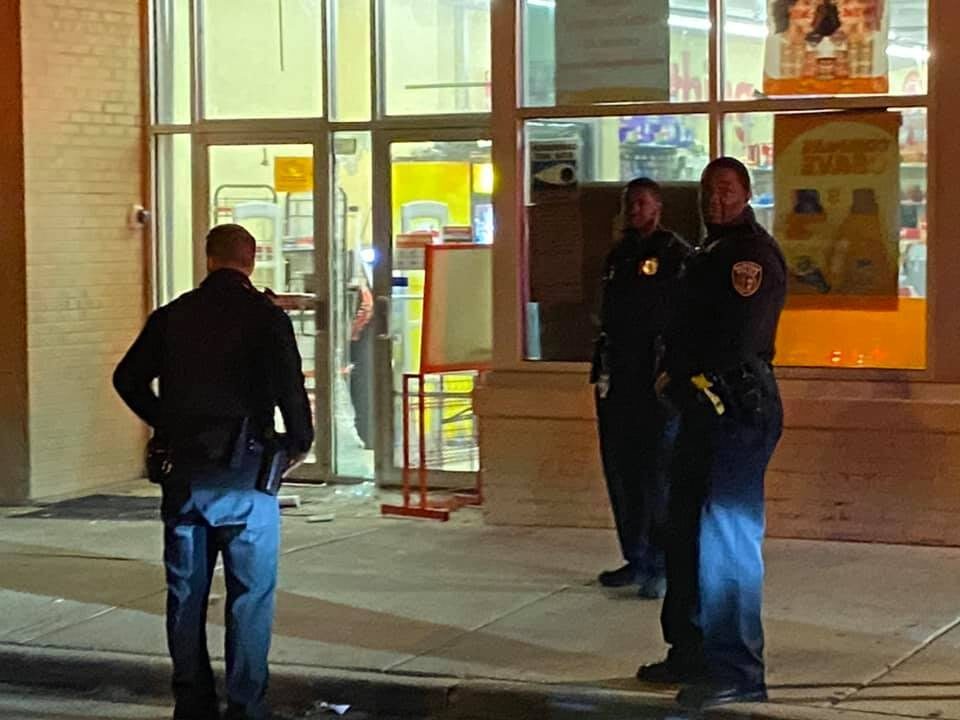 According to police, "While most of these people cooperated when told they were under arrest, some refused to exit their vehicles. Law enforcement officers forcibly removed those who refused to exit in order to effectuate the arrests. Several more people were arrested during this encounter. Two of the arrestees, a 49-year-old female, and a 28-year-old female, requested medical attention. Wauwatosa Fire Department was summoned, and they were transported to the hospital. They were released a short time later, and will be cited and/or charged at a later time."
Police said no National Guard members made arrests.
"We will not be releasing the names of those arrested until a complete, comprehensive review of video, reports, and evidence is finished. We have learned that some of those who were arrested have already identified themselves to local news media, which is their choice," they said, adding, "We have received inquiries as to whether or not members of the media were among those arrested-we do not know those answers at this time. Once the investigation is complete, and all citations and charges have been determined, the police reports will be available."