By: George Mitchell
While Superintendent of Public Instruction, Gov. Tony Evers wrote to legislators a decade ago that expanding the Wisconsin Parental Choice program was "morally wrong." Evers said he reached that conclusion because the program "has not improved overall student achievement."
Fast forward to the present. Under criteria applied by none other than Evers' education agency, private choice schools in the state's largest choice program — Milwaukee — score higher on the DPI Report Card than do public schools. DPI data show that by other measures — such as the college-readiness ACT test — students in the state's choice programs outscore public school students. Still other DPI data show most choice students have higher academic proficiency scores than students in traditional public schools.
So, using DPI criteria, the comparative record is clear. One even could argue that it would be "morally wrong" NOT to expand the state's parental choice programs.
Will Evers be consistent with his earlier criteria and sign Assembly Bill 970, a bill making all families eligible for the state's choice programs, just as they already are eligible for charter schools and traditional public schools?
The chance of Evers giving his OK is rated as close to zero as possible. It can't be totally ruled out, given credible polling that shows a substantial majority of likely/registered voters favor universal school choice.
The much more likely Evers veto will hand his November Republican opponent a gift-wrapped issue where the majority of voters stand against Evers. Not a single legislative Democrat voted for AB 970, so Republic legislative candidates also have this issue to hang on their opponents.
The potential political power of the parent choice issue can be understood by looking at the record this century. In the 1990s, Governor Tommy Thompson signed three measures expanding parent choice: (1) private school choice; (2) public charter schools; and (3) Open Enrollment, by which parents could enroll children in schools outside their district of residence.
Despite funding, eligibility, and administrative hurdles that limit their potential, the growth in the use of these new options has been relentless. Fewer than 30,000 children used these options in 2000-01. Last year more than 176,000 did.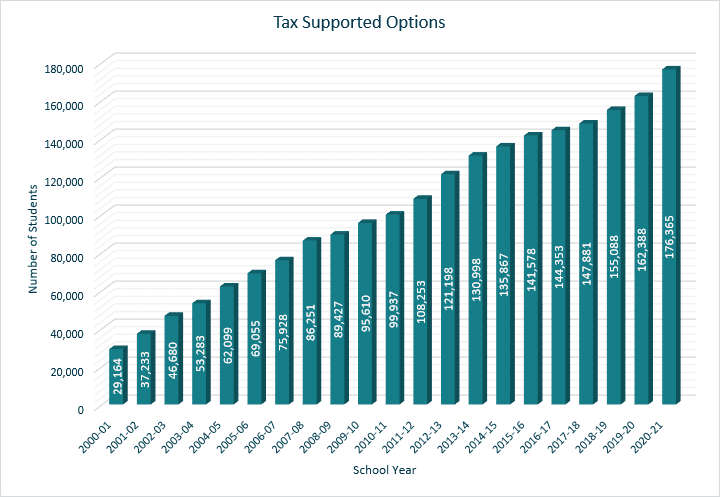 ---
In terms of market share, the result is a dramatic shift. A scant 3.3% of tax-supported K-12 students used these options at the beginning of the century. Last year fully one in five — 20% — did so.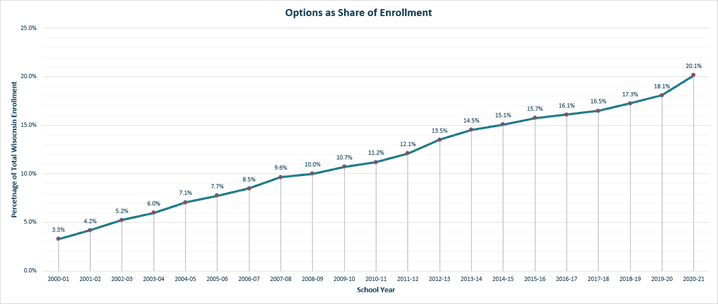 By far the largest shift has occurred in Milwaukee, where nearly half of tax-supported students use options other than the Milwaukee Public Schools. The statewide growth will accelerate when an arbitrary cap on private choice enrollment expires in five years.
Much faster growth will occur if Evers is not re-elected. His current GOP opponents support eliminating the enrollment cap and making all families eligible, a position clearly favored by Wisconsin voters. With a veto of AB 970 Evers can explain the immorality of that bill.