A 17-year-old male who had a rifle in a backyard near Waukesha North High School was arrested by the Waukesha Police Department on Friday, April 14, 2023, police announced.
Police say they secured area schools, "methodically searched" for the suspect, and then "were able to engage in dialogue with the suspect to get him to peacefully surrender," the release says. The suspect's name and intentions were not released. It's not clear whether the teen was a student or why he had the rifle.
"Students were able to give a great description of the male and immediately notified the School Resource Officer," police noted.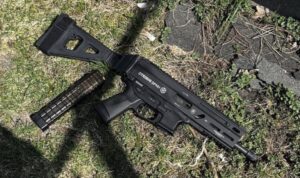 According to Waukesha police Capt. Dan Baumann, evidence is still being collected and charging decisions won't be made until at least Monday. "It goes without saying that the training and preparation we have with the school district paid off. To the officers who tenaciously investigated and kept those children safe, we sincerely thank you," he wrote.
The incident occurred at approximately 12:56 p.m., when Waukesha police received a call about "a male with what was described to officers as a rifle was observed in the backyard in the 200 blk of Greenmeadow Dr," Waukesha police wrote in a news release.
The police news release further explained: "The Waukesha North H.S. Administrative team place the school on a SECURE status. A SECURE status is when the learning environment status quo with the exception of a heightened awareness by staff, ensure no students or staff are outside and locking of the outside doors."
There was a large law enforcement response "deployed to the area to safeguard the schools," police wrote.
Police say they took the suspect into custody and retrieved the firearm while " relaying real-time information, utilizing ReadyOP, to the leadership teams of the surrounding schools so they could make the best safety decisions."
Police praised students who "observed something and said something about it."