Wauwatosa Mayor Dennis McBride says his house was shot with a BB gun, breaking a window. Police were called.
McBride, whose house has been the repeated target of unruly protests by the People's Revolution group, made the revelation on his Facebook page before privatizing the post.
He wrote,
"Yesterday, while taking down Christmas lights from our enclosed front porch, my wife noticed a hole in one of our porch windows. The police determined that someone shot a BB gun and broke the window. I've attached photos. This is hardly an appropriate way to protest or disagree with me or anyone else, but I guess that's how America works now."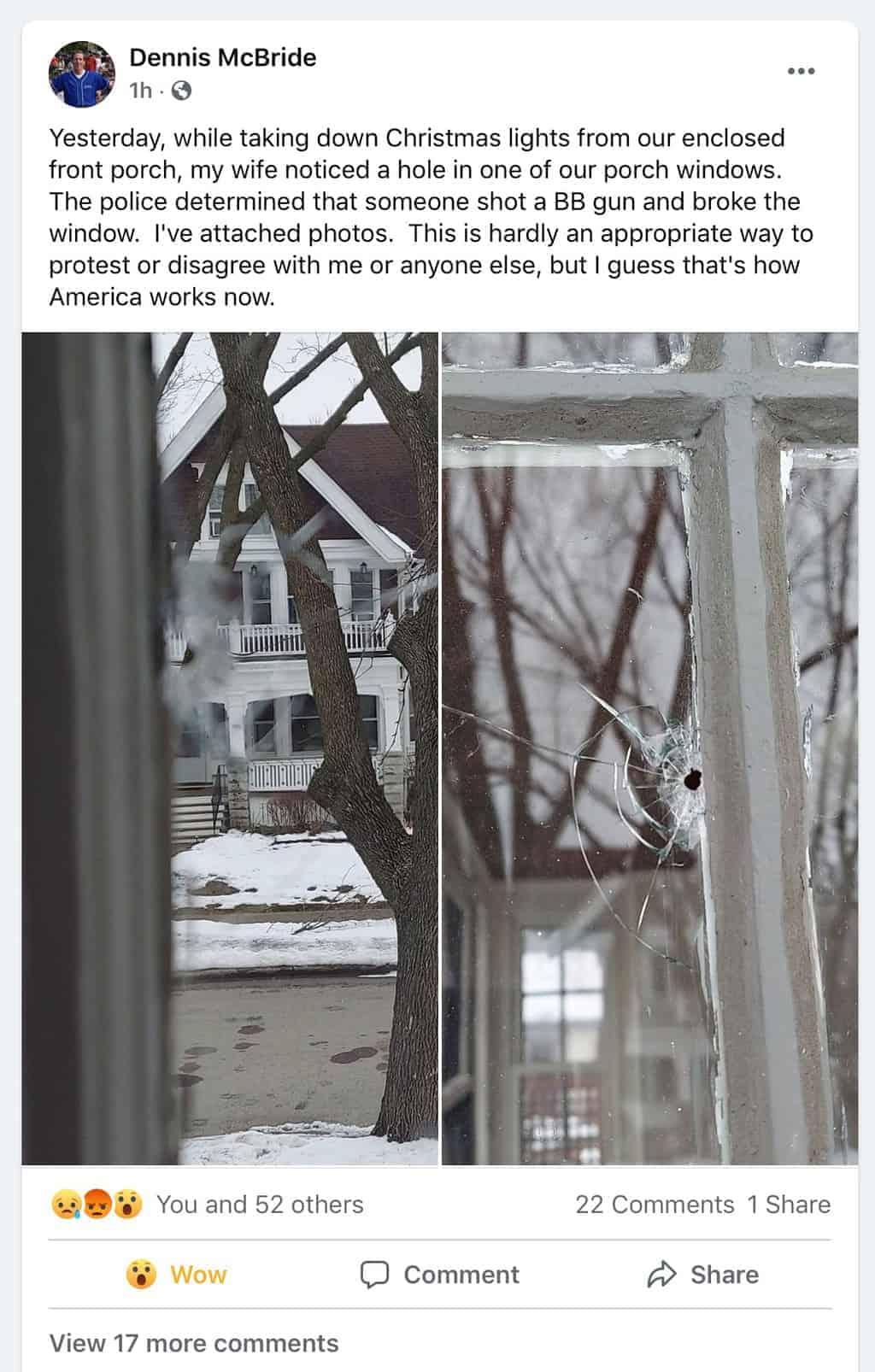 Although it's not clear who shot McBride's window, the People's Revolution protests have led to violence in the past. A People's Revolution member is charged with a felony for discharging a gun at the home of then Wauwatosa Police Officer Joseph Mensah. McBride has been the target of the People's Revolution's ire, newly released police reports say, because members of the group believe he "played them" by acting less like he was on their side, in their opinion.
In one incident in August, McBride told WTMJ-TV that protesters defied a curfew and showed up at his house after midnight, staying until 2 a.m.
"It was not peaceful," he said of that protest. "It was not compliant with the law and it was intended to obviously thumb their noses at my statement." He said his house was toilet papered that time.
In another incident near McBride's house, Wauwatosa police wrote in a statement, "While police were enacting an arrest, officers were confronted by protesters. The protesters attempted to prevent the arrest by physically engaging officers and blocking off routes, preventing squads from leaving."
The group has protested at the home of Chief Barry Weber as well. Again, though, it's not clear who shot at McBride's house or whether it had anything to do with the protests or People's Revolution.
WRN reached out to McBride for comment and will add it into the story if it's received.
Disclosure: WRN contributor Jessica McBride is the niece of Wauwatosa Mayor Dennis McBride. This story was written by WRN founder Jim Piwowarczyk.