The district is also giving employees a day to "recombobulate."
We wrote previously about the "bonus bundle" that's giving each employee in the Wauwatosa School District a $1,000 raise, but we thought another element of the "bundle" was worth it's own story
That being: School District Administrators have asked all employees – teachers, staff – to not respond to any emails until Jan. 4. So if you're a parent or taxpayer with a question about a class or the district, forget it. Indeed, we emailed Superintendent Phil Ertl to ask him about the new bonuses and, fairly predictably perhaps, we didn't hear back.
They are asking all staff to "use their out of office response as a strategy to completely disconnect over Winter Break. This sets the expectation that you will not respond to emails until after January 4, 2021." The School District lists Christmas Break as Dec. 23 to Jan. 1 on its calendar.
The Wauwatosa School Board unanimously approved giving the $1,000 bonuses to all teachers and administrators at its December 15 meeting. The total cost to the district? $867,000. In a communication with employees, school district officials called it a "one-time Bonus Bundle." They praised teachers' "dedication, flexibility and tenacity during what has been a challenging year." The School Board passed the bonuses unanimously with very little debate.
The bonus bundle includes "Recombobulation Wednesday." Officials said they are providing employees with a "meeting-free and PL-free day on Wednesday, December 16, 2020 to recombobulate." They wrote that they wanted to "give you the gift of time to create space to prepare mentally." They're also giving each employee a $100 credit to use toward Recreation Department activities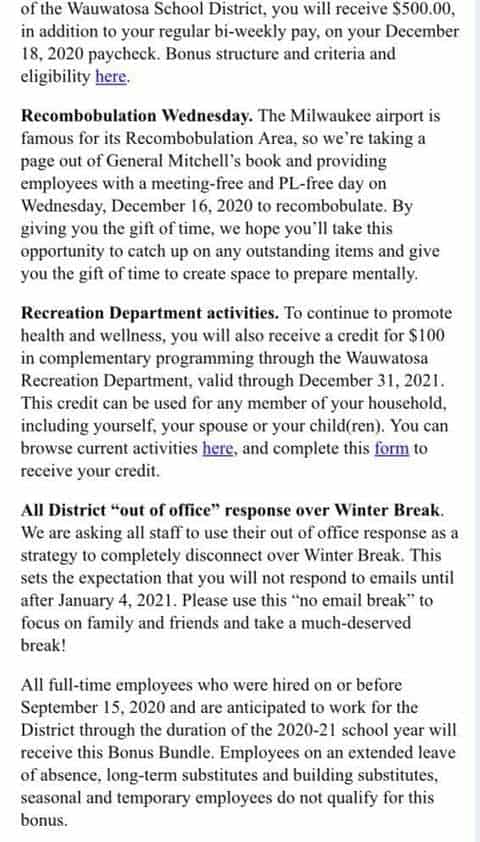 During the School Board meeting, Board member Mike Phillips explained that the $1,000 would go to each salaried employee in the district, including "professional staff, administrators and select employees" based on one FTE (full-time equivalent) position. In addition, some other employees will receive $500 each, including administrative assistants, maintenance workers, and educational assistants.

"The Bonus Bundle is not intended to replace this year's raises, but is provided as a sincere gesture of appreciation for your hard work, commitment, flexibility and care for our students, families and community. We will continue to attempt to provide raises to our staff, and will provide updates as they become available," school officials wrote.
Ertl told the School Board, "Our staff has gone above and beyond this year. Unfortunately, we're not in a financial position where we can recommend a permanent increase to the salary schedule at this point. There's a lot of uncertainty with the state budget." He characterized the bonuses as a "one-time expenditure."