The Milwaukee Journal Sentinel's decision to censor the criminal records of Joseph D. Rosenbaum, Anthony Huber, and Gaige Grosskreutz is just plain wrong and harms the search for the truth. That's especially true in the case of Rosenbaum, a 36-year-old adult sex offender out on bail for battery and bail jumping accusations, who, a case can be made, was the instigator the night that Kyle Rittenhouse, a juvenile without a criminal history, opened fire.
Arizona courts ordered Rosenbaum, who was accused of molesting and/or engaging in inappropriate sexual activity with five boys, to have "no contact with minors under the age of 18 without permission from the Court." Rittenhouse was 17, and Rosenbaum was chasing him when shot. That sounds relevant to us.
In Aug. 28, we wrote an opinion piece titled, "Why We've Decided to Tell You the Criminal Records of the Men Shot in Kenosha."
On Sept. 2, the Journal Sentinel, Wisconsin's largest daily newspaper, countered with an article titled, "Why we aren't reporting on the records of the victims of the Kenosha protest shooting."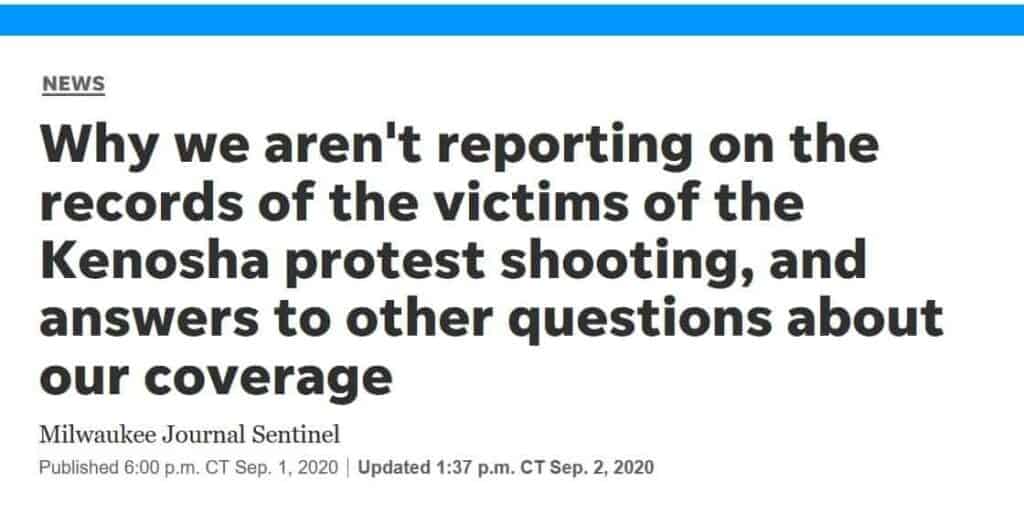 That's interesting: a newspaper censoring facts readers need to fully understand the context surrounding shootings in which a credible claim of self defense has been made. The adult men shot were all confronting, attacking or chasing Rittenhouse, a 17-year-old. The president said Rittenhouse was "violently attacked." To assess whether that's true, it's helpful to know that two of the men accused of doing the violent attacking (Anthony Huber and Rosenbaum) were previously accused in criminal courts of violently attacking people. Of course, it's also on video.
The newspaper explained its censorship this way:
There is no evidence so far that the backgrounds of the three victims — Anthony Huber, Joseph Rosenbaum and Gaige Grosskreutz — had anything to do with the clashes that led to the deaths of Huber and Rosenbaum and the wounding of Grosskreutz. They are the victims of a shooting, and as far as we can tell their past legal records have no bearing on them being shot during a protest. If more facts emerge that show their backgrounds are relevant to what happened that night in Kenosha, we would revisit our decision. For instance, if there is evidence that any of the victims' backgrounds could have affected their interactions with Rittenhouse, or if he knew anything about them before the shooting.
Here's why the Journal Sentinel's reasoning is flawed and the wrong call:
---
There IS Evidence the Men's Backgrounds Had Something to Do With Their Behavior That Night; That's Especially True of Joseph D. Rosenbaum
Turns out the man Kyle Rittenhouse shot and killed last night in #Kenosha was Joseph D Rosenbaum, a convicted sex offender of sexual conduct with a minor

Here is video I shot of him begging to be "shot" in front of a gas station minutes before his death pic.twitter.com/tUfUGWX3io

— Drew Hernandez (@DrewHLive) August 27, 2020
Rosenbaum was a registered sex offender who was out on bond for a domestic abuse battery accusation and was caught on video acting aggressively just prior to the shooting, that night, using a racial slur. Rosenbaum is seen pushing a dumpster that was on fire. Witnesses told us people were pushing the flaming dumpster toward squad cars.
We obtained the court records for the Arizona sex offense that landed him on Wisconsin's sex offender registry (see them here.) They say that he raped, molested or was sexually inappropriate around five boys between the ages of 9 and 11, one of whom was burned. In prison, Rosenbaum racked up dozens of infractions, including multiple violations for assaulting staff.
Minutes after the disturbance at the gas station, Rosenbaum tied his red shirt around his face and head – a witness told Wisconsin Right Now that he spent some time "intricately" doing so, stating he believed he did it to conceal his identity. Rosenbaum is then observed chasing down Rittenhouse, throwing a bag at him and cornering him behind cars. Screenshots show Rosenbaum after he was shot lying on the ground with his red shirt only tied around his head. Why would Rosenbaum try to conceal his identity?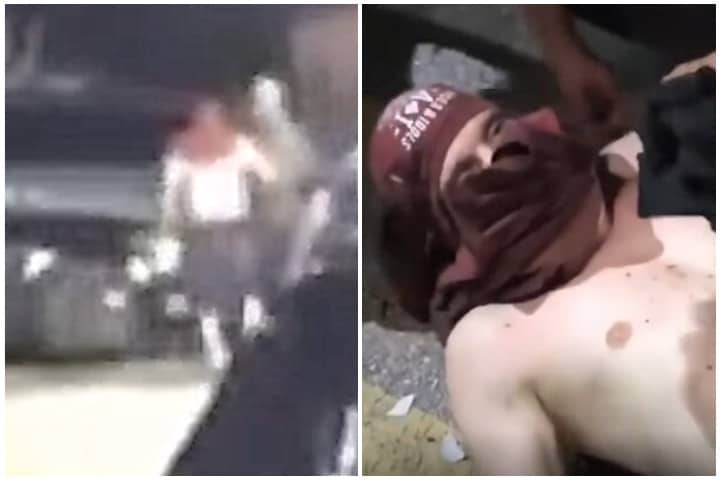 According to the criminal complaint:
McGinnis (a citizen witness) stated that there were other people that were moving very quickly. McGinnis stated that they were moving towards the defendant. McGinnis said that according to what he saw the defendant was trying to evade these individuals.

McGinnis said that the unarmed guy (Rosenbaum) was trying to get the defendant's gun. McGinnis demonstrated by extending both of his hands in a quick grabbing motion and did that as a visual on how Rosenbaum tried to reach for the defendant's gun. Detective Cepress indicates that he asked McGinnis if Rosenbaum had his hands on the gun when the defendant shot. McGinnis said that he definitely made a motion that he was trying to grab the barrel of the gun. McGinnis stated that the defendant pulled it away and then raised it.
Huber was a felon convicted in a strangulation case who was recently accused of a domestic abuse-related crime. He was confronting and making contact with Rittenhouse with a skateboard when shot. Grosskreutz was convicted of a crime for use of a firearm while intoxicated. Since he was armed with a handgun and moving toward Rittenhouse when shot, according to the criminal complaint, that seems relevant to us too. Minimally, we think readers should be told