The Wauwatosa Police Union is demanding "greater accountability" from the Common Council and its Government Affairs Committee, saying the city has filed to address the "violent and unethical behavior" of Ad Hoc Committee Chairperson John Larry, who was recorded on police body camera video threatening a police lieutenant.
For weeks, the police union has tried to get aldermen to do something about Larry's continued leadership on an important committee formed to consider reforms of the Police Department.
The Wauwatosa Police Union demanded that officials "immediately address Chairperson Larry's unethical behavior in threatening a police lieutenant – and his repeated, discriminatory references to the city of "White-watosa" and the "White-watosa Police," which "we find to be extremely offense and divisive."
Larry, the Wauwatosa police and inequities committee chair, was captured on body camera threatening to knock out and slap 'the sh*t out of' a police lieutenant this August, according to the video and a citation that Wisconsin Right Now obtained via open records laws.
Larry later called for the resignation of that lieutenant, as well as the police chief.
The government ad hoc committee Larry chairs – which is formally called the "Policing & Systemic Inequities" – is charged with making recommendations on changes in police and Common Council training and procedures on everything from warrants to racial bias issues to traffic stops.
The citation alleges that Larry "approached officers and made attempts to incite the officers. (Larry) made threats to harm Lt. Farina while on scene. (Larry) stated he would 'knock you the f*** out' and "I'll slap the sh*t out of you.' (Larry) also antagonized officers, stating, 'Grab me, let's see who wins' and 'I wish any of them would try it with me.'"
The release, written by WPOA President John Milotzky, says the union first brought the matter to city officials requesting action on Sep. 25 and "have followed up with numerous communications. All of which have been ignored, just as the body cam footage of Chairperson Larry has been ignored. These are serious matters that will not simply go away because you choose to ignore them."
In the press release dated Oct. 26, the union stated that the "inaction of the Common Council, the Government Affairs Committee, and the Ad Hoc Committee" causes the union officials to believe that "many of the current council and committee members" are not willing to accept accountability themselves, even as they demand it from police personnel.
On Aug. 14, 2020, Ad Hoc Chairperson Larry "threatened a Wauwatosa police lieutenant as recorded by police body camera – the very same type of body camera that this very committee has demanded for greater police accountability," wrote the Wauwatosa Police Union.
City employees and citizens deserve accountability and integrity, says the press release, and "choosing to continue to ignore this matter for nearly a month only undermines any attempt toward substantial cooperation."
It's the Government Affairs Committee that chose Larry.
The WPOA is requesting the Common Council:
Establish a means for complaints to be filed against Council members.
Provide a method to remove council members.
Promote greater accountability among council members.
The Wauwatosa Police Union said on Oct. 1 and again on Oct. 5 that the city's "failure to address our growing concerns continue to promote a declining work environment for our membership."
When Wisconsin Right Now reached out for comment from Larry previously, he responded:
Good Afternoon Mr. Piwowarczyk, I think you may have the wrong Mr. Larry. I did not receive an arrest citation last month, or any month since my nearly 40 years of being here on earth. Thank you for your interest in my life though. Here is a most recent article that mentions me a number of times. Make sure if you come for me, that you come ready. Please tell Jessica I said hi.
Watch the body camera video here. State Rep. David Bowen is standing behind Larry in it:
The citation further alleges that Larry "challenged Officer Patnode-Fonseca, stating, 'Put your hand on me!' 'I'm waiting on you,' 'I'm not playing' and 'Come looking for me.'" All of the comments were recorded by officers' body cameras."
In addition, two other videos obtained by Wisconsin Right Now show that Larry went to the Wauwatosa police station to check into Ronald Bell and William Lofton after they were arrested – Bell for allegedly shooting at Police Officer Joseph Mensah. In that video, Larry refers to Bell as a "brother of mine and the Movement."
"I got word that two of our protesters, two Black males that participate in our protests, the Peoples Revolution's protests were stopped and arrested here in Wauwatosa, and so I just made my way over here to see what's going on…" Larry says in a Facebook Live video. Police lobby video then captured him at the department. You can see both videos below.
"I'm over at Wauwatosa police district trying to see what's going on with two brothers of mine and the Movement."
In addition, we've reviewed a series of incendiary posts on Larry's Facebook page, including one that says "Line 'em up White-watosa Police Department, line 'em up!"
Earlier this summer, the Wauwatosa Common Council established the ad hoc committee to address policing and systemic inequities. The committee consists of four Wauwatosa elected officials and four community members.
Two of the other members don't live in Wauwatosa. Two – including Larry, who is a Wauwatosa resident – were cited last month for disorderly conduct related offenses. Larry and one other member are on The Peoples Revolution Facebook Group.
The Peoples Revolution organization has shut down Mayfair Mall and disrupted Wauwatosa for months. The Wauwatosa police union has called for the ad hoc committee to be disbanded.
---
The Citation Received by Wauwatosa Police Committee Chair John Larry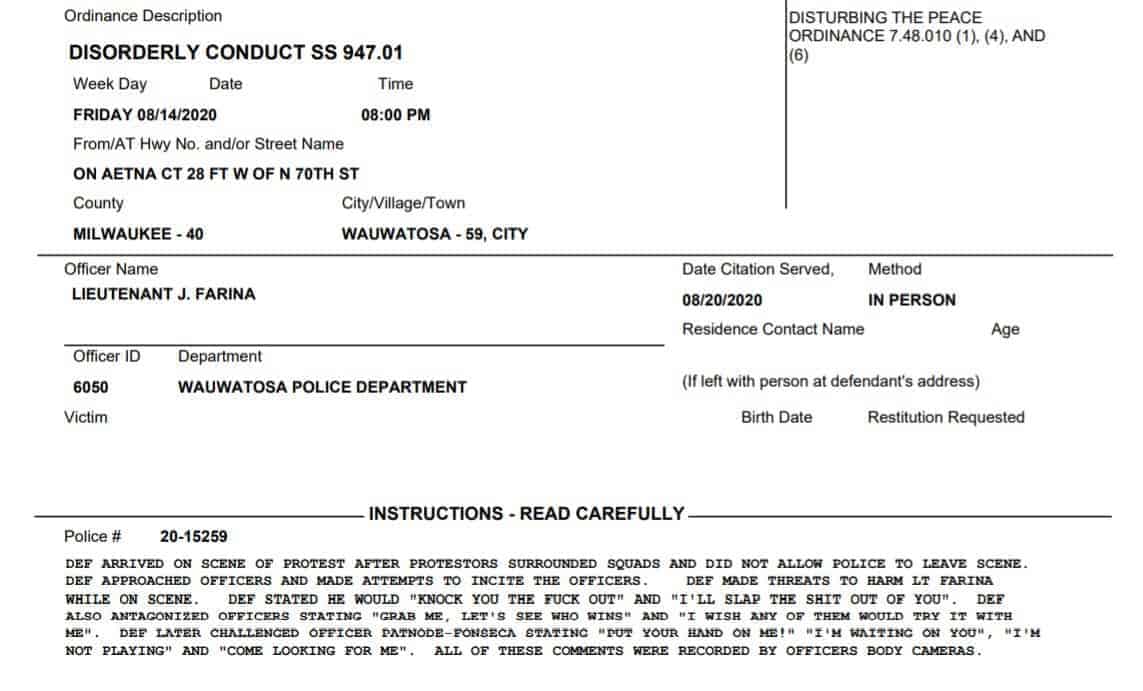 Wisconsin Right Now obtained the citation issued by police to John L. Larry. It was $1,321.
The citation, released through open records laws, says that Larry was accused of disorderly conduct on Aug. 14. The citation was served on Aug. 20.
The citation narrative accuses Larry of arriving at the scene of a protest "after protesters surrounded squads and did not allow police to leave scene."
You can read the full citation here.
---
Larry's Facebook Posts, Referring to 'Amerikkka' & 'White-watosa'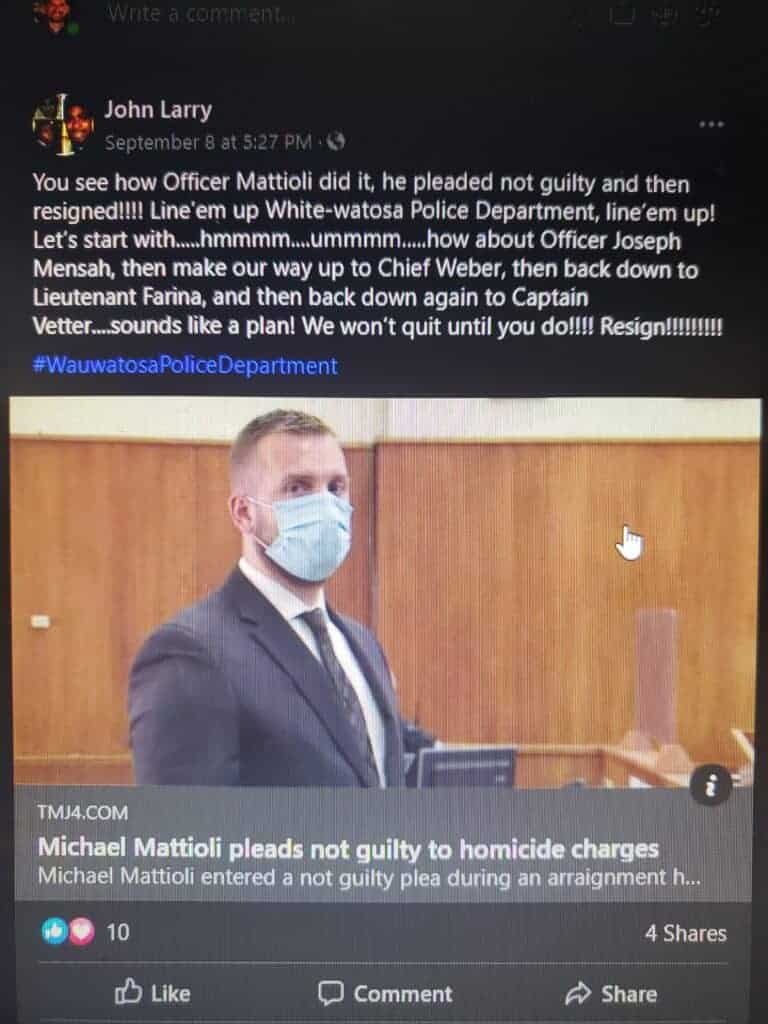 Larry has a history of writing controversial Facebook posts. They include:
"Neglecting to see dead black and brown bodies on the streets of Amerikkka!"
"White-watosa Mayor McPride has and continues to demonstrate failed leadership!"
"I have absolutely no trust in the Wauwatosa Police Department! Until Chief Weber and Officer/Killer Mensah are relieved of their duties."
Here are more of his posts: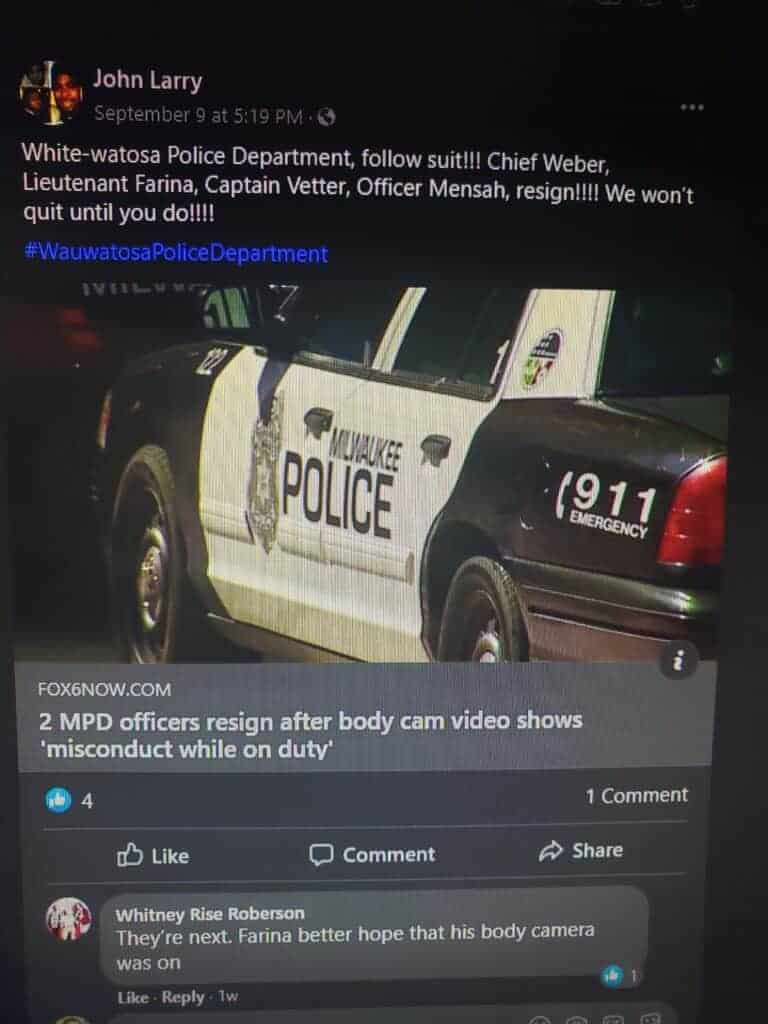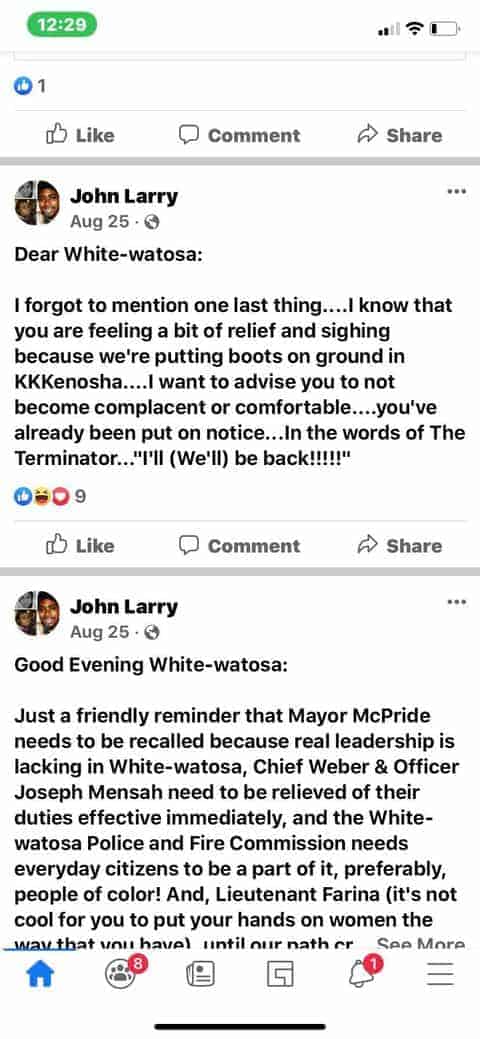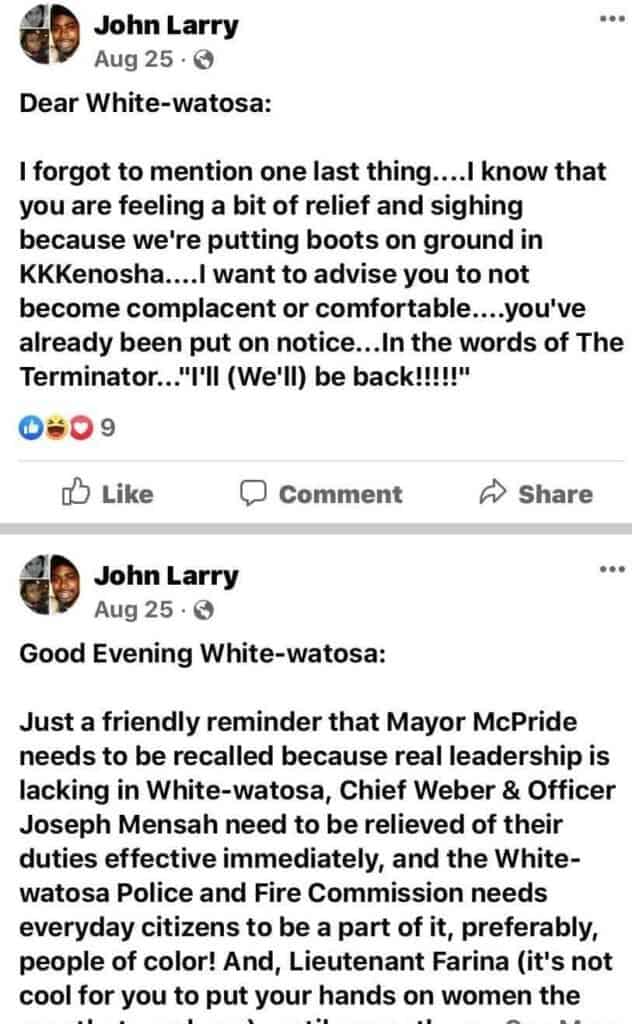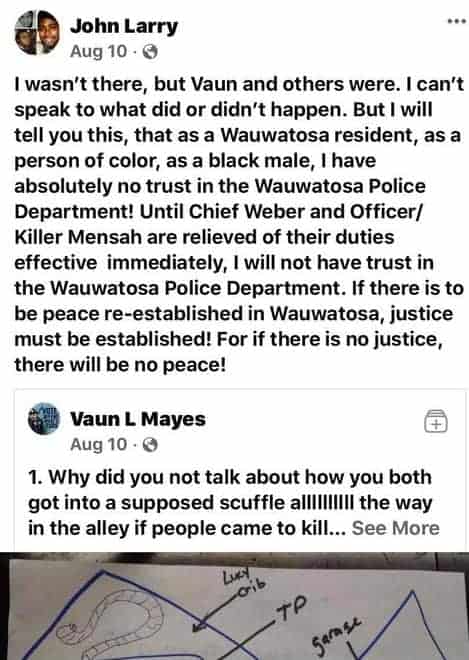 Disclosure: Jessica McBride, a contributor at Wisconsin Right Now, is the niece of Wauwatosa Mayor Dennis McBride. Jim Piwowarczyk, the owner of Wisconsin Right Now, is the author of this story.