Tom Kline was greatly respected for his outreach work with homeless people.
Absolutely shameful.
A Christmas tree memorial put up as a tribute to beloved Milwaukee police officer Tom Kline was desecrated with a BLM flag. We spoke to a former Milwaukee police officer who was one of Kline's close friends. She told us that she cleaned up everything the next day and found broken lower tree branches, fallen ornaments, cigarette butts right next to the memorial tree and a "trampled on" family-heirloom tree skirt.
She didn't think the damage was intentional but rather that it, and the flag draped over the memorial Christmas tree, occurred as part of a major protest/event that Black Lives Matter and the People's Revolution held in front of the tree to celebrate their 200th day of marching. She did think it was disrespectful and amounted to "desecration" of the memorial Christmas tree. In addition, she says that some of the hand-crafted ornaments were stolen from Kline's tree previously, although she doesn't know who took those. See photos of the BLM flag draped over the tree here.
People have since taken their homemade ornaments off of it because they're worried they will get stolen or damaged. The ornaments were carefully selected to represent who Kline was as a person.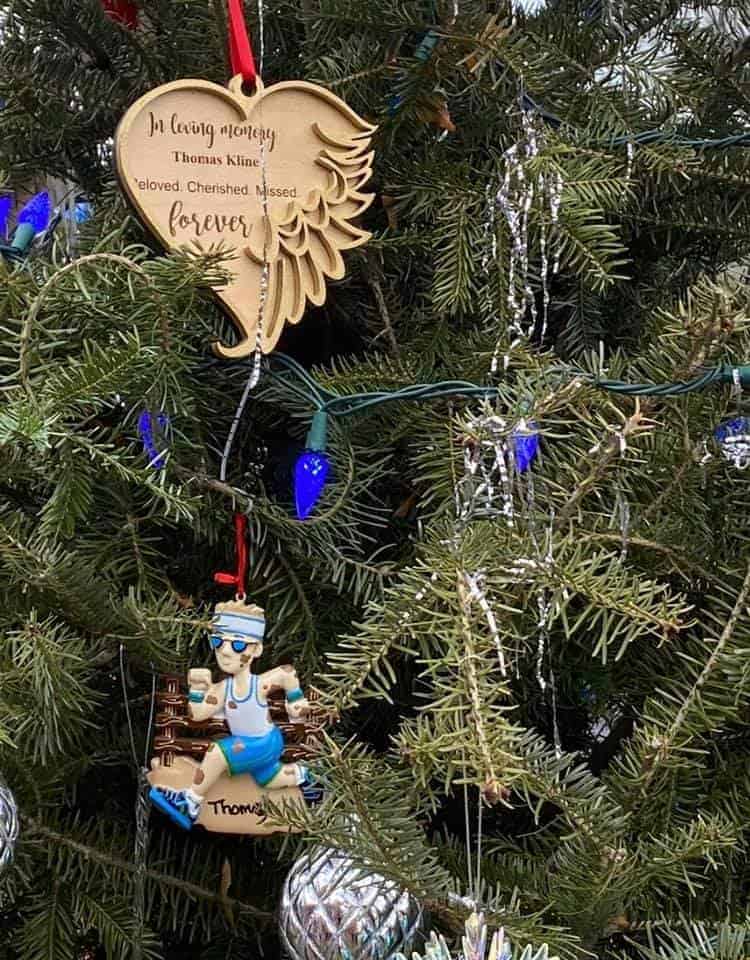 "Now it's just ruined," the former officer said of the tree. His tree, she said, was "the only dedicated tree that has blue lights in honor of being a police officer." Now she, and others, have removed ornaments placed on the tree because they can't trust that they won't be taken.
Tom Kline, who was lost to suicide, was greatly respected for his outreach work with homeless people. Officers and groups who worked with him downtown put ornaments on the Christmas tree tribute for him in Cathedral Square Park. The former officer said the tree was sponsored by Downtown Milwaukee and that Kline had previously helped school children decorate trees in the park.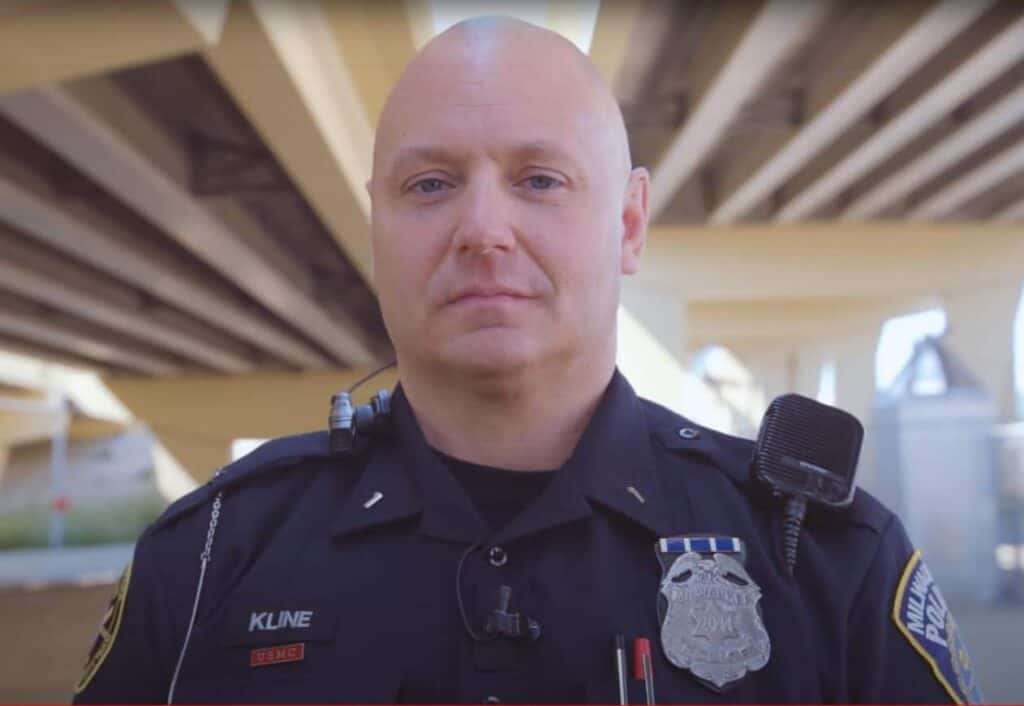 "All Tom ever wanted to do was help people," the former officer said. "Even when they didn't ask for it, it was things he sensed. He took care of bartenders on Water Street and community organizations; it's all he ever did was serve his community and make it a better place for everybody involved. And he was a fair officer. It was just about helping people. That is what Tom embodied."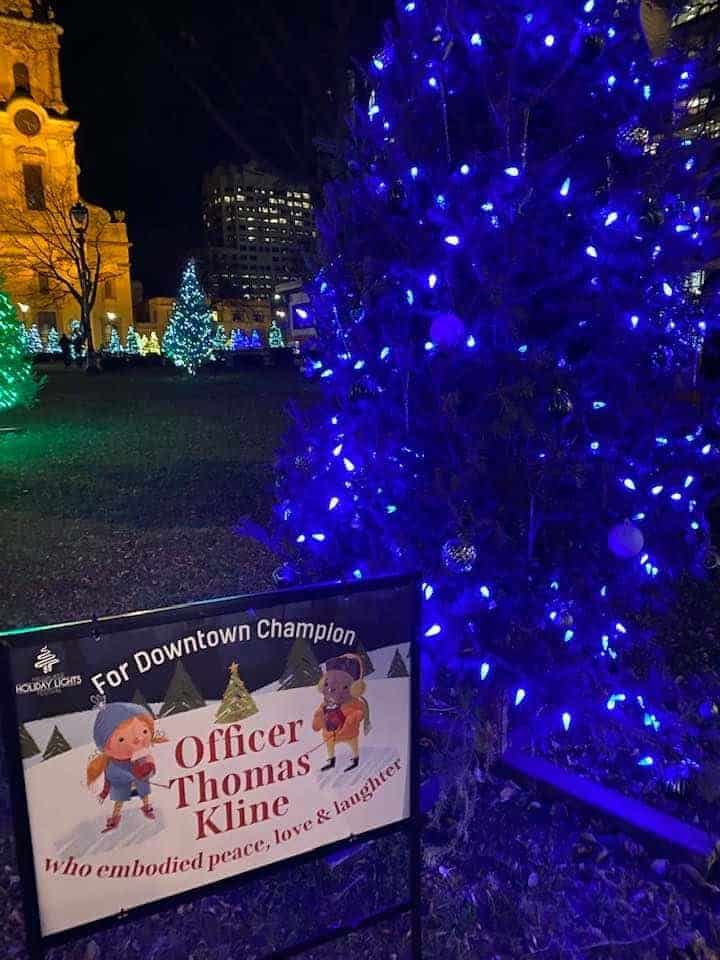 According to the former officer, who didn't want her name printed because of BLM, "They (protesters) had set up in front of Tom's tree. I had to call friends and tell them don't come down, it's not safe. They were talking about their propaganda.  They had an actual propane heater in front of his (Kline's) sign. They had two picnic tables pulled up (near) it, a grill, hotdogs." She said protesters were also using a bullhorn in the street to repeatedly shout "f*ck the police." She says the protesters took the flag with them after their event concluded.
Here are pictures of two trees; the first is of the Kline tree. The second is of a separate BLM tree. The former officer shared these photos with WRN to question why the protesters focused on Kline's tree instead of their own.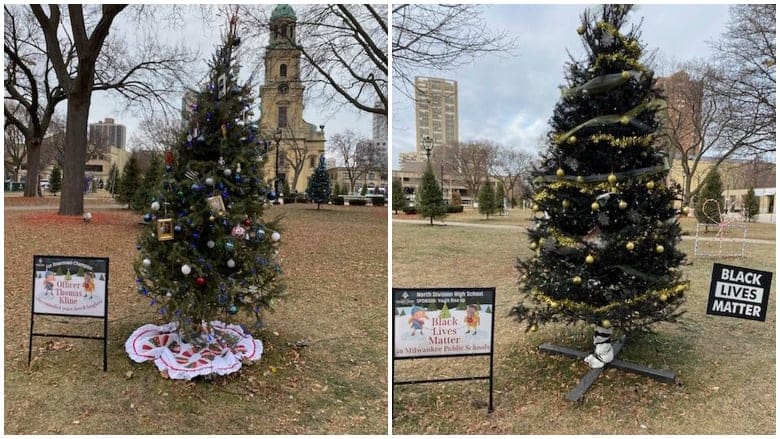 What happened to the tree has enraged multiple Milwaukee police officers who have written about it on Facebook. During the BLM event, says the former officer, "People and families with kids were fleeing the park, horrified by vulgarities and obscenities." She did say that several organizers told her they wouldn't allow anything to happen to the tree itself. Still, the next day she went down and "cleaned everything up."
The Milwaukee Journal Sentinel published two photos of the BLM flag draped over the tree as part of a glowing story about the BLM event. How