UPDATE: The Louisville Metro Police major who was in charge of the officers involved in the fatal shooting of Breonna Taylor on March 13 was demoted and reassigned for not following orders to stay out of the investigation of her unit. 
The Breonna Taylor case generates strong emotions. Some of the emotions are based on myths, bad facts and false narratives. Here are the actual Breonna Taylor facts.
As with "hands up, don't shoot," "Jacob Blake wasn't armed," and that there is an "epidemic of police killing blacks" or "police violence," the media have perpetuated myths, outright lies, and false narratives, driving outrage in the black community that helps fuel destruction in American cities. It's even more important than ever, in this current climate, to get the Breonna Taylor facts straight.
Some of these false narratives have actually led to recent change in public policy. Take for instance no-knock search warrants. Since mainstream media outlets falsely reported that Breonna Taylor was shot during the execution of a no-knock warrant, cities like Louisville, Orlando, Memphis and Indianapolis have banned the practice. In Wisconsin, Gov. Tony Evers and Lt. Gov. Mandela Barnes unveiled a proposal that included a ban of no-knock warrants.  Senator Rand Paul (R-KY) proposed the "Justice For Breonna Taylor Act" which banned federal law enforcement from using no-knock warrants.
The problem is: it wasn't true. Let's review the Breonna Taylor facts as we know them.
---
Breonna Taylor Facts: The Myths and the Truths
Kentucky Attorney General Daniel Cameron gave a lot of details that set the record straight and discusses the Breonna Taylor facts in a press conference. You can watch it above.
---
1. The Officers Executed the Search Warrant by "No Knock"
Google Breonna Taylor and "no-knock search warrant" and you get a pile of stories from credible media sites asserting that the officers, armed with a "no-knock search warrant," didn't knock when they entered Taylor's apartment. This is not true.
Truth: They knocked and announce themselves, according to the Attorney General and a witness.
That comes from the Attorney General of Kentucky, Daniel Cameron. "Although a judge did authorize a no-knock warrant…Cameron said supervisors changed the orders, advising officers to 'knock and announce their presence in serving this specific search warrant,'" KARE 11 reported.
The television station added, "Cameron said the officers did indeed knock and announce themselves, and that a nearby witness supported that account."
Breonna Taylor facts: Here's what Cameron said in the press conference: the officers were "advised by superiors to knock and announce their presence when serving this search warrant." He said the officers "both knocked and announced their presence at the apartment," and he said this was "corroborated by an independent witness who was near in proximity… In other words the warrant was not served as a no knock warrant."
---
2. Breonna Was Sleeping in Bed When Shot
Truth: She may have been sleeping when officers first knocked, but she was standing in the hallway when she was shot as officers returned fire because her boyfriend, Kenneth Walker, fired a gun at them first, hitting one officer, according to the Courier-Journal.
The newspaper reported that they heard banging on the door while watching a movie in bed.
In the news conference, Cameron said that, when Walker opened fire, he and Taylor were "standing beside one another in the hall."
---
3. Officers Were at the Wrong House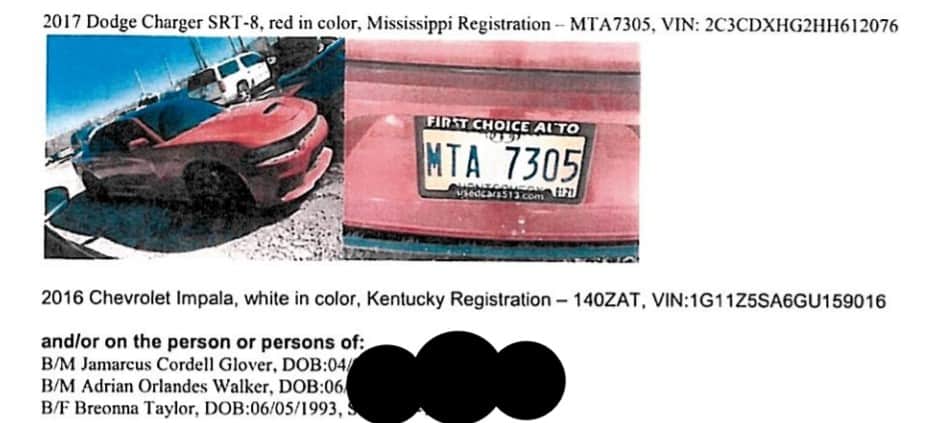 Truth: Breonna Taylor facts: The officers were at the correct house. They obtained a narcotics search warrant in the name of both Breonna Taylor and her ex boyfriend, Jamarcus Glover, who is a convicted felon and drug offender who was a target of the investigation.
You can read the search warrant affidavit Breonna-Taylor-search-warrants(1)
The search warrant affidavit says:
On 01/16/2020, during the afternoon hours, Affiant witnessed Jamarcus Glover operating the listed red 2017 Dodge Charger. Mr. J. Glover pulled up and parked in front of 3003 Springfield Drive (Taylor's house). Affiant then observed Mr. J. Glover walk directly into apartment #4. After a short period of time, Mr. J. Glover was seen exiting the apartment with a suspected USPS package in his right hand. Mr. Glover then got into the red 2017 Dodge Charger and drove straight to 2605 W. Muhammed Ali Blvd. which is a known drug house.

Affiant verified through a US Postal Inspector that Jamarcus Glover has been receiving packages at 3003 Springfield Drive #4. Affiant knows through training and experience that it is not uncommon for drug traffickers to receive mail packages at different locations to avoid detection from law enforcement. Affiant believes through training and experience, that Mr. J. Glover may be keeping narcotics and/or proceeds from the sale of narcotics at 3003 Springfield Drive #4 for safe keeping.

Affiant has observed the above listed white 2016 Chevrolet Impala park in front of 2424 Elliott Avenue on different occasions. This vehicle is registered to Breonna Taylor.
No drugs were found in the home, but the officers were at the intended home and had reason to be there.
---
4. The Officer Who Was Charged Shot Breonna
Truth: No, Officer Brett Hankison's bullets didn't strike Taylor, and he wasn't charged for that. Hankison was indicted by a grand jury for three counts of 1st degree wanton endangerment for rounds he fired that struck an adjacent apartment. Louisville PD has since fired Hankison, who was accused by interim police Chief Robert Schroeder of "blindly" firing 10 rounds into Taylor's apartment. Hankison was indicted by a grand jury for three counts of 1st degree wanton endangerment.
The officers who fired bullets that struck Taylor were not charged because the shootings were ruled justified self defense.
In the news conference, Cameron said the other two officers, including the officer who fired the fatal bullet, "were justified in the use of force after having been fired upon by Kenneth Walker." It's true that Walker has said he thought the officers were intruders but that doesn't change the law that says the officers had a right to fire because they were fired at first.
---
5. The Officers Fired First
Truth: No, Taylor's boyfriend, Kenneth Walker, fired first, striking an officer. The officers returned fire. That's why they weren't charged, and it was ruled self defense.
According to The New York Times, "the officers did not shoot first — it was the young woman's boyfriend who opened fire, striking one officer in the leg."
Said Cameron in the news conference: "Walker admitted he fired one shot and was the first to shoot." His bullet struck an officer in the leg.
---
6. The Officers Who Shot Breonna Were Responsible for the Search Warrant
Truth: Breonna Taylor facts: The officers who served the search warrant – and opened fire – did not apply for or obtain the search warrant. They were only assigned to serve the search warrant.
According to WHAS 11, the officers "were called into duty to help effectuate the search warrant and were not involved in the obtaining of that warrant."
Cameron confirmed this in the news conference, saying the officers at the apartment that day had "no known involvement in the…obtainment of the search warrant. They were called into duty as extra personnel. They only had information conveyed to them during their prior briefing."
---
7. Taylor's Current Boyfriend Was a Drug Dealer
Truth: Kenneth Walker, who opened fire at police, doesn't have a drug history. People are confusing him with Jamarcus Glover, Breonna's ex boyfriend, who does have a drug history.
According to the search warrant affidavit, Glover had the following pending court cases:
Convicted Felon in Possession of a Firearm, Convicted Felon in Possession of a Handgun, Receiving Stolen Property (Firearm), Drug Paraphernalia – Buy/Possess, Trafficking in a Controlled Sub