"We had a strong case we felt needed to be referred, and we referred it, and ultimately it was no processed," -St. Francis police Lt. Jeremy Harcus
---
This is the third chapter in Wisconsin Right Now's new investigative series – the "No Process Files" – exploring the Milwaukee County DA's high percentage of non prosecuted cases. If you would like us to feature a case from that or another county, email [email protected] You will remain anonymous.
---
Milwaukee County DA John Chisholm's office refused to prosecute Ayotunde Bello, a former Milwaukee police officer who was fired after very disturbing accusations that he sexually assaulted a female motorist a few hours after meeting her on duty in a traffic stop. Bello, who had a checkered history even before joining the force, was also accused of stealing drugs from her.
Chisholm's refusal to bring criminal charges came despite the fact that Ayotunde Bello admitted in a Fire and Police Commission disciplinary hearing to having sexual intercourse with the woman a few hours after initiating a traffic stop against her (he claimed it was consensual; she said it was rape), FPC records show. St. Francis police also found marijuana in his apartment, reports say. The accuser was a 40-year-old black female described only as S.R.
The records include a text message. At 11 p.m., while still on duty, Bello allegedly began calling and texting S.R. At 11:27 p.m., he allegedly texted, "Hey baby… We still on for tonight…Wya?"
The Fire and Police Commission decision, which upheld then-Police Chief Alfonso Morales' firing of Ayotunde Bello last fall, adds, "the chief found that Officer Bello had forced the female driver to have sexual intercourse with him and had taken possession of her marijuana, all in violation of Wisconsin statute, second-degree sexual assault, misconduct in public office, city ordinance, possession of marijuana."

"Officer Bello's conduct warrants discharge because the Chief must ensure that women stopped by MPD officers will not become the targets of sexual advances," the Fire and Police Commission decision upholding his termination says.
St. Francis police thought Bello committed crimes also. That department referred charges to Chisholm's office for second-degree sexual assault and misconduct in public office in October 2019 against Bello. The District Attorney's office delayed. And delayed. And delayed – for almost a year.
When the decision finally came? NOT CHARGED. With anything.

It's all part of a pattern: Chisholm's office refused to prosecute about 60% of the cases brought over for charges by local police departments last year, including felony cases. His no process numbers spiked in 2020, Wisconsin Right Now previously reported. Since then, the DA's office has rejected multiple open records requests from Wisconsin Right Now seeking examples of non-processed cases. Our tip on the Bello case did not come from a police agency. [If you want to give us a tip about a case the DA didn't prosecute, email [email protected] You can stay anonymous.]
We asked Chisholm's office what happened to the Ayotunde Bello case; the case received some significant news coverage at the time of the former officer's arrest and when Bello was fired from the department last fall, but there were never any news stories following up on the charging end. This is the first time it's been publicly revealed that Bello never faced criminal prosecution.
"The matter was 'no processed' in October 2020 because there wasn't sufficient evidence to corroborate the allegations beyond a reasonable doubt," Deputy DA Kent Lovern, Chisholm's spokesman, told us in an email on April 14, 2021.
What do the police say? We reached out to St. Francis police to ask.
"We had a strong case we felt needed to be referred, and we referred it, and ultimately it was no processed," St. Francis police Lt. Jeremy Harcus told Wisconsin Right Now.
Although the DA didn't think there was strong enough evidence to issue charges, then- Police Chief Morales and a three-member panel of the Fire and Police Commission felt there was enough evidence of wrongdoing to remove Bello from the Milwaukee Police Department.
Morales fired Bello from the department in September 2020, and the Fire and Police Commission agreed. However, the Commission was responsible for Bello's hire in the first place, and it wasn't without controversy.
The department didn't want to hire Ayotunde Bello in the first place because he had a 2011 theft conviction before being hired as a Milwaukee police officer, but the Fire and Police Commission ordered the department to hire him, according to a Journal Sentinel story that focused on scrutinizing the police. He was also accused of cheating on a recruit test, JS reported; then MPD Assistant Chief Raymond Banks received a recommendation to fire Bello when he was a probationary employee but those allegations were not sustained. The paper and other media never reported that Chisholm didn't issue criminal charges.
The sexual assault allegation out of St. Francis was an extremely serious matter: An officer accused of misusing his authority to rape a woman he met on duty.
The Fire and Police Commission held a hearing on the case in August 2020. "The chief found that Officer Bello stopped a female driver for unsafe lane deviation. Rather than give her traffic tickets he had prepared, he obtained her telephone number and then called and texted her to invite her to his apartment, where they engaged in sexual intercourse. For this violation, the Chief ordered Officer Bello discharged from the Department," the decision says.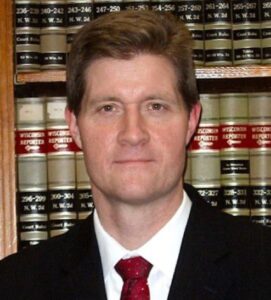 At that time, the case remained pending in the DA's office. In sexual assault cases, waiting so long to make a decision can compound the ability to prosecute a case as memories fade and witnesses can disappear. We don't know if that's the case here because the DA's office wasn't more specific about any evidentiary problems it saw. We would note, though, that, even if the office didn't think it could prove the sexual assault, police were also seeking a charge of misconduct in public office. (We reached out to the attorney who represented Bello before the FPC for comment from the lawyer or Bello himself and will add comment into this story if it's received.)
St. Francis police expedited their handling of the case.
"We took it down and had it reviewed (by the DA's office)," said Lt. Harcus, who we called to seek an explanation about what happened with the case. He said that the department sought the charges on October 28, 2019, only six days after Bello was arrested.
Harcus said police presented the case to the sensitive crimes unit. "It appears it was no processed on Oct. 9, 2020," he said. "It was pended for a long time."
According to Harcus, police do their "best at presenting the case. Then after that, we do whatever follow-up is requested. The decision (not to charge) is not mine."
He said the case was initially presented to an assistant DA, but he's not sure who decided not to prosecute it (although we would note that, as the elected DA in charge of the office, the decision is ultimately Chisholm's.)
"The detective checked several times, and it was pended and ultimately no processed," he said. The police lieutenant said that police began to investigate the "reported sexual assault" the day it was reported in 2019 and "we made the arrest on the same night."
Asked if police felt the case was strong enough for charges, he said police "obviously feel" every case they refer is strong enough for a charge. "We don't refer just to refer."
What are the elements for a misconduct in public office charge?
"Intentionally fails or refuses to perform a known mandatory, nondiscretionary, ministerial duty of the officer's or employee's office or employment within the time or in the manner required by law," is one.
"In the officer's or employee's capacity as such officer or employee, does an act which the officer or employee knows is in excess of the officer's or employee's lawful authority or which the officer or employee knows the officer or employee is forbidden by law to do in the officer's or employee's official capacity," says another possible element of the offense.
Another element: "Whether by act of commission or omission, in the officer's or employee's capacity as such officer or employee exercises a discretionary power in a manner inconsistent with the duties of the officer's or employee's office or employment or the rights of others and with intent to obtain a dishonest advantage for the officer or employee or another." See more here.
What the Allegations Said
The FPC report says that Ayotunde Bello entered the police academy in 2017. Sixteen months after starting recruit training, the allegations occurred.
On Oct. 21, 2019, Ayotunde Bello and another officer were assigned to a squad for a violent crimes-safe street initiative. They stopped a vehicle along West Lisbon Avenue that had unsafely cut in front of them, the report says.
The driver was S.R., a 40-year-old black female.
The system recorded that citations were is