"He was a huge difference-maker. He was a trailblazer. He cared about the community, and the community respected him." 
To the numerous African-American youths he mentored in the inner city, Milwaukee Police Officer Rosario Collura was a hero, a "difference-maker." The officer they knew as "Rosie"  regularly stopped by to check up on them, handed out baseball cards, and urged them to stay out of trouble. He was born and raised in district five, worked the district for almost 20 years, and died there, age 39. He cared about the kids, and they, in turn, cared about him.
His daughter Helena Collura Ewer, who lost her father at age 12 when he was shot and killed with Officer Leonard Lesnieski while disrupting a drug deal on duty in 1985, learned the mentorship story years later from a Milwaukee firefighter who was one of those boys. The man met Ewer by chance on the job (she used to work at a jewelry store) 15 years ago, and he described how youths began crying when they heard an officer was shot and discovered that officer was Collura, a married father of three. She never learned the firefighter's name, but we tracked it down for her: Marvin Coleman, now retired.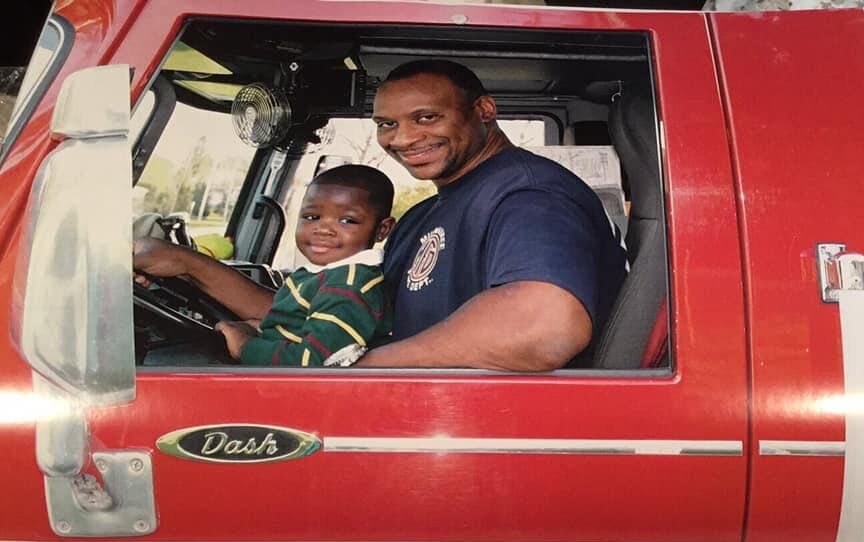 Coleman's 1970s-era memories of the officer he called "Rosie" are just as powerful today. "Her father was a difference-maker," he told Wisconsin Right Now. "He was a huge difference-maker. He was a trailblazer. He cared about the community, and the community respected him. He understood community policing way back when. Rosario Collura. Rosie. He was pretty much a vanguard to the neighborhood. Everybody respected him. He was a fixture on my (2nd Street) block."
"He made such a difference," Ewer told Wisconsin Right Now about her dad. "I heard so many stories. These officers make such a difference. He (Collura) was asked to transfer (out of his inner-city beat) multiple times, but he stayed. He said, 'These kids need me,' and he died there. He said, 'I can't abandon them.'"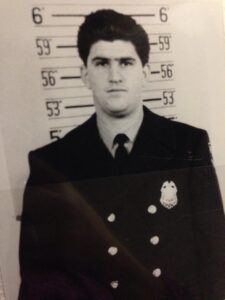 Thus, it is with an awful and terrible irony that this brave officer's family members, who have already sacrificed so much over the death of a man who quietly did so much for black lives, were made to endure a despicable display of abuse from Black Lives Matter protesters who descended on the Wisconsin Law Enforcement Memorial ceremony last week, which is held annually to honor fallen officers. Ewer and her brother, also named Rosario Collura, were chosen to present the wreath at the ceremony. Other family members of fallen officers were also subjected to verbal abuse at the ceremony, including children, who started to cry. Rosario Collura Jr. is now deputy police chief of a suburban Police Department.
A male BLM protester – who hasn't been identified but whose image is captured on video – even walked up to Ewer while she made an etching of her father's name on the monument. "Your dad deserved to die," he told her. "He was a murderer." She says he added, "I hope he suffered."
She responded, saying what she should never have to explain: "You're wrong; he was not a murderer. He was murdered. He spent 20 years trying to protect people so people like you can say these hateful things."
When we told Coleman about this encounter, he was very upset. "We need police. Whoever did that should be ashamed of themselves," he said. "I want people to know that his family didn't deserve that. He was NOT a murderer. He was a helper. He was a hero to our neighborhood, you know, and we respected him as such."
He added: "He (Collura) cared about us and the community at large. He absolutely made an impact on me. I never forgot him." When Coleman heard Collura was murdered, he thought, "Why would somebody want to kill him? This guy cared about all of us."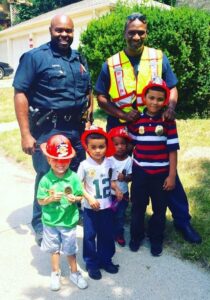 For years, when Coleman would go to the fire and police academy for training, he would always take time to stop by Collura's picture. To remember the man who made such an impact in so short a time and then was suddenly gone. Perhaps the story of Rosario Collura and Marvin Coleman is symbolic of what we've lost in a sea of divisive rhetoric that dominates the media, and it's what we need to get back to.
Protesters at the memorial flew an American flag marred with the words "f-ck 12" and played rap music that chanted "f-ck the police" over and over again during the memorial ceremony, which was attended by Gov. Tony Evers, Milwaukee Police Chief Alfonso Morales, and others. They even disrupted the opening prayer by yelling hateful things about police over a megaphone.
One woman, Sabrina Carpino, 35, of Madison, was arrested and Capitol Police are referring charges against her for disorderly conduct and disrupting a funeral or memorial service to the Dane County district attorney. The man who hurled the abusive comment at Ewer has not been arrested, even though he is captured on v