Glenn Yamahiro could have chosen to recuse himself to remove any perception issues in such a contentious case; surely, there are a number of other judges without such close ties to one side who could have heard the case.
A former public defender and Jim Doyle appointee whose ex-wife and the mother of his child has worked extensively in opposition to Joseph Mensah got to decide whether to overrule the elected DA and criminally charge the officer.
Glenn Yamahiro has now made a decision that runs counter to multiple previous investigations; he has found probable cause that Mensah committed homicide by negligent use of a dangerous weapon using a rare John Doe provision in state statutes. He is now appointing a special prosecutor to handle the case.
[Note: this story first ran in May 2020 on Wisconsin Right Now. We've updated it to include the latest developments.]
Is that fair?
Milwaukee County Circuit Judge Glenn Yamahiro, who was asked by attorney Kimberley Motley to issue criminal charges against the former Wauwatosa police officer in the on-duty shooting death of Jay Anderson, has a close family tie to Motley and the Andersons, Wisconsin Right Now has learned. Anderson was shot and killed five years ago.
Here's why:
Yamahiro is the ex-husband of Deja Vishny, who works for Motley's law firm on an "of counsel" basis. Vishny has worked extensively with Motley as a literal legal team in her persistent efforts to get Mensah charged with homicide. Yamahiro and Vishny also share a child together; Vishny has served as a high-profile Anderson family attorney in the Mensah matters alongside Motley for months.
Due to a rare provision in John Doe statutes, it was up to Yamahiro to decide whether to criminally charge Mensah as his ex-wife and the mother of his child desires, even though the Milwaukee County District Attorney already ruled the 2016 shooting justified. A separate federal civil rights criminal investigation probe also resulted in no charges against the officer.
Mensah is now a Waukesha County Sheriff's deputy.
This has raised serious concerns about fairness in some corners for months as Yamahiro's decision looms, yet it hasn't been explored at all in the rest of the news media.
For months, Vishny and Motley have been joined at the hip in calling for criminal charges against Mensah, working as lawyers for the Anderson family, firing off a letter opposing a settlement agreement that Mensah entered with the city, demanding open records in Mensah's cases from the city, challenging curfew violations, and standing arm-in-arm at press conferences calling out Mensah and Wauwatosa in the strongest of terms.
https://www.facebook.com/fox6news/posts/3372075202861308/
How close are the pair? "Best partner EVER!!" Motley declared about Vishny, a former Milwaukee public defender.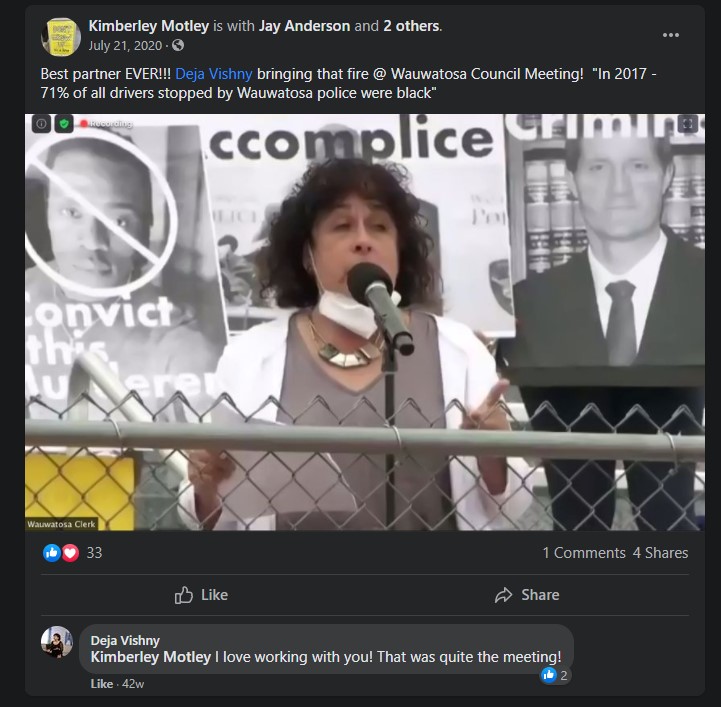 Thus, even though the DA ruled the Anderson shooting (and two others) justified, a former public defender and Jim Doyle appointee whose ex-wife is deeply tied to the anti-Mensah side in a very public way will get the final say on whether the officer's life will be, effectively, ruined via a criminal homicide charge.
Mensah John Doe Hearing Before Judge Glenn Yamahiro
Closing arguments in the Mensah John Doe hearing, which was requested by Motley, are taking place on May 19 before Judge Yamahiro.
If you think it's ridiculous that a judge can overrule the decision-making of the DA, blame the Legislature for that, which, a few years ago, after hue-and-cry over the John Doe into then Gov. Scott Walker, limited the John Doe statute to exclude legislators but left cops at its mercy. The statute allows a citizen to petition a judge to issue a charge when a DA will not; the judge has immense power in a John Doe hearing to do just that.
Glenn Yamahiro gets to ask witnesses questions in the Mensah John Doe hearing, but Mensah's attorney can't cross-examine them because Mensah is not a defendant – it's all about WHETHER to charge him.
"Are you aware of anybody else who fired their weapon 19 times in the past 30 years while you've been chief?" Yamahiro asked Wauwatosa Police Chief Barry Weber recently in the John Doe hearing.
Taleavia Cole, the sister of Alvin Cole, the armed teenager shot and killed by Mensah outside Mayfair Mall, in another shooting ruled justified by the DA, seems to think it's going well for the anti-Mensah side.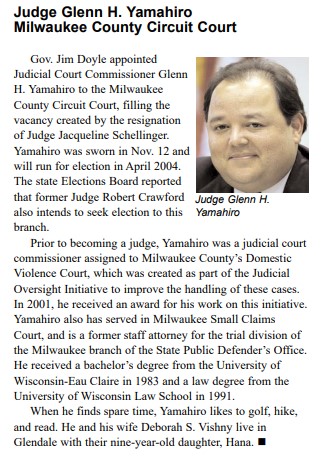 "This morning, Judge Glenn Yamahiro dismissed all Joseph Mensah's motions to dismiss this Jon Doe Hearing," Cole wrote on May 17. "Motion to dismiss is Denied! Thank you Judge, Kimberley Motley, and the family of course. We are still on Wednesday, May 19th for Kimberly's closing statement."
We contacted Judge Yamahiro to see if he had any comment on the alleged conflict with Vishny. His clerk got back to us and said that the issue was "discussed on the record at the time" and the judge had no further comment. We contacted Mensah's attorney Jon Cermele and left a message.
"It is not fair everything he (Mensah) has went through," Mensah's girlfriend Patti Swayka told WRN when asked for comment. "He's been fighting fair all along, even when he was treated unfairly and out of the ordinary. He is the kindest, most intelligent, STRONGEST, loving person, I have ever met. He will make it beyond this because he is an honest person. Honesty always wins."
We also contacted Rick Esenberg, a legal expert who is president of the Wisconsin Institute for Law and Liberty. Specifically, we asked him whether the judge was mandated to recuse and whether this kind of conflict is a violation of judicial ethics. He said that's unclear and open to interpretation; some judges have voluntarily recused in somewhat similar cases to remove, minimally, perception issues of fairness, though.
You can judge for yourself as to whether you, if you were in Mensah's shoes, would feel you were getting a fair shake from a judge with such close family ties to the side lobbying aggressively to get the judge to criminally charge you.