Madison's school board president is defending a canceled drag show in school, and is pointing her finger at Wisconsin's former governor.
Madison Metropolitan School Board President Ali Muldrow called out former Gov. Scott Walker for his comments on the canceled drag show at East High School in Madison.
"I am outraged that politicians would risk subjecting children to hatred and violence while desperately seeking attention, inciting fear and misunderstanding. Using children at school to stoke division is not only irresponsible, it's dangerous," Ali Muldrow said.
Walker took to Twitter last week to criticize the drag show at East High.
"Let's be clear: 'drag shows' are strip shows. They are wrong. They are particularly wrong at school. They are definitely not 'family-friendly'," Walker tweeted.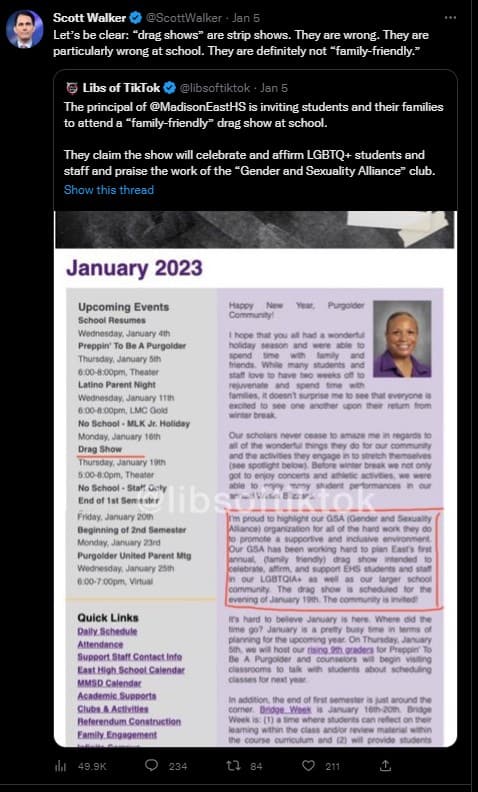 East High promoted the show, which was set for next Thursday, in an email.
"Our GSA has been working hard to plan East's first annual (family friendly) drag show intended to celebrate, affirm, and support EHS students and staff in our LGBTQIA+ as well as our larger school community," the school's email stated.
The show caught the attention of The Libs of TikTok, and that brought national attention.
Ali Muldrow, however, continued to defend the drag show.
"Our young people have every right to have expansive, creative, self-determined and liberating relationships with gender expression," Muldrow added. "I am so incredibly grateful for every adult who has made our students feel safe to be exactly who they are."
A Madison Metropolitan spokesman said the attention from The Libs of TikTok brought in both praise and criticism. He said it also brought in threats.
No one is saying who or what was threatened.
Madison Schools are also not saying if the drag show may be rescheduled.