Portions of the Nashville school shooter Audrey Hale manifesto were leaked Monday after months of debate regarding its release.
Steven Crowder, host of the Louder with Crowder talk show, shared images from the manifesto. The documents released by Crowder reveal the intentions behind Hale's deadly attack.
"Wanna kill all you little crackers"

"Bunch of little faggots w/ your white privlages fuck you fAggots"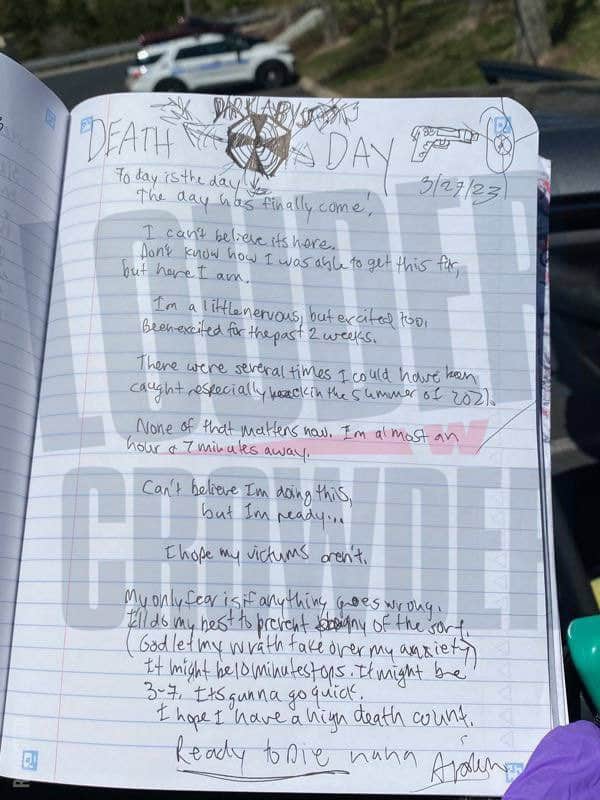 "I Hope I have a high death count."
"Time 2 Die XXX"
On March 27, Hale, 28, who was a woman who identified as transgender,  broke into the private elementary school and opened fire, taking the lives of three children and three school employees.
Hale, who also went by the name "Aiden," was previously a student at the school.
The documents obtained by the Metro Nashville Police Department, which were left behind by Hale, have been the source of legal and public debate over questioning if they should be released to the public.
The Wisconsin Institute for Law and Liberty has filed a lawsuit against the FBI for the release of the manifesto.
A group of Covenant parents have argued the documents should not be released to the public to avoid potential copycats and to allow for closure to the parents who lost children.
Steve Crowder tweeted that a video he created when he released the documents was taken down by YouTube. YouTube told him the video violated their "violent criminal oranizations policy."
Investigative journalism is now considered a "criminal organization" according to @YouTube

Wait until you see what we have in store for tomorrow.

Rumble only. 10AM ET.#NashvilleManifesto #MugClubUndercover pic.twitter.com/YpTIouuzyW

— Steven Crowder (@scrowder) November 7, 2023
---
Metro Nashville Police Department Chief John Drake Responds
In a press release, Metro Nashville Police Department Chief John Drake appears to confirm the authenticity of the leaked documents when he said,
"I am greatly disturbed by today's unauthorized release of three pages of writings from the Covenant shooter. This police department is extremely serious about the investigation to identify the person responsible. This action showed a total disregard for Covenant families, as well as the court system, which has control of the shooter's journals at the present time due to litigation filed earlier this year. It is now pending in Davidson County Chancery Court and the Tennessee Court of Appeals. We are not at liberty to release the journals until the courts rule. Our police department looks forward to the ultimate resolution of the litigation concerning the journals."
---