Frank Mosley has been charged by the Milwaukee County District Attorney's office for a hit-and-run crash of a stolen vehicle that killed a pregnant woman, Erin Mogensen and her unborn child at the intersection of Capitol Drive and Highway 100.
Mosley is accused of driving a stolen car at 116 mph before crashing into Mogensen's vehicle. A Walmart receipt, key fob, and distinctive tattoo led police to Mosley, a rapper who goes by the name "Lil Frank."
Wisconsin Right Now was first to report that Mosley is the suspect.
Frank Mosley, 20, is charged with:
–First-degree reckless homicide; a Class B Felony, imprisonment not to exceed 60 years.
–First-degree reckless homicide- Unborn child; a Class B Felony, imprisonment not to exceed 60 years.
–Hit and run resulting in death; a Class D Felony, fined not more than $100,000, or imprisoned not more than 25 years, or both.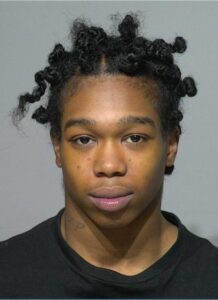 The crash happened on Thursday morning and killed 32-year-old Erin Mogensen.
An autopsy showed she was seven to eight weeks pregnant.
The criminal complaint says:
Wauwatosa police tried to stop a BMW that didn't have license plates. They later learned it had been reported stolen.
Wauwatosa Police called off the chase, but the BMW later hit Mogensen's Toyota.
The criminal complaint says the BMW was going 116 mph. It slowed to 61 mph at the moment of impact with the Toyota.
The speed limit where the crash happened is 35 mph.
The complaint further alleges:
Police found a Walmart receipt in the abandoned BMW. They went to the Walmart store indicated on the receipt and reviewed the video. The complaint said the "footage showed the BMW arriving in the lot and a man exiting it and entering the store. Video from close up inside the store showed that the man had a distinctive tattoo depicting a clock on his hand."
On Nov. 2, detectives went to the residence where the BMW was initially stolen. The complaint says while "knocking on the door, police saw a man inside motioning to a woman inside." The woman exited onto the porch and would not identify the man inside.
Mosley had a cut and bump over his left eyebrow.
According to the criminal complaint, police found a fire burning outside on a grill. They found charred and burnt clothing and partially burned papers from the BMW involved in the crash.
Mosley told police someone stole the BMW car before the crash. He denied being the person in the Walmart video.
"A key fob for a BMW was in the house where the defendant was arrested," the complaint says. An officer "later tried that key fob on the BMW from the crash and found that it operated the doors and hatch."
A neighbor had photographed the the BMW outside the home where Mosley was located a few hours before the crash, the complaint says.
"He (Mosley) said that he had the car about a week prior to the date of the crash, but that someone had stolen the car from him before the date of the crash and he had not used the car since," the complaint says. "He denied that it was him in the Walmart footage. He had no explanation for the presence of the BMW outside the residence where he was arrested on 11/2/23, other than to suggest that someone else could have driven it there or the photo could have been taken days before the crash (contrary to the known date of the photo.)"
Frank Mosley 'Lil Frank' Criminal Complaint