Frank Mosley Jr. is the 20-year-old Milwaukee man accused of being the reckless driver who killed Wauwatosan Erin Mogensen, the 32-year-old woman who was killed at the intersection of Capitol Drive and North 100th St. Thursday morning.
There is a rapper from Milwaukee who goes by the name Lil Frank. Court records show one of Mosley's aliases as Lil Frank. Online photos of Lil Frank closely resemble Mosley.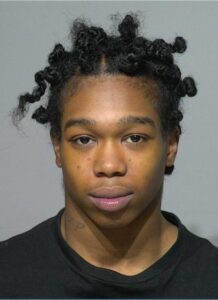 Wisconsin Right Now has learned Mosley's name from sources. Authorities have not yet released it.
Mosley was booked into the Milwaukee County jail on November 4th with a bail amount listed as $200,300.00 and a hold placed through the Department of Corrections. No charges are listed as of yet.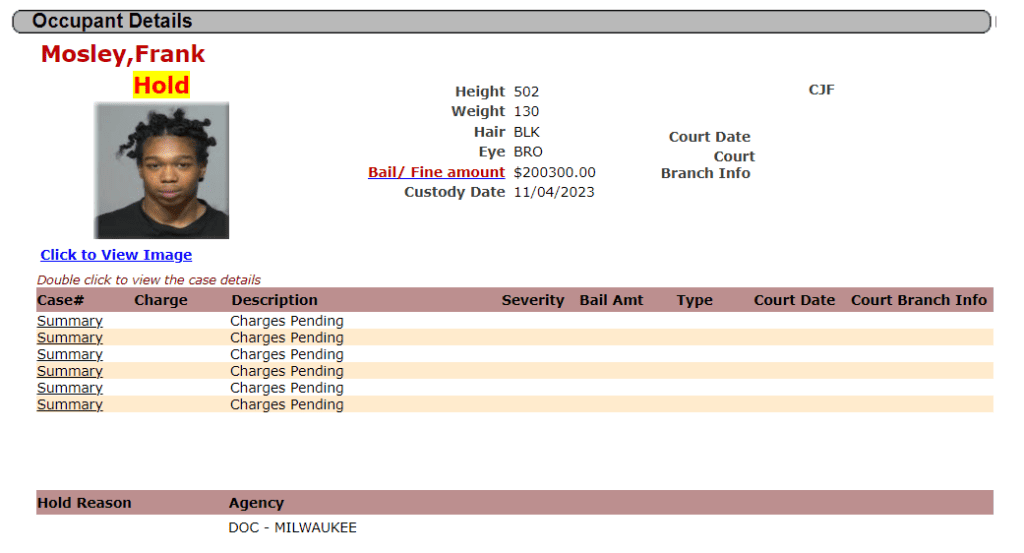 Frank Mosley is on active community supervision, according to state records. He is a serial retail thief. In 2020, according to court records, he was given a deferred prosecution agreement for felony retail theft in Kenosha County. CCAP says he went by the aliases of Lil Frank Neal and Frank Neal.
In 2020, in Kenosha County, he was convicted of misdemeanor retail theft, according to court records. He received 18 months probation in 2021 in that case and a charge of obstructing an officer was dismissed.
That same year, he had a second retail theft case, also out of Kenosha County. He received 18 months probation on that one too but it ran concurrent with the first charge.
In 2021, in the most recent case out of Milwaukee County, he pleaded guilty to felony retail theft. He received three years probation, 35 days in the House of Correction and 75 hours of community service. "Court allows expungement upon successful completion of probation if the defendant is working a minimum of 20 hours per week, has obtained a valid driver's license, and has completed 3 college credits," the court records say.
Erin Mogensen was identified by the Milwaukee County Medical Examiner's Office as the innocent Wauwatosa woman who was killed by the reckless driver. Police say the suspect was in a stolen car at the time and fled the scene.
The crash occurred at 11 a.m. on November 2, 2023, according to Wauwatosa Police Chief James MacGillis.
The medical examiner's report says that Mogensen's husband Alex Mogensen was present at the scene because her father received an "SOS notification" from her phone.
"This 32 year-old female was the driver of a vehicle that was hit by another vehicle that reportedly ran a red light. She died while on scene in the med unit," the medical examiner's report says. "The posted speed limit in the area of the incident was 35 miles per hour and the striking vehicle was estimated to be traveling at a rate of 100 miles per hour. The striking vehicle ran a red light."
"The motor vehicle accident resulted from a vehicle, which had been fleeing from Wauwatosa Police Department, striking the decedent's vehicle. They arrived at 1045 hours, and Wauwatosa Police Department notified MFD – Engine 22 that Erin was pulseless and not breathing," the report says.
According to the report, "Wauwatosa Police Department (WPD) was pursuing a stolen vehicle which was traveling east on Capitol Drive at a high rate of speed. WPD was traveling at a speed of 75 miles per hour and was two blocks behind the striking vehicle. At that time, the pursuit was called off. Shortly after, the striking vehicle ran a red light at the intersection of North 100th street and West Capitol Drive and struck Erin's car which was traveling north on 100th street. Erin's car ended up in the west bound lanes of Capitol Drive. The driver of the striking vehicle fled on foot."
The report added: "Erin's husband, Alexander Mogensen received a call from his father-in-law stating that he received an SOS notification from Erin's phone. They thought it was a scam notification so, Alexander went outside to see if Erin's car was still in the driveway. It was not, so Alexander ran to the site where the alert originated from and observed paramedics performing life-saving measures on Erin."
A neighbor told WISN-TV that the victim, 32, was pregnant.
The Wauwatosa death comes after two fatal crashes that occurred Sunday night in Milwaukee. Both crashes also resulted in fatalities in vehicles that were not at fault for the crashes.
"A Wauwatosa resident is dead and a suspect is at large following a fatal hit and run motor vehicle crash on W. Capitol Dr. at N. 100 St. This death is a stark reminder of the devastating consequences that can follow reckless driving on our roads," the chief said in a news release.
Wauwatosa/Milwaukee – 100/Capitol – Around -1045Am today, vehicle that originally fled from police crashed with fatal injuries in the vehicle that was struck #Pursuit #Wauwatosa #Milwaukee #USFiR pic.twitter.com/YEvDjjZbX5

— USFiR2015 (@USFiR2015) November 2, 2023

WTMJ-4 published surveillance video of the Wauwatosa crash although it was edited to exclude the moment of impact.
Earlier today, the chief wrote, a Wauwatosa police officer "tried to conduct a routine traffic stop on a vehicle with no license plates. Instead of stopping, the individual driving the vehicle decided to flee. As the officer initially gave chase, the driver sped up, driving dangerously. The officer stopped pursuing."
The release says the driver "continued to speed away, showing an utter disregard for our community. The driver caused an awful crash, which resulted in the death of an innocent woman. It was later learned that the fleeing vehicle had been reported stolen."
"The Wauwatosa Police Department has been, and is committed to, combating reckless driving. We partner with area police agencies on a regular basis through targeted enforcement strategies to get through to those dangerous drivers that their behavior needs to stop," MacGillis said. "It hurts us that an innocent person died today because of someone's irresponsible behavior. Please continue to support us as we do our part in working toward a solution to this ongoing problem of reckless driving."
The Milwaukee Police Department (MPD) is conducting the criminal investigation, "and are seeking the driver, who fled the crash scene on foot. We thank MPD and the Wauwatosa Fire Department for their responses and work at the scene. Lastly, we offer our condolences to the family and friends of the victim of this crash," said the Wauwatosa chief.
MPD released the following statement:
"Milwaukee Police are investigating a fatal hit and run crash that occurred on Thursday, November 2, 2023, at approximately 10:42 a.m., on W. Capitol Drive at N. 100 Street. Prior to the crash, a Wauwatosa police officer tried to stop a vehicle, which fled. The officer terminated pursuit, however, the vehicle (Unit #1) continued to flee and crashed with an uninvolved vehicle (Unit #2). The driver of the suspect vehicle fled the scene on foot. The suspect vehicle had been reported stolen days earlier. The driver of unit #2, a 32-year-old, sustained fatal injuries. Milwaukee Police continue to seek an unknown suspect. Anyone with any information is asked to contact Milwaukee Police at (414) 935-7360 or to remain anonymous, contact Crime Stoppers at (414) 224-Tips or P3 Tips."
Lil Frank
Here are photos of 'Lil Frank' which appeared on his Instagram page.