Let's contrast.
It was the president's fourth Wisconsin rally in the last two weeks. He was in West Salem on Tuesday, Waukesha on Oct. 24 and Janesville on Oct 17. Now he was in Green Bay, and we were there to cover the crowd. It was a boisterous, electric one.
It has become very clear that the President considers Wisconsin a crucial state in the election, when he said, "If we win the state, you know what? It's all over."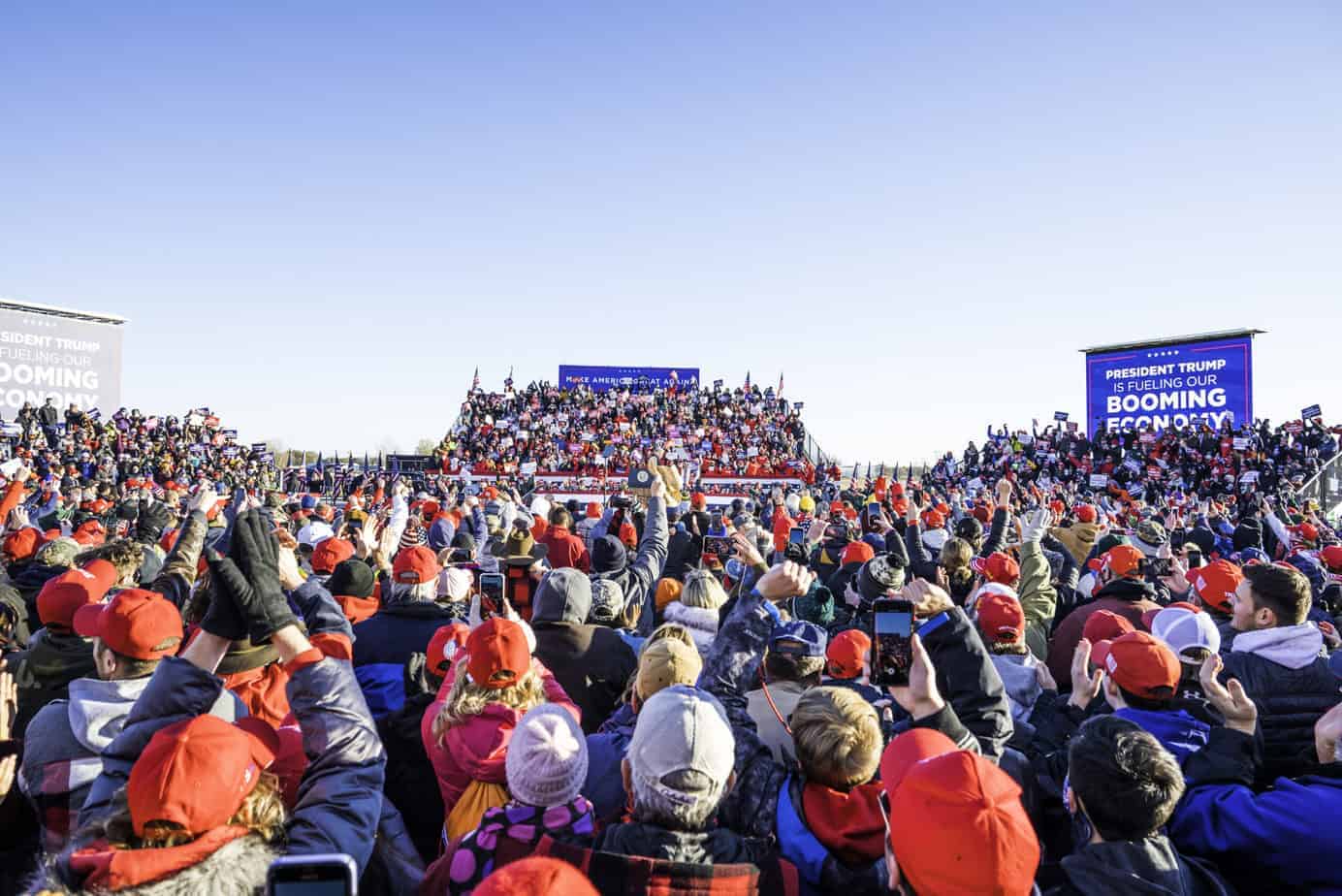 President Donald Trump held a Make America Great Again rally at Green Bay's Austin Straubel International Airport on Friday, Oct. 30.
President Trump won Wisconsin by fewer than 23,000 votes in 2016. It was 2016's tipping point that led to White House victory for the Trump campaign. Hillary Clinton famously ignored Wisconsin.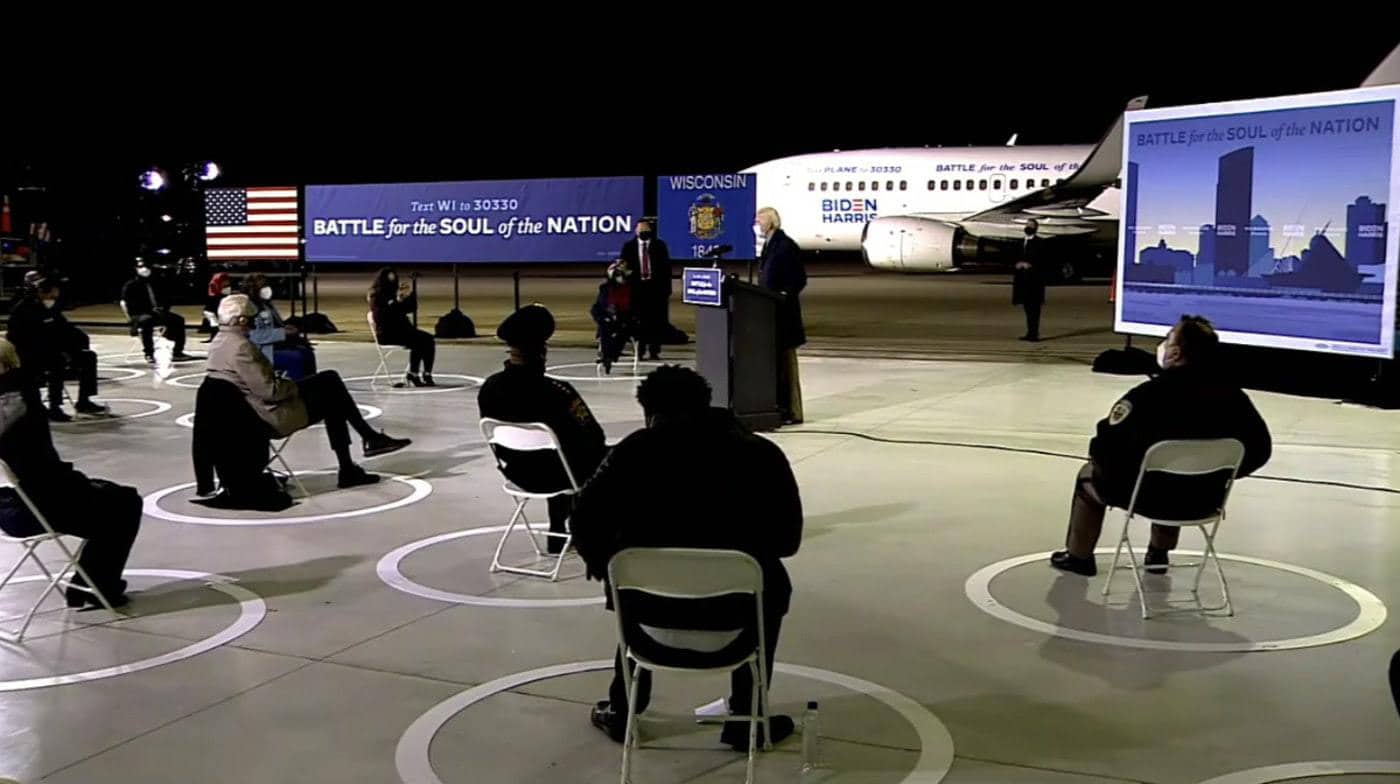 But is Joe Biden really doing much more?
Consider.
While Trump held a series of electric rallies, Biden appeared in a Milwaukee airport hangar in front of 12 people. You read that right.
Wisconsin Right Now attended the Green Bay rally, and we wanted to attend the Biden rally in Milwaukee; however, what was initially supposed to be a Biden rally, then a car parade, eventually resulted in a small gathering of 12 people in a hangar at General Mitchell airport. We were unable to get the details of the "rally," and therefore didn't attend.
12 people. Those dozen people included tired, typical politicians like Gwen Moore and Tom Barrett while Trump made room for average Joes. Yes, we get that COVID-19 is a concern, but Trump's rallies were held outdoors, and most people were masked up. Biden's "rally" was just weird. People sat in chairs in circles like they were in a scene from Blade Runner. Biden spoke through a mask. Can you imagine if we could go back in a time machine a year ago and show people a picture of that? They would think we were nuts. Or the world had ended. Or something.
Here is the list of the invited attendees:
Due to the rapid rise in COVID-19 cases in Wisconsin, @JoeBiden's speech in Milwaukee is being given in front of just a few dozen community leaders

Three speakers are introducing Biden, including @RepGwenMoore pic.twitter.com/Z0Q2FHalTm

— Johnny Verhovek (@JTHVerhovek) October 31, 2020
Sorry, but we don't think putting Gwen Moore in a bubble counts as showing you care about Wisconsin.
This is Biden's vision for America. Changed. Locked down. Everyone isolated. Trump is promising an opened-up, excited version of the country, where people are connected by unity of purpose and commonality of emotion.
Which sounds better to you?
Check it out for yourself.
Of course, the airport's PR guy tried to twist himself into a pretzel to explain why the airport wouldn't let Trump hold a rally there but allowed the Biden Milwaukee rally. It wasn't a rally at all, he said. It was a private meeting.
Oh, ok.
Meanwhile, Trump was proud to announce that he has earned the endorsement of Hall of Fame quarterback Brett Favre.
My Vote is for what makes this country great, freedom of speech & religion, 2nd Amnd, hard working tax paying citizens, police & military. In this election, we have freedom of choice, which all should respect. For me & these principles, my Vote is for @RealDonaldTrump. #Vote ☑️🇺🇸

— Brett Favre (@BrettFavre) October 30, 2020