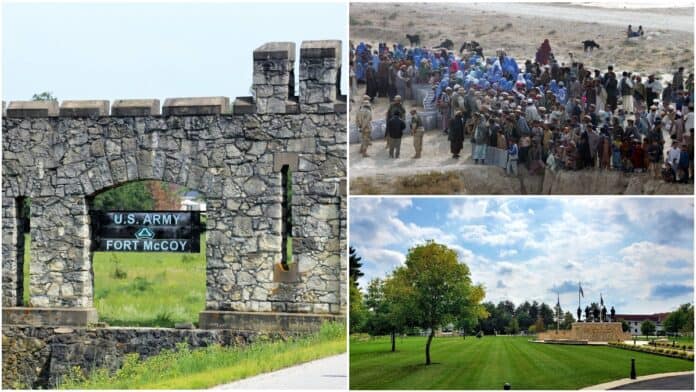 Afghan nationals housed at Fort McCoy cost the Army more than $140 million in damages and another $4.6 million in consumables according to findings released by the Department of Defense inspector general.
12,706 Afghan evacuees were housed at Fort Mccoy, 17.2% of the total amount of Afghan refugees housed on DoD installations.
In total, U.S. bases overseas and in six states cost military branches more than $535 million in damages and consumables.
According to President Biden on August 30, 2021, the DoD executed the largest airlift in U.S. history, evacuating more than 120,000 people from Afghanistan in 17 days.
Those housed at eight military bases in the six states cost the bases $362.63 million in depleted resources and damages to facilities. This included $257.48 million in damages to base facilities, making some buildings and infrastructure unusable for U.S. troops, and over $105 million in equipment and replaceable consumable items used, and weakening military readiness.
Afghan-related damages totaled more than $150 million at U.S. bases in Germany, more than $3 million in bases in Spain and Germany and over $20 million at Marine Corps Base Quantico, Virginia.
The inspector general findings reveal the U.S. Army reported the greatest domestic base losses of $188.81 million, followed by the Air Force's $150.14 million.
The finding stated the restoration cost estimate of $145.6 million, which representented 56.1 percent of the total restoration costs for all 11 sites listed and 77 percent of the Army's restoration cost estimate.
The majority of the costs in the Fort McCoy estimate come from reported significant damages to the 213 buildings housing Afghan refugees. Fort McCoy reported that all of the barracks needed repairs or replacement of walls, ceilings, floors, doors, bathrooms, plumbing, electrical systems, heating, ventilation, air conditioning systems, and exterior siding.
In August 2021, President Joe Biden withdrew U.S. troops from Afghanistan, turning it over to the Taliban, the Islamic terrorist organization U.S. troops fought for 20 years.
Leaving thousands of Americans stranded, and over $7 billion worth of weapons, ammunition and equipment, the Department of Defense "executed the largest airlift in U.S. history, evacuating more than 120,000 people from Afghanistan in just 17 days," the report states. Thirteen service members were killed during the withdrawal.
Afghans were housed in U.S. military bases through February 2022; as their visas were processed they were released into the U.S.
In the U.S., they were housed at Fort Bliss in Texas; Joint Base McGuire-Dix-Lakehurst in New Jersey; Fort McCoy in Wisconsin; Camp Atterbury in Indiana; Fort Pickett, Fort Lee and Marine Corps Base Quantico in Virginia; and Holloman Air Force Base in New Mexico, with the majority being housed at Fort McCoy, Fort Bliss and Fort Pickett.
But at least 44,000 weren't housed in military bases whose whereabouts were unknown within months of entering the U.S., prompting U.S. senators to demand answers from Department of Homeland Security.
According to the report, damages caused by "guests" were described by Air Force officials as "unrepairable."
"Air Force officials described tables, chairs, and cots broken by guests and tents and cots ruined by spray paint, human biological matter, and holes," the report states; materials were "completely depleted, such that no materials remain available for other real-world missions."
Holloman AFB said Afghans depleted $18 million worth of their medical equipment.
"There were at least $2.5 million in damages to Navy installations that did not have permits to house refugees," the report states.
Only $259.5 million in restoration and repair funding requests for the eight bases resulting from OAW was approved, due to technicalities. The report notes that the Deputy Secretary of Defense authorized funds to be limited to specific repairs and restoration activities three months after assessment of damages was presented.
Due to several factors, the DOD was holding bases responsible to pay at least $103.1 million worth of damages from their own budgets. Costs include replenishing depleted stocks of medical equipment, repairing infrastructure, refilling supplies of consumable goods, and restoring basic facility items.
Republican Congressman Tony Gonzalez, whose district includes Fort Bliss, expressed "alarm" about the findings of the report in a letter to Defense Department officials.
"I am alarmed by how these bases will be required to cover the costs of these damages because of their efforts to support Afghan evacuees," he wrote.
"I am equally troubled by the report's negative assessment of OAW's impact on military readiness, which details ongoing disruptions to training exercises," he said, adding that the DOD denying reimbursement requests for repair costs due to a technicality and the DOD's "procrastination in issuing restoration directives" was unacceptable.
"While our military continues to feel the strains caused by the withdrawal from Afghanistan, it is essential that all affected entities are returned to their full operational capacity as soon as possible," he said. "As the United States faces a global environment steeped in rising instability, it is critical that our military forces have the resources necessary to maintain a constant state of readiness."
Gonzalez also requested the DOD explain when base repairs would be completed and "how the costs to repair the damages to these facilities will shortchange the activities for other military readiness priorities."
The DOD also didn't approve all requests made by the bases overseas or by the Marine Corps.