Top Facts
The Wisconsin Code of Conduct for judges says judicial candidates should not make public statements that commit or appear to commit the judge to any issue or controversy in a case or proceeding likely to come before the court.

Liberal Judge Janet Protasiewicz, who is running for state Supreme Court, said in an interview that Scott Walker's Act 10 law was "unconstitutional."

She previously said redistricting maps were "rigged" and revealed she thinks Roe v. Wade should not have been overturned.

The election is for control of the court.

A top judicial ethics expert has already said Protasiewicz may have to recuse herself from any Supreme Court case on redistricting maps due to her incendiary public comments on that topic.
Liberal Supreme Court candidate Janet Protasiewicz has outright stated that she believes Scott Walker's Act 10 collective bargaining law was unconstitutional.
Although judges are forbidden by Wisconsin judicial ethics codes from announcing how they would rule on issues that could come before the state Supreme Court, Protasiewicz, who is running the most overtly partisan Supreme Court campaign in recent Wisconsin history, made her bias explicitly clear in an interview with The New York Times. (Incidentally, the reporter who wrote the story, Reid Epstein, has a history of problematic journalism in Wisconsin. See a story on that here.)
Protasiewicz is running against liberal Judge Everett Mitchell and conservatives Jennifer Dorow and Dan Kelly. The two top advance to the April election, which will decide control of the court.
[See Wisconsin Right Now's latest Amazon promo code deals for readers here.]
Epstein's story, dated January 25, 2023, reads, "In an interview last week, Judge Protasiewicz argued that abortion should be 'a woman's right to choose'; said that Gov. Scott Walker's 2011 law effectively ending collective bargaining rights for most public employees was unconstitutional; and predicted that, if she won, the court would take up a case seeking to invalidate the Republican-drawn state legislative and congressional maps put in place last year." Our bold.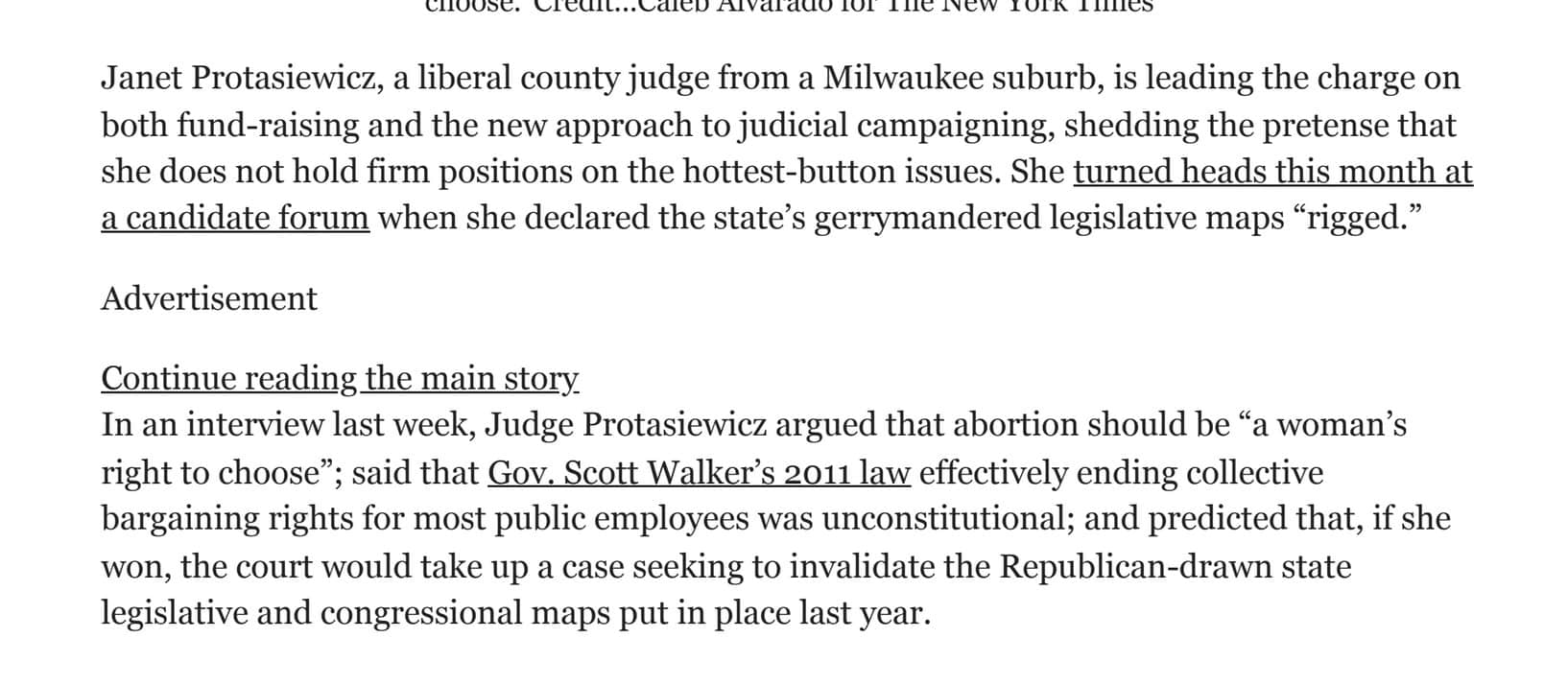 Protasiewicz had already prejudged any case of legislative redistricting maps, calling them "rigged." She has made it clear she supports abortion and thought the U.S. Supreme Court decision overturning Roe v. Wade was wrongly decided. She went even farther on Act 10.
Charles Geyh, a law professor at Indiana University whose specialty is judicial conduct and ethics, said, according to the Kenosha News, that Protasiewicz "may need to disqualify herself from any case concerning legislative redistricting."
"A reasonable observer, knowing that she has prejudged the system as 'rigged' before the case begins, might reasonably doubt her impartiality," he told the Kenosha News before her recent comments on Act 10 were reported.
The Wisconsin Code of Judicial Conduct makes it very clear that judges need to avoid even the appearance of bias. The Ethics code says justices must preserve the "independence of the judiciary" and "may not be swayed by partisan interests."
The Wisconsin Code of Judicial Conduct says judicial candidates are prohibited "from making statements that commit the candidate regarding cases, controversies or issues likely to come before the court," according to the Kenosha News article.
Read the Code of Conduct here: chap60(2)
"A judge may not, while a proceeding is pending or impending in any court, make any public comment that may reasonably be expected to affect the outcome or impair the fairness of the proceeding," the Code of Ethics says. "A judge, candidate for judicial office, or judge-elect should not manifest bias or prejudice inappropriate to the judicial office."
According to Ballotpedia, "Wisconsin Act 10 is also known as the Scott Walker Budget Repair Bill."
The state Supreme Court upheld Walker's Act 10 in 2014, on a 5-2 decision authored by conservative Justice Michael Gableman. According to the Milwaukee Journal Sentinel, the decision "found that collective bargaining over a contract with an employer is not a fundamental right for public employees under the constitution. Instead, it's a benefit that lawmakers can extend or restrict as they see fit."
"No matter the limitations or 'burdens' a legislative enactment places on the collective bargaining process, collective bargaining remains a creation of legislative grace and not constitutional obligation. The First Amendment cannot be used as a vehicle to expand the parameters of a benefit that it does not itself protect," Gableman wrote.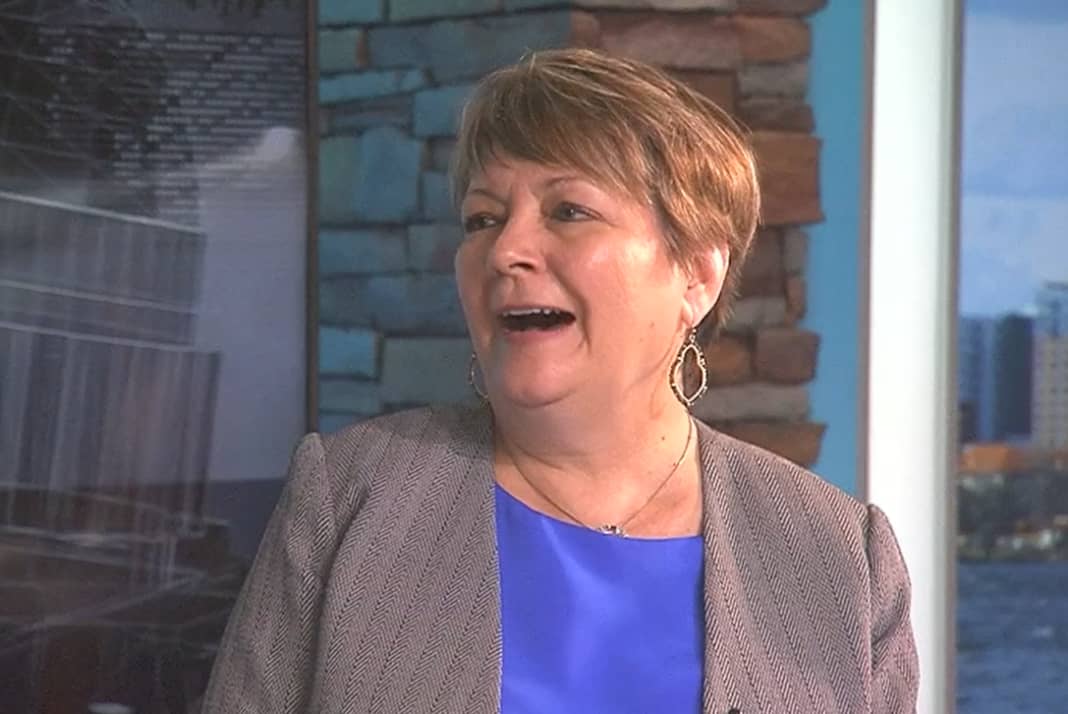 The court's four other conservatives agreed that the law was constitutional: Justices David Prosser, Patience Roggensack and Annette Ziegler, and Justice N. Patrick Crooks. Liberals Ann Walsh Bradley and Shirley Abrahamson dissented. However, only Ziegler will remain on the court after April; Gableman, Prosser and Crooks are no longer on the court, and Roggensack is retiring.
If Protasiewicz were to win the election, the court would have a new liberal majority of 4-3. The conservatives are Ziegler, Rebecca Bradley and, sometimes, Brian Hagedorn. The liberals are Bradley, Jill Karofsky, and Rebecca Dallet.
Act 10 withstood several liberal attempts to get it overturned. According to Ballotpedia, Dane County Executive Kathleen Falk sued "to stop the bill, asking it be declared unconstitutional." A Dane County judge tried to stop the bill on an open meetings law argument, but the Supreme Court overruled that decision.