New video now sheds light on what weapon Joseph Rosenbaum was carrying only minutes prior to the fatal confrontation with 17 year-old Kyle Rittenhouse: A chain.
Video shows Rosenbaum with a chain in his left hand at the southwest corner of the intersection of Sheridan Rd and 60th street at about 11:32 p.m. on Aug. 25, just 16 minutes before the fatal confrontation with Kyle Rittenhouse. The chain appears to be about 2-3 feet in length. In his right hand he is holding a plastic bag, presumably the same bag he would later throw at Rittenhouse, according to the criminal complaint, as he chased him through the Car Source parking lot and was then fatally shot.
He is shown with his shirt wrapped around his face and neck. Rosenbaum, a convicted child molester who was out on bail for domestic abuse battery and bail jumping, is pacing around a dumpster that had just been rolled into the street by other protesters. Rosenbaum is swinging the chain in his hand. Rosenbaum is among a group of protestors who begin to walk south on Sheridan after being ordered by police to leave the area. It is not clear in the video if Rosenbaum also walks south down Sheridan at that point.
Video documents that Rosenbaum, who as a felon could not carry a firearm, had the chain. The clothing, including shoes, shirt, and blue handkerchief, along with the plastic bag he is carrying, are seen in numerous other videos, matching those this video.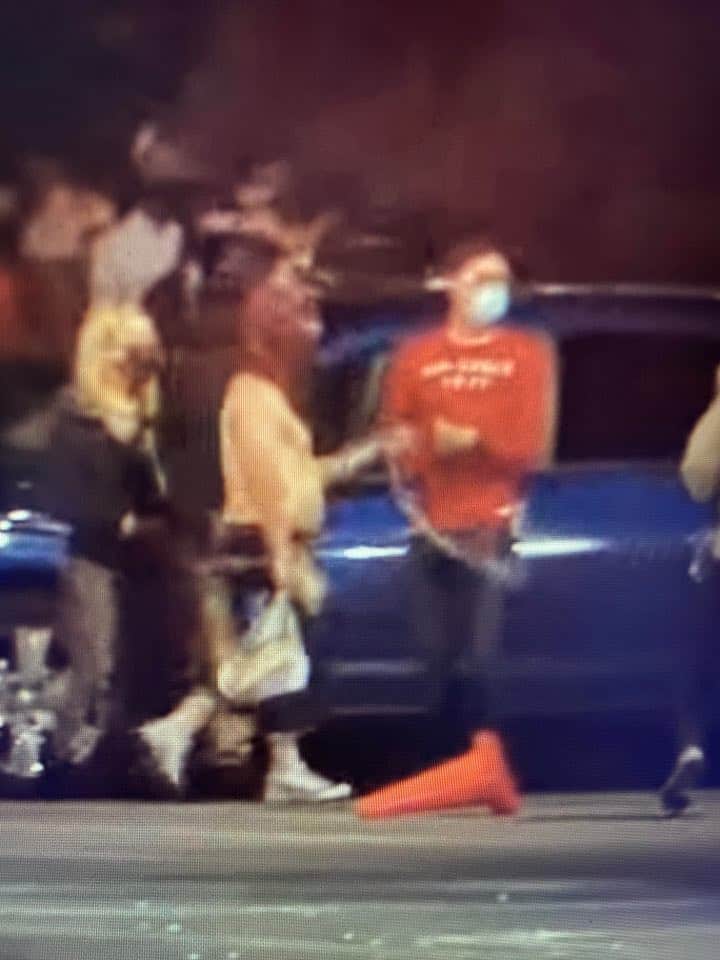 We unearthed the chain frames within more than 2 hours and 41 minutes of video that is stamped Rutly and was shared in limited fashion on YouTube. The screenshot showing the chain was shared in limited fashion on Twitter. Both show Rosenbaum with the chain: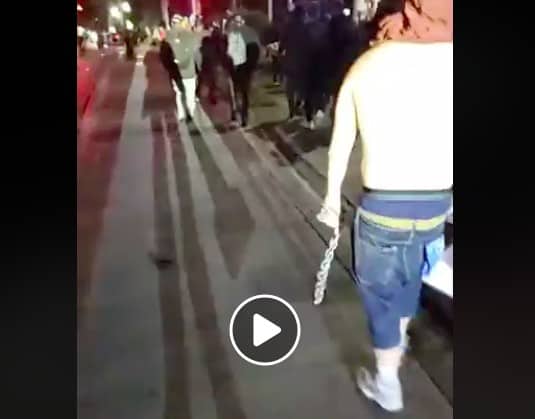 The criminal complaint charging Kyle Rittenhouse with two counts of homicide makes no mention of this chain nor is there any mention of this chain in other media coverage. Wisconsin Right Now did search the area days after the shooting for the chain including searching grassy areas leading up to the shooting scene and did not locate it. The complaint describes how Rosenbaum chased Rittenhouse, 17, throwing a plastic bag at him, and then making a move for his gun. The teenager then opened fire, killing Rosenbaum. He then ran down the street and fell and shot two other protesters, one who was attacking him with a skateboard and another who was moving toward him with a handgun. Prosecutors have charged him homicide; Rittenhouse's lawyers say he acted in self defense.
Did Rosenbaum have the chain in his hand when he chased Rittenhouse? That's unknown. We reached out to the Kenosha County District Attorney and Rittenhouse's lawyers for comment. It will be added to this story if received.
A witness we interviewed, Dylan Putnam, described how he saw Rosenbaum "intricately wrapping" his red shirt around his head to "conceal his identity. He was probably going to rob him," he believed. "He (Rittenhouse) looked like the weakest member of the group."
Video taken approximately 15 minutes earlier, at 11:17 p.m., shows Rosenbaum extremely upset and challenging members of an armed group of citizens because they extinguished a dumpster fire started by the protesters:
He also calls another person an N word at one point.
Two eyewitnesses interviewed by Wisconsin Right Now say Rosenbaum was enraged because Kyle Rittenhouse, and others, were using fire extinguishers to put out an arson fire in a dumpster that Rosenbaum, and others, were trying to push toward police squad cars.
Video that captured Rosenbaum pushing the dumpster fire shows multiple people with fire extinguishers.
This is what triggered this skirmish

A Good Samaritan put out a trash can fire that rioters were about to push into police squad cars

Rioter were then triggered by it and went after the gas station in retaliation pic.twitter.com/zbnf1IcRZM

— Drew Hernandez (@DrewHLive) August 27, 2020
https://twitter.com/_DailyDemocracy/status/1300863331717312519
See the documents obtained by Wisconsin Right Now from the Pima County (Arizona) Clerk of Courts confirm Joseph Rosenbaum was charged by a grand jury with 11 counts of child molestation and inappropriate sexual activity around children, including anal rape. The victims were five boys ranging in age from nine to 11 years old.
Here's an article we did on Joseph Rosenbaum's criminal record.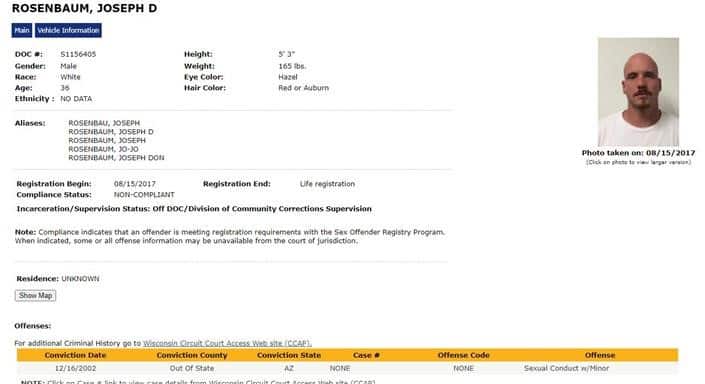 We interviewed two eyewitnesses, Justice and Dylan Putnam. Videos also back up parts of what they told us. There's video of Rittenhouse with the fire extinguisher, video of Rosenbaum pushing the burning dumpster, and, of course, video of Rosenbaum chasing Rittenhouse down and cornering him behind a car before Rittenhouse opened fire.
"Kyle took a fire extinguisher from someone," said Justice Putnam, who added that she saw him trying to put out the arson fire in the dumpster. "That started the altercation."
The Putnams both said there was a dumpster on fire and that people, including Rosenbaum, were trying to push it toward squad cars.
"Kyle was the only one who walked off with a gun," Justice Putnam said.
Video also documents that Rosenbaum did have his shirt tied around his head when he was shot.