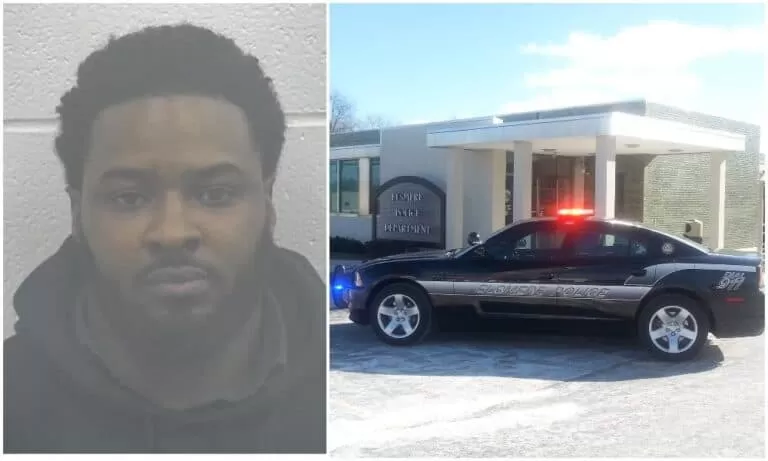 Khalil Coleman, the leader of the Peoples Revolution group, is in custody in the Milwaukee County Jail.
The jail inmate database lists "charges pending" and says Coleman was arrested on April 26, 2021.
WRN spoke with a detective at the Elsmere Police Department in Kentucky who confirmed Coleman had a warrant issued because he failed to show up for court.
Coleman is accused of pressuring a juvenile to rob what they believed was a drug house in Kentucky, handing him a gun and telling him to "go get that money," according to court documents obtained exclusively by Wisconsin Right Now.
A man named Montreal Cain posted a statement from Coleman on Facebook.
"On February 15th I was arrested in Kenton county accused of a crime I did not commit," Coleman claimed. "On April 22nd I called Kenton County to check on my status. On Friday, April 16th I was summoned to go to court schedule Monday the 19th over the weekend. I never received any notification about any upcoming court dates."
He continued, "I was made aware of my warrant on the 22nd April by contact Kenton county Court system as I have numerous times since February. Thats when I decided take action by contacting a lawyer on the 22nd after finding out my warrant status. Since my arrest in February I have made bail for $10,000. My public defender was kicked off of my case because I made bail. I have responsibly been keeping in contact with Kenton County in regards to my case."
Coleman continued, "On April 26th after speaking with my lawyers about the warrant issued in Kenton County I was informed that my attorney would place a motion to lift the warrant and set a new court date. Before I had the opportunity to proper have my attorney to lift the Warrant I was apprehended by the US Marshall Fugitive Task Force. I'm currently being held at Milwaukee County Jail await extradition. This experience has been very stressful as I have lost work, my reputation has been tarnished, I've missed important moment with my family, and I still being railroad through a system. I just want everyone to know that my intent is not to run but to beat my case. To everyone that has helped and continue to help, thank you. I will not do anything to jeopardize all that has been sacrificed. Long Live The Revolution."
In addition to his role as key organizer of Milwaukee's most controversial Black Lives Matter protests/riots and involvement in the Milwaukee police chief's demotion, Coleman, who has Gangster Disciples gang ties (he calls it Growth & Development), wrote on LinkedIn that he's received multiple contracts from Milwaukee Public Schools and other educational and community entities to train students to reject violence.
But the complaint in Kentucky alleges he gave a Glock handgun to the juvenile and told him to commit the robbery.
The Commonwealth of Kentucky "uniform citation" against Coleman alleges that Coleman, 34, of Milwaukee "had knowledge and participated in an armed robbery…in Elsmere Kentucky." It alleges that Coleman "was named by a juvenile suspect that he had knowledge and participated in an armed robbery by providing a Glock handgun to the juvenile suspect and telling said juvenile to, 'Go get that money.'"
The juvenile suspect "felt pressured to commit the robbery and pointed a loaded Glock pistol at the victim and stated, 'We got business to talk about and to get in the house,'" the citation reads.
The citation against Coleman's co-defendant Joshua Clarey, 24, of New Berlin, describes the same allegations but adds an accusation that Clarey "was sitting in the front passenger seat of a vehicle that was stopped for matching the description by the victim…firearms were located in vehicle. Above was the right front passenger and along his seat (police) located a small plastic baggy. Inside was an off white material believed to be heroin."