Is there really a nationwide pepperoni shortage? Unfortunately for pizza lovers everywhere, yes, although it's not affecting the larger chains, at least not yet.
According to Bloomberg, pepperoni is becoming "scarce," due to the coronavirus pandemic? Why? Apparently, there's a shortage of workers at pork processors, causing problems with production.
Yeah, we know. COVID-19 has changed so much in society. Did it have to affect pizza too?
Bloomberg says that the price of pepperoni has risen 50%. As a result, owners of small pizza shops are having to pay more for their pepperoni, the site reports.
USA Today reports that the shortage is affecting small pizza shops not large pizza chains because the chains "buy ingredients with long-term contracts."
---
Pizza Sales Have Skyrocketed During the Pandemic But That Was Before the Nationwide Pepperoni Shortage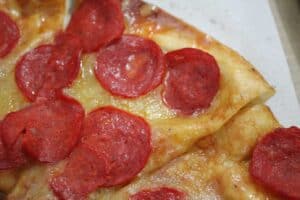 A lot of things have suffered during the pandemic. Pizza delivery sales are not among them. Pizza sales rose to "unprecedented levels" last spring, with Papa John's International pizzas reporting a 28% increase in sales, Fortune reported. Domino's recorded "its highest second-quarter revenue ever," according to Fortune.
Pepperoni isn't the only thing running scarce; the nation has even seen a shortage in coins as well as Clorox disinfectant wipes. And we all remember the runs on toilet paper.
According to Fox News, pork processors have had fewer workers because of the pandemic and pepperoni is "a complicated meat product to make," so less is being produced, affecting the pepperoni supply chain.
Pepperoni rates as one of the most popular pizza toppings in almost every state, including Wisconsin, where we apparently like sausage and mushrooms on our pizza too, according to Delish, which compiled a state-by-state ranking of most popular pizza toppings.
Meat and poultry processing plants have experienced COVID-19 outbreaks in the United States, according for the Centers for Disease Control and Prevention. "Among 23 states reporting COVID-19 outbreaks in meat and poultry processing facilities, 16,233 cases in 239 facilities occurred, including 86 (0.5%) COVID-19–related deaths," a study shared by the CDC reported. "Meat and poultry processing facilities face distinctive challenges in the control of infectious diseases, including coronavirus disease 2019 (COVID-19). COVID-19 outbreaks among meat and poultry processing facility workers can rapidly affect large numbers of persons."
It wasn't just pork. There were meat shortages reported throughout the United States earlier in the pandemic, but some signs that they were abating. Some Subway restaurant franchises stopped carrying roast beef and rotisserie chicken as the meat shortages continued, however, upsetting customers.