Wauwatosa Police Officer Joseph Mensah was stalked and confronted outside a Milwaukee bar and grill by Black Lives Matter activist Vaun Mayes as Mensah walked with his girlfriend and another person. Video of the encounter was posted on October 24 to the Facebook page of Mayes, the Black Lives Matter leader who is currently facing federal charges in connection with an alleged plot to firebomb a police precinct. You can watch the video below.
Specifically, Mayes is facing a seven-count federal indictment accusing him of conspiring to commit arson during Sherman Park riots back in 2016, and with trying to intimidate witnesses. The case is pending and he's not supposed to break new laws as part of his release conditions.
Mayes said at one point in the video, "I live here punk…f*cking (unintelligible) what you say?" He turned the camera around to show the recording happened at Brothers Bar and Grill on Milwaukee's Water Street.
We asked Mayes what he said in the part that is hard to make out. He told us, "I said, 'Where is his captain at?'" In further comments to us, Mayes said, "I am very much aware of what I say, especially to police officers. Although my aim wasn't to be disrespectful, it wasn't to NOT be disrespectful either. He needs to know that he isn't welcome here." He claimed Mensah "has an issue controlling himself.. he's a walking liability, and Tosa will not know peace with him remaining on the department."
Taleavia Cole, the sister of Alvin Cole, the armed teen shot by Mensah in a shooting ruled justified, wrote on Facebook on a share of the Mayes' video: "Told you I will know your every move especially if you come to my city Punk Boy."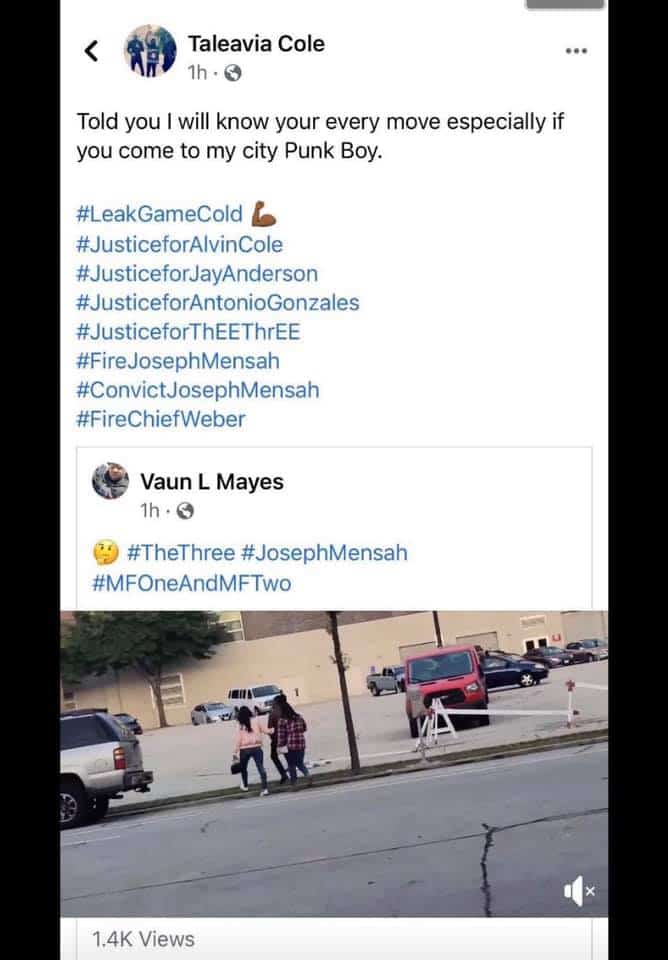 It's not the first time that the officer and his girlfriend have been harassed, but the in-person confrontations are unprecedented for a police officer caught up in a high-profile police shooting in the area. Felony charges are pending against a People's Revolution protester, Ronald Bell, who is accused of discharging a firearm at the couple on Mensah's girlfriend's property in a previous incident; she was also left with bruises after that incident. Mensah has been cleared by the District Attorney of three separate shootings while on duty of people who were armed or reaching for a weapon, according to the DA. He is suspended (he says it's unclear for what) and his employment status has not been determined. An independent investigator is recommending he be fired in part for a hypothetical fourth shooting that hasn't happened (we previously criticized that report here).
Was the officer stalked? How did Black Lives Matter know he was at a restaurant?
Mayes recorded a live stream that appears to show him driving to the scene. "A little birdie gave me some information," he says in that video, which you can also watch below. "Going to pull up on the mf real quick but we're going to do some things though. Hopefully we can catch this person but for right now I just need you all to take a ride with me real quick." He added, "We're heading to a party."
We reached out to Mensah and his girlfriend, but they did not want to make comment.
---
The Video Shows the Confrontation on Water Street
You can watch the latest video above.
"Mr. Mensah. Mr. and Mrs. Mensah. When you are going to quit, man? When are you going to quit?" says the man recording the video, Mayes.
Mensah kept his composure throughout the video. He responded that he wasn't married. When asked repeatedly if he was going to quit, he said, "I'm not, don't worry about it. You have a good day all right?"
"When are you going to quit?" Mayes harangues the officer.
"When are you?" said the unidentified third person with Mensah and his police officer girlfriend.
"Resign, quit, whatever?" Mayes asked, adding, "What are you doing in Milwaukee, man?"
Here's the live stream Mayes recorded on his way to the police officer's location:
People filled Mayes' comment thread with insults toward Mensah. A person wrote on the ambush video comment thread, "He out there walking around all alive and employed and shit 🤬"