An Elkhorn Area School District teacher, Patrick Dopke, has been recommended for termination by the superintendent after he posted the puzzle "n_ggers" on a whiteboard in an effort to mimic a famous South Park episode in which the phrase was eventually revealed to be "naggers" in a "Wheel of Fortune" parody, Wisconsin Right Now has learned.
Dopke never used the racial slur and told the superintendent he has never used it in his life, WRN learned in an interview with both the superintendent and Dopke. You can watch the South Park episode here. Be forewarned that, unlike Dopke, the character in it actually uses the racial slur when trying to solve the puzzle, but the word is revealed to be "naggers." The episode was called "With Apologies to Jesse Jackson." Here is a detailed synopsis of it.
Wisconsin Right Now was sent the photo by a concerned person who is connected to the district. Here is the photo:
Dopke is a math teacher in the district. The incident is somewhat reminiscent of the firing of a Miller executive who told a female co-worker about a Seinfeld episode that involves "the body part that rhymes with Dolores." That executive never actually used the word, the AP reported at the time.
In an interview with WRN, Dopke, a math teacher for 29 years who is about a year from his pension, acknowledged that "it's a bad visual," but stressed, "There was no ill intent. Nothing racial. I'm not a rabble rouser. I don't talk race or anything remotely political."
He said that students had mentioned people annoying them, and he thought of the episode because he was a South Park fan and he likes "to interject humor."
"I wasn't trying to ruffle people's feathers," he said. He did note that he believes the episode in question was "certainly making a point about cancel culture," and noted that there was "irony" to that because cancel culture was now occurring "against me."
Dopke stated, "I made a mistake. It was a bad example. The School Board can decide what they feel is best for their school. It's just a matter right now that I have to stay away from school." Of the racial slur, he added, "The word was never said. I don't ever say that word." The puzzle meant naggers because he was illustrating what the episode's puzzle showed, he said.
We also reached out to Elkhorn Superintendent Jason Tadlock, who confirmed the authenticity of the photo. Tadlock agreed to speak to WRN in the interest of public transparency. He said he believed the public deserved to know the facts.
Tadlock agreed that Dopke did not intend to cause racial harm and did not mean the puzzle to reference a racial slur. However, he said said he is still recommending Dopke for termination. The School Board will have the final say.
"Yes, it is authentic," Tadlock said of the photo in a May 25, 2023, interview with WRN.
According to Tadlock, the photo came to the attention of the administration on May 19.
"I feel we have to take the action we are taking," he said.
The photo "was shared with a staff member which brought it to administration's attention," said Tadlock, who said the district launched an investigation and placed Dopke on administrative leave. The picture was actually taken last fall, he said.
"It was in reference to – the students were talking about Wheel of Fortune," said Tadlock. "The teacher is a South Park fan and was trying to relate to the students." He said the teacher told the students "about a South Park episode" where the word was eventually revealed to be "naggers," after the clue "people that annoy you was given."
"He had written that on the board, and a student snapped a picture," said Tadlock.
In the episode, "the contestant yells out the 'n word,' and everyone goes silent, and then Wheel of Fortune gets canceled," said Dopke.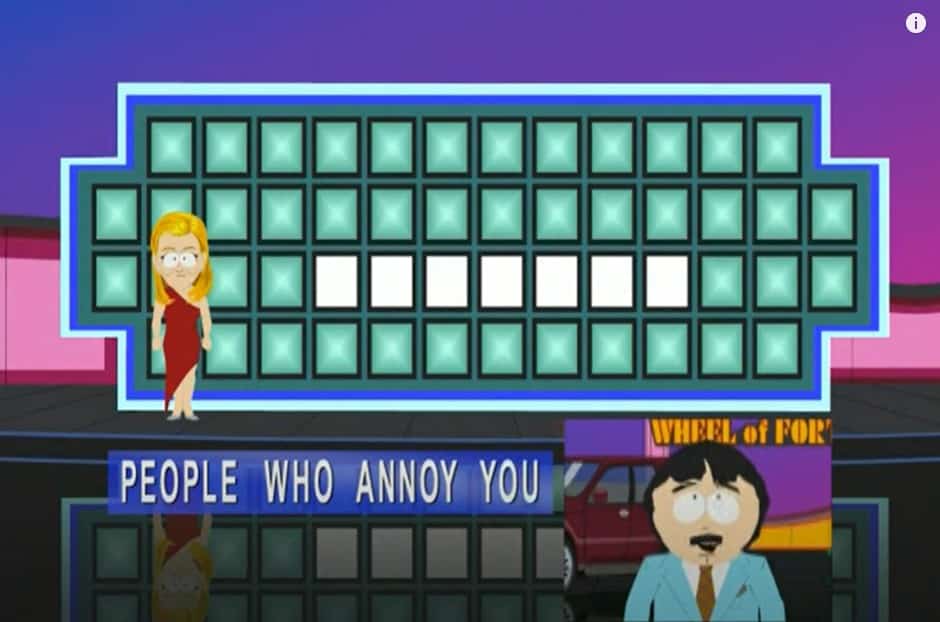 "That was the discussion; he was trying to relate to the students," he said.
However, he said that he was recommending Dopke for termination because "we have to be brighter and have better judgment than that." He said the district takes what happened "very serious."
He met with Dopke at 4 p.m. May 25 to tell the teacher the outcome.
Even though he acknowledges Dopke never had racist intent, and never actually used the racial slur, he said he was recommending him for termination because his action was "inappropriate, inexcusable, and he should have known better."
He said the "whole irony in all of this" was that the original South Park critique was about cancel culture. But he said, "The teacher did use bad judgment."
"The clue is people who annoy you; it's the whole setup to make you think it's the 'n word,'" said Tadlock. He said it was "not an appropriate joke."
He said students "cued in that this is inappropriate by taking pictures." However, Dopke noted it happened "long ago."
Tadlock said Patrick Dopke is in his third or fourth year in the district and was a "veteran teacher, a math teacher" who used to work in the Wilmot district. Online news reports say Patrick Dopke was a softball coach in that district previously.
He did not have any proper disciplinary issues at Elkhorn, according to Tadlock. Dopke said he has not had any other discipline his entire 29-year teaching career.
Tadlock also said that Dopke told him that he had never used the racial slur in his life.
"He was trying to make a connection with students, and he found that episode humorous. He was a math teacher just at the beginning of class working to make a connection," said Tadlock, adding that no students complained at the time.