People wearing Timothy Ramthun shirts were told to take them off or turn them inside out to get into the seating area at the Donald Trump rally in Waukesha, Wisconsin, on Friday.
Although people couldn't wear shirts touting other non Trump-endorsed candidates either, Ramthun supporters we talked to were especially upset because Ramthun is the only candidate in the governor's race who supports Trump's decertification platform.
Instead, Trump endorsed businessman Tim Michels, who said in debates that election decertification was not a priority and that he wasn't even sure he would endorse Trump in 2024. Michels also supports manned dropboxes, was initially not sure the Wisconsin Election Commission should be abolished, and didn't even vote in the 2016 primary. People with Michels shirts were allowed into the rally.
It wasn't just shirts, either. We also spoke to a man who was told to take his Ramthun pin off to enter the rally. He did so, and then put it back on.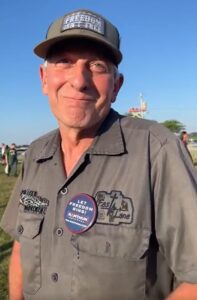 "It's T-shirt police, and button police and whatever," one upset Ramthun supporter told us. See her speak on video:
"I am extremely disappointed in President Trump, and I am actually questioning him for the first time," she said. "…President Trump has thrown election integrity out the window and he doesn't care about it for supporting Michels and not Ramthun. Because Michels doesn't care about the election."
We confirmed this all with security at the rally. Toward the end of the above video, the security guard letting people into the rally area told Wisconsin Right Now that people were banned from wearing Ramthun shirts, unless they turned them inside out or took them off.
The same was true, he said, of political shirts for any other non-Trump endorsed candidates. A person couldn't go inside with a Rebecca Kleefisch shirt, either, or any of the attorney general or lieutenant governor candidates, for example.
People could wear whatever they wanted in the area behind the seats and bleachers. But they could not get into the main area, which is the area in view of television cameras, with Ramthun or other non-endorsed candidates' shirts.
We saw Ramthun supporters across the street after the rally wearing Ramthun shirts and holding signs. We also saw a cluster of Ramthun supporters before the rally standing on a street corner in Ramthun shirts and holding Ramthun signs.