Former President Donald Trump has endorsed Tim Michels in the Wisconsin governor's race.
That news came on the evening of June 2, 2022, several hours after a well-placed source told Wisconsin Right Now that former Trump was expected to endorse Tim Michels for Wisconsin governor.
In a statement, Trump wrote, "Tim Michels is a very successful businessman running for Governor of the Great State of Wisconsin. During my Administration, Tim served on my infrastructure task force, and helped us plan and start building the Keystone XL Pipeline before Joe Biden launched his assault on American Energy production."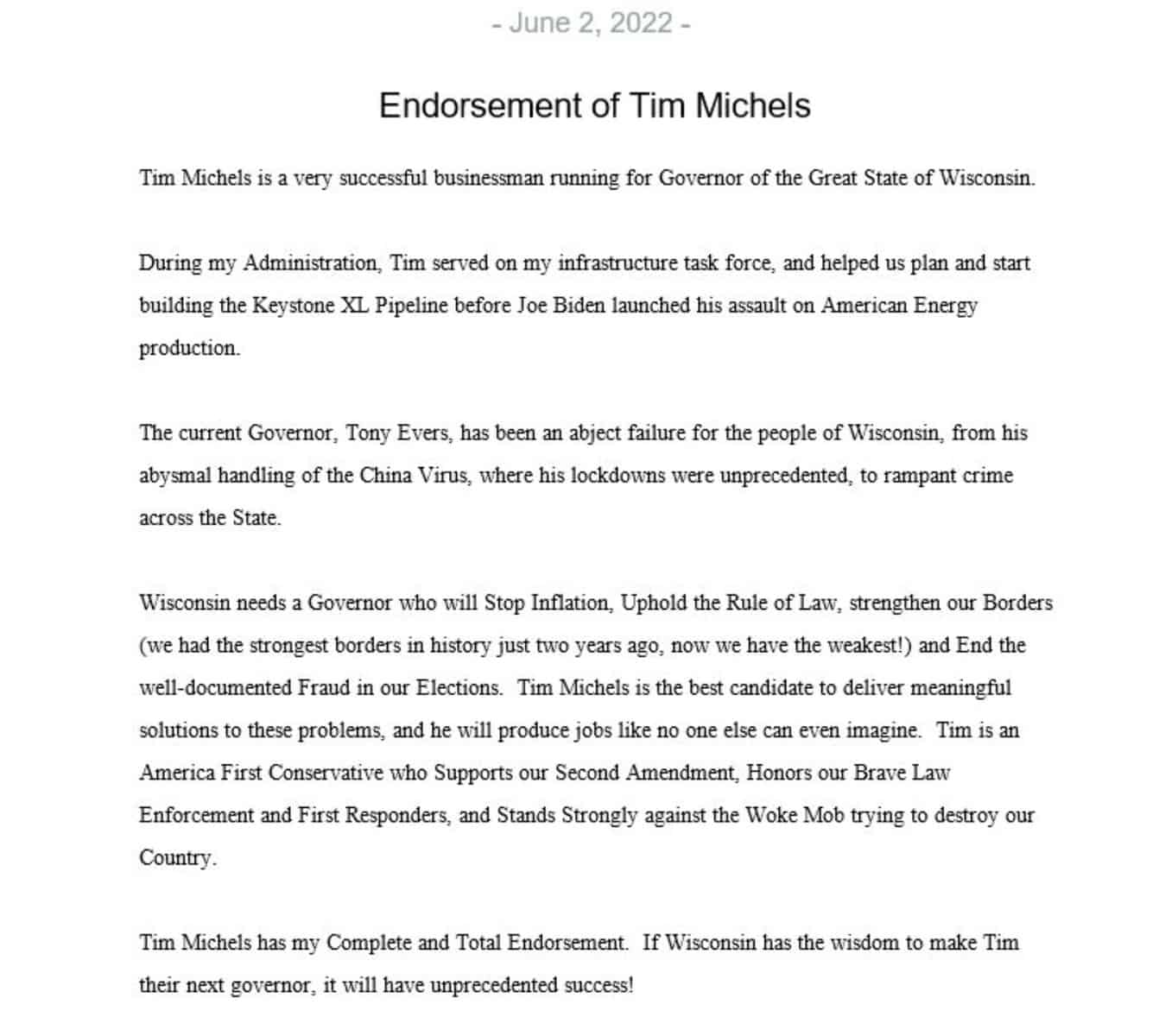 The statement continued, "The current Governor, Tony Evers, has been an abject failure for the people of Wisconsin, from his abysmal handling of the China Virus, where his lockdowns were unprecedented, to rampant crime across the state."
He added:
"Wisconsin needs a Governor who will Stop Inflation, Uphold the Rule of Law, strengthen our Borders (we had the strongest borders in history just two years ago, now we have the weakest!) and End the well-documented Fraud in our Elections. Tim Michels is the best candidate to deliver meaningful solutions to these problems, and he will produce jobs like no one else can even imagine. Tm is an America First Conservative who Supports our Second Amendment, Honors our brave law enforcement and first responders, and stands strongly against the woke mob trying to destroy our country."
Trump concluded: "Tim Michels has my complete and total endorsement. If Wisconsin has the wisdom to make Tim their next governor, it will have unprecedented success!"
Trump was expected to call Michels today, June 2, 2022, with the news.
A Trump endorsement for Michels, who is vice president of a major family-run pipeline and construction company, clearly shakes up the Republican primary for governor. The other candidates on the Republican side are former Lt. Gov. Rebecca Kleefisch, former Marine Kevin Nicholson, state Rep. Timothy Ramthun, and Adam Fischer.
Kleefisch was lieutenant governor for Scott Walker, once a Republican primary rival of Trump's.
Conservative talk show host Mark Belling reported earlier on Thursday that Trump is endorsing Michels.
It's not clear when the endorsement will come, and one source put the chances it will happen at 99%, with the hedge because of Trump's unpredictability.
Talk show host Jay Weber wrote on Twitter on June 2, "We are now apparently on 'Trump Time' on his endorsement of Tim Michels. Still should be coming today, yet, but we've gone into a stall, I'm told." That endorsement did come.