Also, for the first time, court documents reveal why the District Attorney declined to issue charges against Vaun Mayes for the bizarre incident in which a Milwaukee house was targeted by a crowd over unproven sex trafficking accusations.
As recently as Oct. 1, 2020, the U.S. government argued in court that giving Black Lives Matter activist Vaun Mayes the names of juvenile and other witnesses would pose a significant safety risk to those confidential informants in Mayes' long languishing federal case in an alleged police precinct firebombing plot.
Prosecutors allege that he "abused his mentoring responsibilities to children" through a community program, Program the Parks, that he ran in Sherman Park "by encouraging them to attack police and teaching them how to make Molotov cocktails," court documents show. Mayes' lawyer wrote in one court document that Mayes' community group had a city contract at one point and was up for consideration for county funding.
Records obtained by Wisconsin Right Now show that the Milwaukee County Board voted to give the group $37,000 in government money in November 2017 for "youth programming services." However, then County Executive Chris Abele returned it unsigned, writing, "While I support the enriching of our urban parks with programming for youth, I do not support cherry-picking from many able non-profit organizations based on Supervisor relationships." We reached out to the city for the history of funding to the group but didn't hear back.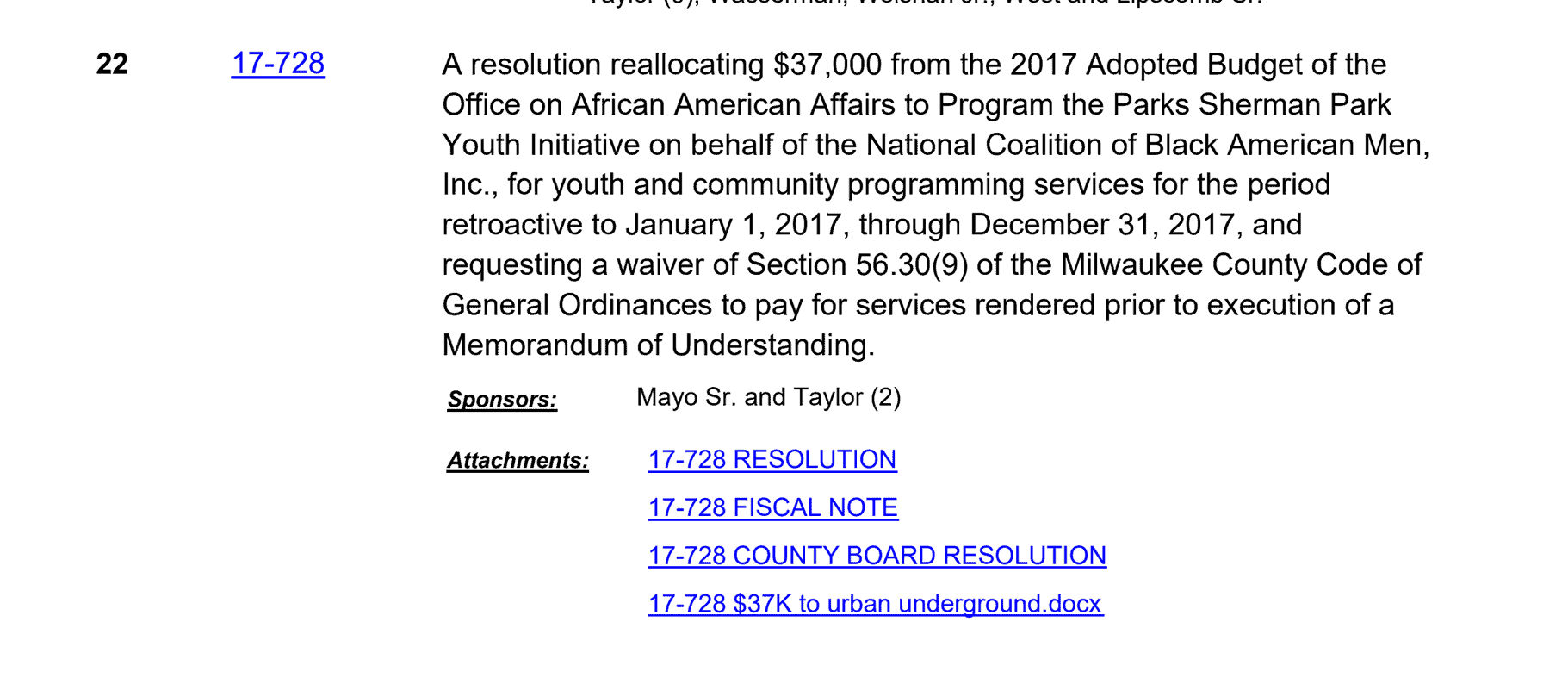 The Program the Parks group still is active, and Mayes remains involved, according to its Facebook page. He has sought donations through a Cashapp. The program was featured in a positive profile story in 2017 after getting corporate donations to give kids cocoa and coats.
Mayes has positioned himself as one of the key leaders of BLM in Milwaukee, showing up at protests, criticizing the police in inflammatory terms, and being arrested after a bizarre incident in which a Milwaukee house was targeted by a crowd over unproven sex trafficking accusations. Court documents filed by his lawyer reveal for the first time that the District Attorney "no processed" that case. We asked Deputy District Attorney Kent Lovern about that, and he confirmed the DA decided not to charge Mayes for the incident relating to the house, saying, "We completed our review of this matter during the summer and determined there was not sufficient evidence to support a criminal charge against Mayes because no other person at the scene was identified who could indicate why he was in the residence. There was no evidence that connected Mayes to items taken from the residence or to the subsequent arson of the residence."
Most recently, Mayes tracked Wauwatosa Police Officer Joseph Mensah down to a Milwaukee restaurant, where he live streamed the officer and his girlfriend, calling Mensah a "punk." He is one of the three most prolific BLM leaders. Protester Ronald Bell is charged with a felony for allegedly discharging a firearm at Mensah and his girlfriend, who was left with bruises, in a previous incident. Was Mayes there when all of that went down? That's not been established either way. Mayes has not been charged or accused of any wrongdoing in connection with the Bell situation.
In a positive profile in the Neighborhood News Service in January 2018, Mayes described how he was a homeless youth lacking direction. He ended up in an alternative high school and was involved in car theft and rock fights with police, the article says, before starting Program the Parks, which the story says "offers meals, karate lessons, a Single Parents Club and educational programs including Intro to Arts, Know Your Rights, Road Safety and Community Patrols/Safety Training."
That's not the picture the federal court documents paint despite the flattering news coverage of the program over the years.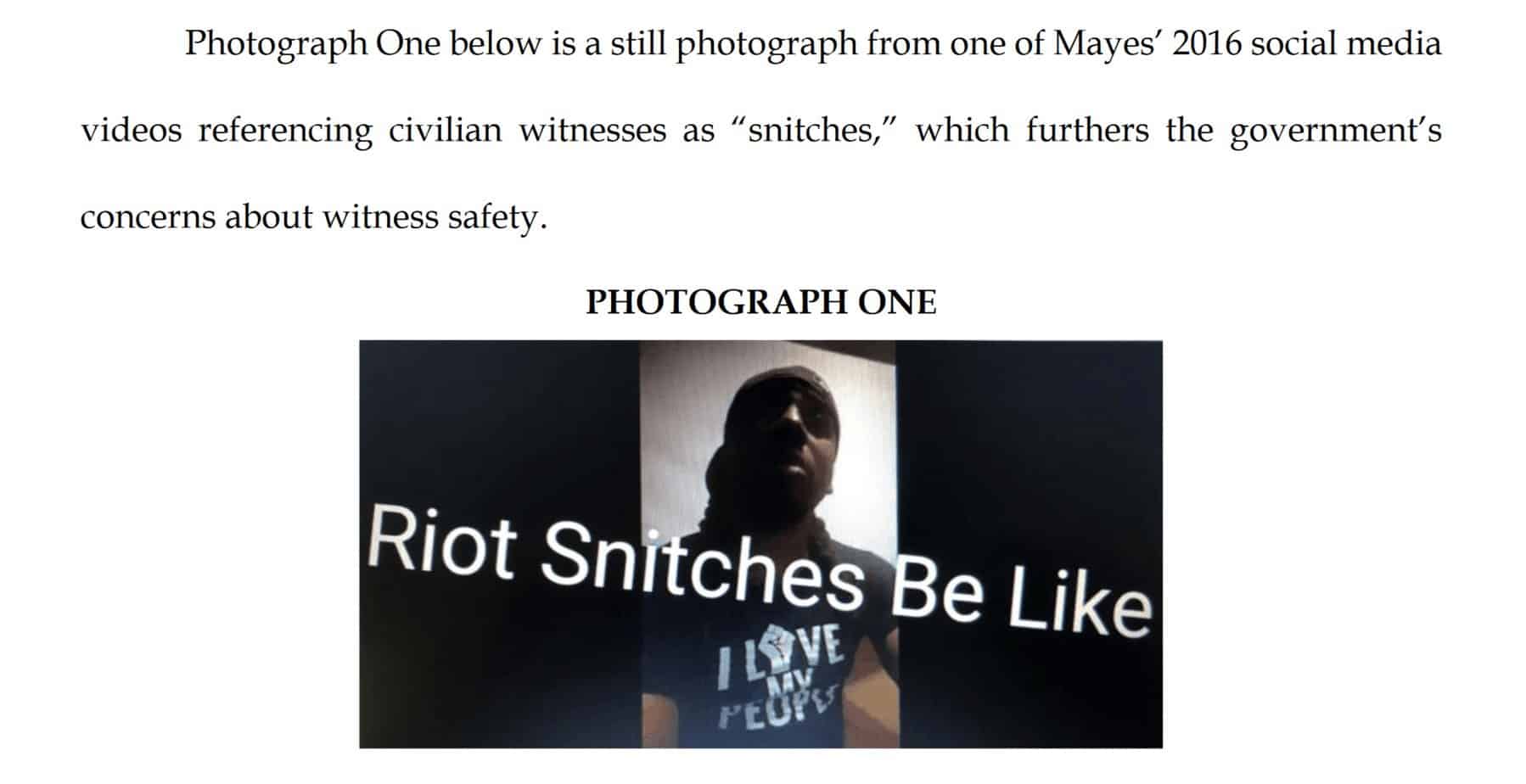 We've been asked by multiple people to investigate why Vaun Mayes' federal case is still pending (the federal charges, which stem from the 2016 Sherman Park riots, were filed in 2018). People also wonder why he's still out on the streets on pretrial release. In an attempt to answer those questions, we reviewed every document in his federal court file, more than 101 entries. Some are sealed, including documents relating to pretrial release reports and bond studies, so the rationale for keeping him on the streets now is not clear. However, a magistrate judge, William Duffin, overruled the government, which wanted Mayes detained in 2018 while the case pended, and allowed him to be released into the community. The judge said Mayes had strong "community support" and his felony criminal conviction for driving a vehicle without owner's consent was old.
A September 2019 document does note that a federal probation officer was "waiting for investigative reports regarding a traffic stop of Mr. Mayes and an alleged violation of the recently imposed curfew."
The criminal complaint described how it all started, in the government's view: During riots in Sherman Park in 2016 after the police shooting death of Sylville Smith, the ATF found a brown cardboard box in a dumpster containing 10 glass bottles with gasoline and a dark-colored fabric wick. (A jury acquitted the officer in Smith's death; all the same, the new Milwaukee city attorney is asking the Common Council to pay $4 million to Smith's family.)
The court documents allege the Molotov cocktails were made out of bottles from Mikes' Hard Lemonade, Everfresh juice, and Seagram's escape wine coolers. The complaint alleges Mayes was seen "wearing gloves and filling the bottles with gasoline, dipping ripped shirts into a bowl of gasoline and placing the soaked fabric into the tops of the bottles."
It adds, "Some of the youth who participated in Mayes' Program the Parks were present for the manufacturing of the Molotov cocktails and were asked to throw rocks at police."
In one video he recorded his face covered with a mask and is heard saying, according to court documents, "they killing their ass with these mothercking rocks. Rocking their sht. Sht going down" and "Who got the rocks? Fck you all! Punk ass cops. Getting they ass rocked!"
---
Why Mayes Was Released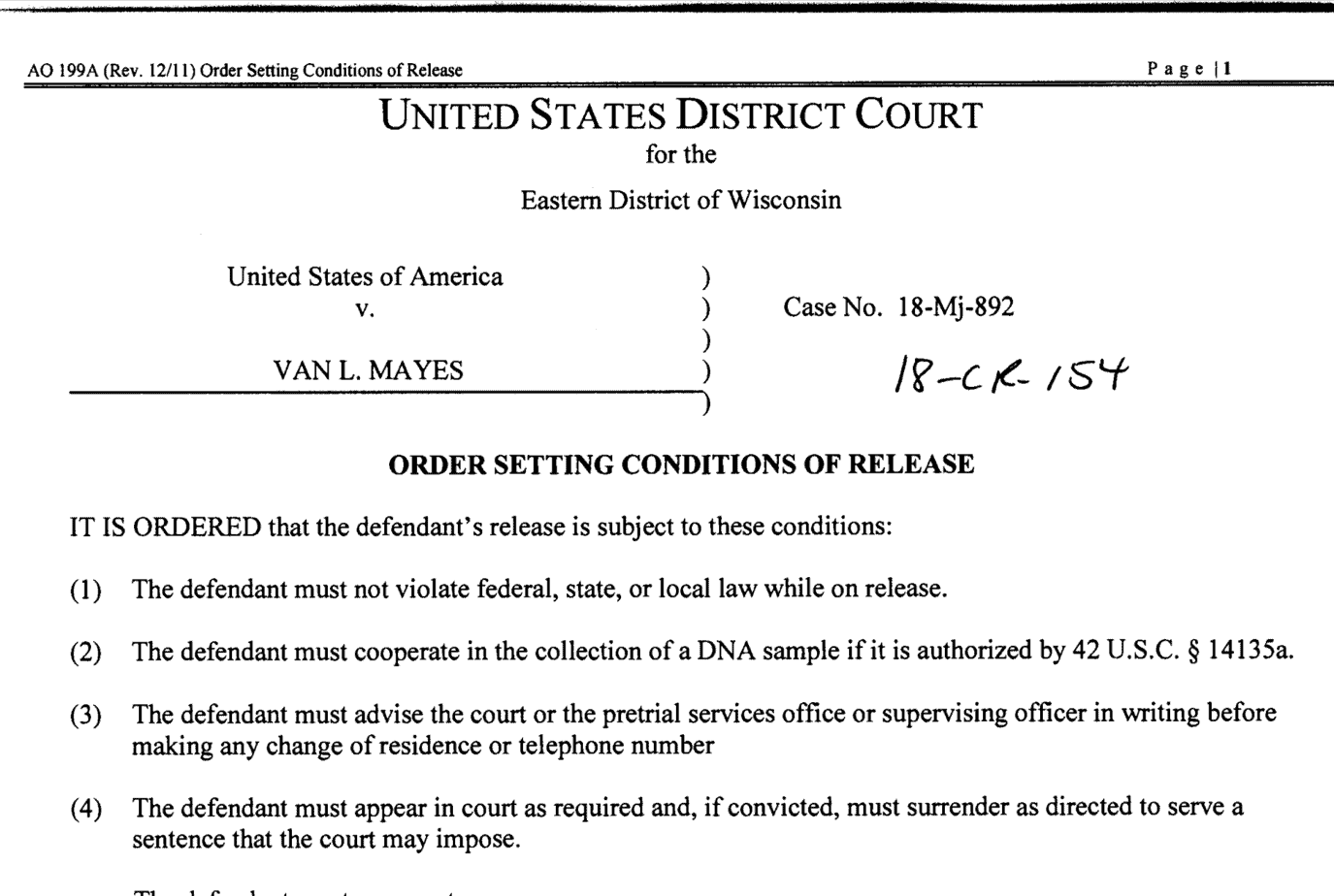 On July 6, 2018, Duffin, the magistrate judge, ordered Mayes released on conditions. The government sought detention arguing that Mayes was a "danger to the community," court minutes show.
"Counsel for the government argued that the court should detain the defendant pending trial because of the seriousness of the offenses," say court documents. "Counsel told the court that the defendant had manufactured Molotov cocktails and was going to use children to distract the police while he and others used those devices to bomb an occupied Milwaukee police station. Counsel also argued that the defendant presented a current and present danger."
Mayes' lawyer argued that it was his "absence from the community that imposed the danger. He argued that (community) support letters showed that the defendant's presence was glue that held the community together, and that he was needed in the community to help keep it safe and peaceful," the court records show.
The government sought higher review to no avail.
When arguing for detention in July 2018, the government stated that Mayes is "still acting as a mentor to teenagers in the community…. Defendant continues as a mentor to teenagers; that is a risk to them; they are easily influenced; he has a great influence in the community as evidenced by the number of people in the courtroom today." The government said an "associate" of Mayes took a witness's "phone and smashed it and then physically assaulted the witness by slapping him in the face and the head – this is corroborated by video evidence."
The defense said that "the assaultive behavior occurred by someone else who we don't know who it is" and argued Mayes was "under the government's microscope" for two years, saying, "If he was going to get involved into something inappropriate it would have occurred within that time."
The judge pointed out that, under the Bail Reform Act, detention "is the exception not the rule." The court was supposed to look at the nature of the offense (he was charged with a crime of violence) and his history. The judge noted he had a record but not a recent one and had "strong community support." Witnesses were confronted but the court couldn't establish Mayes was behind that. The conditions of release included provisions saying Mayes could not commit new law violations and possess firearms and destructive devices, among other things.
---
Vaun Mayes Wants the Government to Give Him Names of Confidential Informants Who Provided Evidence Against Him
The documents show that the case has bogged down in the criminal justice system as Mayes' court-appointed attorney (he didn't have money for a lawyer) seeks the names of the government's confidential informants, some of them juveniles.
"The defendant has affirmatively demonstrated a need for removal of the identity protection forthwith," Mayes' attorney, Robert LeBell, wrote on Oct. 7, 2020, in the most recent document in the file. He's seeking to overturn the magistrate judge's ruling barring Mayes from immediately accessing the names. The government said providing the names now would cause "significant safety concerns." (Mayes will get the names, but much closer to trial.)
In September 2020, Duffin found that "the court finds that the government's concerns about witness influence and intimidation are well-founded. There is strong reason to believe that there is a concerted effort by Mayes and others to influence witnesses to provide testimony favorable to Mayes, or at a minimum to persuade them to refuse to cooperate with law enforcement."
The government "reasonably believes" that releasing their identities could "jeopardize [their] safety," the court documents say.
The newly filed court document also recounts in detail some of the witness accounts against Mayes. For example, according to the court documents, a witness explained that s/he "participated in the illegal activity of making Molotov cocktails." The witness saw Mayes, and others, make Molotov cocktails and heard the plan discussed by several people, including Mayes, to firebomb a Milwaukee police station and attack the south side, court documents allege. The witness explained that s/he was allegedly physically assaulted by one of Mayes' associates after the perpetrator asked the witness if s/he was cooperating with police, the documents say.
Another witness allegedly "heard Mayes direct others to make Molotov cocktails and this was done in front of children. SOI-9 also saw Mayes getting the materials to make Molotov cocktails and heard a group, which Mayes was part of, discussing the plan to use the weapons at a police station. After Mayes was indicted, SOI-9 heard Mayes say that once he confirmed the name of a particular witness in his discovery, he wanted 'something done' about that witness," court documents say.
Mayes uses the name Vaun Mayes publicly, but court records identify him as Van L. Mayes.
In a document filed by U.S. Attorney Matthew Krueger and Asst. U.S. Attorney Christopher Ladwig, the government argued that it had redacted "the identifying information of certain witnesses and innocent parties because Van Mayes has repeatedly intimidated and interfered with witnesses and abused the trust of children who he mentored when he encouraged them to attack police and taught them how to make Molotov cocktails. Importantly, a grand jury indicted Mayes with a conspiracy to intimidate, threaten, and corruptly persuade witnesses."
The prosecutors' October document recounts the allegations; they allege that, on Aug. 15, 2016, Mayes "asked adults to gather some children from the Sherman Park neighborhood so that they could meet and plan a firebombing of a Milwaukee Police Station and homes in West Allis."
According to the government "in front of children (many to whom Mayes was a mentor) and adults, Mayes made Molotov cocktails by pouring gasoline into glass bottles and placing fabric wicks into the tops. Mayes' plan was to have the children create a diversion by throwing rocks at police; then at the same time, adults would throw the Molotov cocktails at a Milwaukee Police Station and at residential homes in West Allis 'where white people live.'"
---
What Witnesses Allege
Prosecutors say citizen witnesses provided information implicating Mayes, and his own statements and video evidence "corroborate that his motive was hatred toward police."
The government further alleges that Mayes "said he compiled a list of people who received federal subpoenas to testify and intended to expose those witnesses" and said that "once he confirmed the name of one particular witness in his discovery, he wanted 'something done' about that witness." An associate is accused of gathering all witnesses to "develop a story to protect them all from prosecution," and a witness was physically assaulted "by an unknown assailant because of his/her cooperation." Furthermore, alleges the government, "Mayes has posted intimidating video messages, referring to citizen witnesses as 'snitches' and threatening to find out who made statements to law enforcement."
The government had to provide "protective resources" to some witnesses "due to safety concerns," the court documents say.
The latest government document provides more alleged incriminating witness statements about Mayes. They include:
A witness said he/she "saw Van Mayes with a bag of rocks that were intended to be thrown at police officers, and s/he saw Mayes make Molotov cocktails."
A witness said that hes/he saw "Mayes and others around the Sherman Park BP Gas Station (BP Station) on August 13. The witness explained that s/he participated in the looting, and s/he and others threw Molotov cocktails while at the gas station. The witness said adults were handing out Molotov cocktails at the BP Station, one of which was Mayes' co-conspirator from his August 15 crimes."
A witness who proclaimed to be "aware of Mayes' Program the Parks group (This was Mayes' youth mentorship program. Vaun Mayes used his connection to children from this group when he devised his August 15 Molotov cocktail plan). The witness discussed people associated to that program and its recycling practices. The witness also said that s/he saw rioting on August 13, including seeing the arson at the BP Station." The witness did not have information about Mayes though.
A witness who "saw Mayes and others at the BP Station on August 13.The witness said that Mayes and others kicked in the door to the BP Station, which allowed for looting at the location. At the BP Station, the witness saw Mayes with a co-conspirator who the witness said was handing out Molotov cocktails."
Another witness "heard from a Mayes' associate that Mayes and others lied to law enforcement about making Molotov cocktails and had 'covered up' some of the evidence. After Mayes was indicted, this witness heard from a Mayes' associate who said that s/he was gathering all the witness that they could identify in the criminal complaint to develop a 'common story' to protect them all from prosecution. This witness also heard Vaun Mayes say that he was going to expose witnesses against him and that the children who were present during the making of the Molotov cocktails would be loyal to him."
A witness alleged that Vaun Mayes "told the group that he wanted children to throw rocks at one police station to create a diversion, and while that diversion was occurring, others including Mayes would firebomb another police station and set fires to homes in West Allis 'where white people live.' After the Molotov cocktails were made and the plan was finalized and agreed upon, this witness stated that s/he convinced Mayes not to execute his plan."
And so on. One witness explained how he/she "saved a white couple and a reporter from being attacked" during the riots.
The government is to provide the names eventually: "seven days prior to the final pretrial conference date."
The government said that Mayes has the full set of reports, search warrant materials, witness statements, and video evidence. A grand jury has indicted Vaun Mayes with intimidating witnesses, teaching children and others how to make Molotov cocktails, conspiring with others to firebomb a police station, using a destructive device, encouraging people to riot, making a firearm, and being a felon in possession of a firearm, the court documents say.
In May 2020, Vaun Mayes' lawyer filed a motion to compel the government to release the names. In June, the government agreed to provide redacted discovery but not the names.
The September 2020 order from Duffin recounts the rioting and violence that occurred in August 2016 when a police officer shot and killed Smith.
"Members of the community reacted violently to this incident. Over two nights citizens threw bricks and bottles at police officers and vandalized, looted, and burned businesses in the neighborhood where the shooting occurred," Duffin recounted in his order.
According to the government, on Aug. 15, 2016, Vaun Mayes and others allegedly "sought to continue the violence and planned to attack a local police district station with firebombs. In preparation the group collected glass bottled that they filled with gasoline and fitted with wicks made from torn clothing. They also collected rocks to throw at police officers as part of a diversionary prelude to their firebomb assault. The plan was abandoned when group leaders determined that there were too many police officers in the area," wrote Duffin.
Vaun Mayes was charged in June 2018 and a superseding indictment in October 2019 added additional charges.
"It appears that he… seeks disclosure of the identity of every confidential informant regardless of the nature of the information the person provided. Such broad disclosure is inconsistent with the fact-intensive and individualized nature of the court's balancing," Duffin found.
The government also stated that, with respect to one witness, "s/he was physically assaulted by one of Mayes' associates after the perpetrator asked the witness if s/he was cooperating with police." Some witness accounts involve the same person.
By January 2020, court minutes show that discovery was turned over already, describing it as a complex case that involves "many informants and layers of investigations" with witnesses who "are juveniles" or were at the time.
The judge dismissed speedy trial requirements by citing the "complexity of this case." By October 2019, the government handed over 32 discs of discovery, including reports, witness statements, social media videos of Vaun Mayes, and Facebook search warrants.
He faces a maximum penalty ranging from five years to life imprisonment on the various counts.
The government indicated that during the rioting and looting, seven commercial businesses suffered arsons (although Mayes is not accused of those nor has he been charged with any offenses relating to those arsons.) The firebombing he's accused of was called off, prosecutors say.
---
What the Defense Says
Mayes posted a lengthy comment on his Facebook page after this article ran. He wrote in part,
I'll say this. I could care less about the people they trying so hard to claim im looking for. Once this trial starts, EVERYONE will see that these very people they claim im tryna find or track down, are more than likely people who STAY tryna make they way around me or tryna contact ME. Anytime I see a mf who I aint seen around since 2016, I move tf around. If they speak to me, I keep that shit moving. I know wtf they on. We literally have proof that they TELL mfs to try to get me to talk to them, then turn around and claim im intimidating them. Mf how? Yall do know i can see and read the discovery right? Im not asking for nobody names. But in my right for defense my LAWYER needs to know who these people are so he can DEFEND ME and see how credible they are as witnesses. You know, cause im pretty sure most of them committed some crime and yall pressuring them into cooperating against me, which will definitely make them not credible. Yall tryna hide these haters too who want my spot out here and come in and make bogus ass claims and statements and yall using em as evidence.
He added, "They so pressed lol They are PISSED about that Mensah shit. And they sharing these articles and talking cash shit in groups im blocked from 🤔 Extra fed ass bs."
For his part, the defense attorney, LeBell, has stated in court documents that there "is not a shred of corroboration, substantiation or documentation offered to support the bold claims by the government."
He noted that the government included photographs showing Vaun Mayes "purportedly dressed in a tactical vest with a pellet gun." According to LeBell, "Mayes provides a service to the community wherein he assists to prevent or remove fellow citizens from harmful situations" in the inner city when "MPD is either unwilling or otherwise non-responsive."
In May 2020, Lebell called Mayes a "community activist who ran a program in Sherman Park for young men and women: Program the Parks." He claimed the group provided food, mentorship, and activities for youth.
He also described how, during an arson of a BP station during the riots, "employees of the station attempted to hide in the register area to avoid the crowd and the violence."
He accused another man of being responsible for "bringing the incendiary devices to the station and distributing them to those who used them as weapons."
"Mr. Mayes has, at all times, denied involvement in the plan," wrote the defense.
The second man was arrested in Sherman Park. A paraplegic, he's in a wheelchair and "fancied himself to be one of the leaders in Sherman Park's youth programs," wrote Mayes' defense attorney. His arrest "occurred when his wheelchair upended while he was in the park. His belongings, which included a quantity of cocaine and a firearm, fell to the ground," the lawyer alleged. He was a felon banned from possessing a firearm and ended up charged in federal court, according to the court document.
LeBell alleged the man "has now become a cooperator for the government" implicating Mayes. The other man's sentencing is scheduled for November, court documents show.
There are letters of support for Mayes in the court file.
Desiree Brown met Mayes after the police shooting death of her nephew Antwon M. Springer, saying, "this young man came right away." She said he was respectable and called elders sir and ma'am. "He loves his people and culture," she said, calling him a "special, living, and caring young man."
The DA's office found that the officers in the Springer case used justified force because Springer fired shots from a porch. Officers, who were responding to a large street fight, ordered him to drop the gun but he did not, according to Fox 6. A felon, he had a stolen gun.