Wisconsin Right Now has learned that a loosely organized group of Wisconsinites was planning a maskless "shopping blitz" at Wisconsin Woodman's stores on December 18.
The graphic is circulating on Facebook. "All stores tonight…. Share all day please," wrote one man who shared it.
The event graphic states it's a "fight the mask 'shopping blitz'" planned for 6 p.m. December 18 at "EVERY WOODMANS STORE." The graphic advises, "Arrive at 6 pm, Shop as You Need for Essentials. Either Shop Maskless or Use a Mask & Take Off Mask at Register."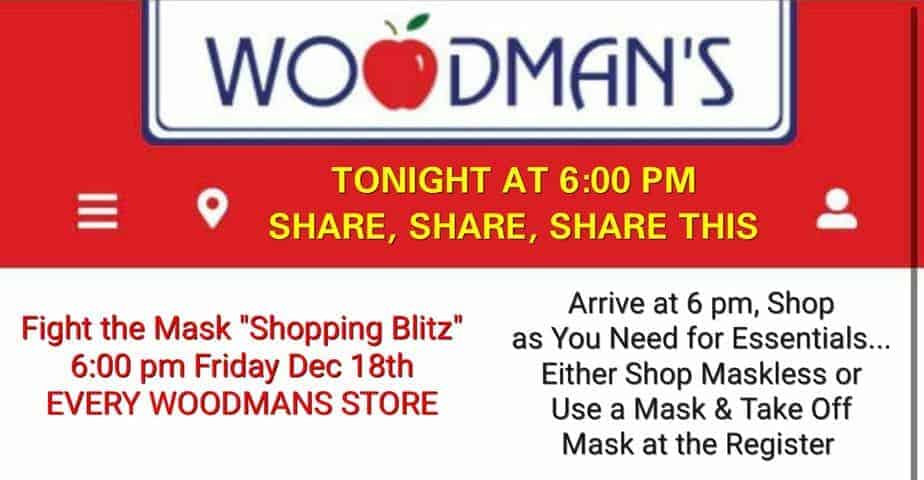 We reached out to one of the organizers, Matthew Allan, to ask him some questions. "It was a common idea by 5-6 upset individuals this week that were thrown out of Wisconsin Woodmans Stores… It's a very grass roots shopping event and celebration of personal freedoms of our bodies and our rights over our bodies," Allan explained. "Why, because stores can't have it both ways. They wanted to be deemed, 'essential' from March until May under 'safer at home' state orders."
To be clear, we are not reporting this story because we're advocating that this type of event occur. We're reporting on it because it's newsworthy that people are trying to do this.
Woodman's has a strict mask policy. "In compliance with current state orders, and for the safety of our team, vendors and guests, we ask all guests shopping at Woodman's wear a face covering that properly fits, snuggly covering both the mouth and nose. A face shield is required for those unable to wear a face covering. Guests not following these protocols will not be served. We offer online shopping for pick-up or delivery as an alternate shopping option," the store says on its website.
Tensions have boiled over about masks at Woodman's before. Patch reported that a man was arrested for an incident at a Waukesha Woodman's in which he damaged a display.
COVID-19 is spiking throughout the state. 448,441 people in Wisconsin had tested positive as of December 17, and 4,255 people had died. The state says that all 72 counties are in the critically or very high categories, and 86.4% of ICU beds in the state were in use.
According to a document posted by the CDC in November, "CDC recommends community use of masks, specifically non-valved multi-layer cloth masks, to prevent transmission of SARS-CoV-2. Masks are primarily intended to reduce the emission of virus-laden droplets ("source control"), which is especially relevant for asymptomatic or presymptomatic infected wearers who feel well and may be unaware of their infectiousness to others, and who are estimated to account for more than 50% of transmissions."
Your #COVID19_WI update w/#Wisconsin still experiencing very high disease activity. But, while all 72 counties are in the critically or very high categories, 33 are experiencing a shrinking trajectory, compared to just 10 last week. Check where you live: https://t.co/R46klg8nRD pic.twitter.com/TaO9xUtHaT

— WIDeptHealthServices (@DHSWI) December 17, 2020
Allan added, "By that same metric, they were determined to be necessary for survival, so they forfeited any ability to now ask to be an 'optional' business. They offer services that were essential, and they can't refuse our entry in defiance of our doctors orders or other reasons that make masks unsafe or causing some harm. The point is the store has no ability to be deemed essential when it best meets their needs then pivot to optional or nonessential when it meets a new agenda."
We asked about rising COVID-19 numbers and the danger the virus can pose to some people. He said, "Masks aren't making a measurable difference and one can argue a rise in folks with sicknesses involving lungs on the rise since the masks stated. I can also cite that nearly 80% of folks testing positive for covid are on the record as stating they nearly always wear masks outside their homes, and non mask wearers make up less than 5% of covid cases."
He added, "My own physician has indicated they are the best way for a healthy person to suffer upper respiratory lung infections, which I've had 2 of because of masks.. Since I've stopped wearing masks… I've been free of that miserable sickness."
He said the group doesn't have an event page. One woman involved is a sexual assault survivor who has PTSD that's triggered when she wears a mask. He called himself a "lifelong Wisconsin resident, parent, and freedom loving, traditional values man that had been fighting since March of 2020 for the all out assault on our freedoms and democracy."