Democratic presidential candidate Joe Biden said in a speech on Aug. 31: "Ask yourself: Do I look to you like a radical socialist with a soft spot for rioters? Really?"
In his own countering press conference later in the day, President Trump said he believed the Democrats have lost control of the "radical left maniacs."
"If the mob rules, Democracy is indeed dead," said Trump, adding that liberal politicians, mayors, prosecutors and judges are refusing to enforce the law and put rioters and "killers" in jail. "This is the extreme left's agenda for America," he said.
The warring press conferences came the day before Trump is set to visit Kenosha, Wisconsin, the scene of rioting, arson fires, and a triple shooting. Kyle Rittenhouse, 17, is charged with two counts of homicide in that shooting; his lawyers say he acted in self defense when attacked by a "vicious" "mob." (See our exclusive video here showing the moment arsonists lit an office furniture store on fire.) Biden's comments, delivered in the key swing state of Pennsylvania, also came two days after a Trump supporter associated with a pro-Trump caravan was shot and killed on the streets of Portland. A self-proclaimed anti-fascist and Black Lives Matter supporter, whose Instagram page is filled with expletive-filled posts slamming President Trump and police, was named by an Oregon newspaper as the man under investigation.
The man under investigation for the pro-Trump supporter's shooting death wrote on Instagram,
Every Revolution needs people that are willing and ready to fight. There are so many of us protesters that are just protesting without a clue of where that will lead. That's just the beginning that's where the fight starts. If that's as far as you can take it thank you for your participation but please stand aside and support the ones that are willing to fight. I am 100% ANTIFA all the way! I am willing to fight for my brothers and sisters! Even if some of them are too ignorant to realize what antifa truly stands for. We do not want violence but we will not run from it either! If the police continue to pick on and beat up innocent citizens that are peacefully voicing their objections, it must be met with equal force! We are currently living through a crucial point in Humanities evolution. We truly have an opportunity right now to fix everything. But it will be a fight like no other! It will be a war and like all wars there will be casualties.
However, Biden put the blame on Trump, whereas Trump put the blame on Antifa.
Biden said Trump "fans the flames, rather than fighting the flames." He said Trump had "fomented" violence "for years." He demanded that Trump stop calling his "armed supporters" to act as a militia.
You can watch Biden's comments here:
"Violence has no place" in America, countered Trump in his own news conference. "We must have no tolerance for anarchy, and no tolerance, zero, for violence." He said law enforcement should focus on Antifa, which he called a domestic terrorist organization. "Biden won't even say the name Antifa," said Trump. "He mentioned the police, but he didn't mention Antifa. I wonder why. If he can't name the problem, there's no way he'll solve the problem…Biden would give Antifa exactly what it wants.. and if that happens, we won't have much of a country left."
LIVE: President @realDonaldTrump holds a news conference https://t.co/H3TZocumET

— The White House 45 Archived (@WhiteHouse45) August 31, 2020
He said: "Biden's strategy is to surrender to the left wing mob … and give them control over every lever of the government."
---
'We Need Order,' the President Said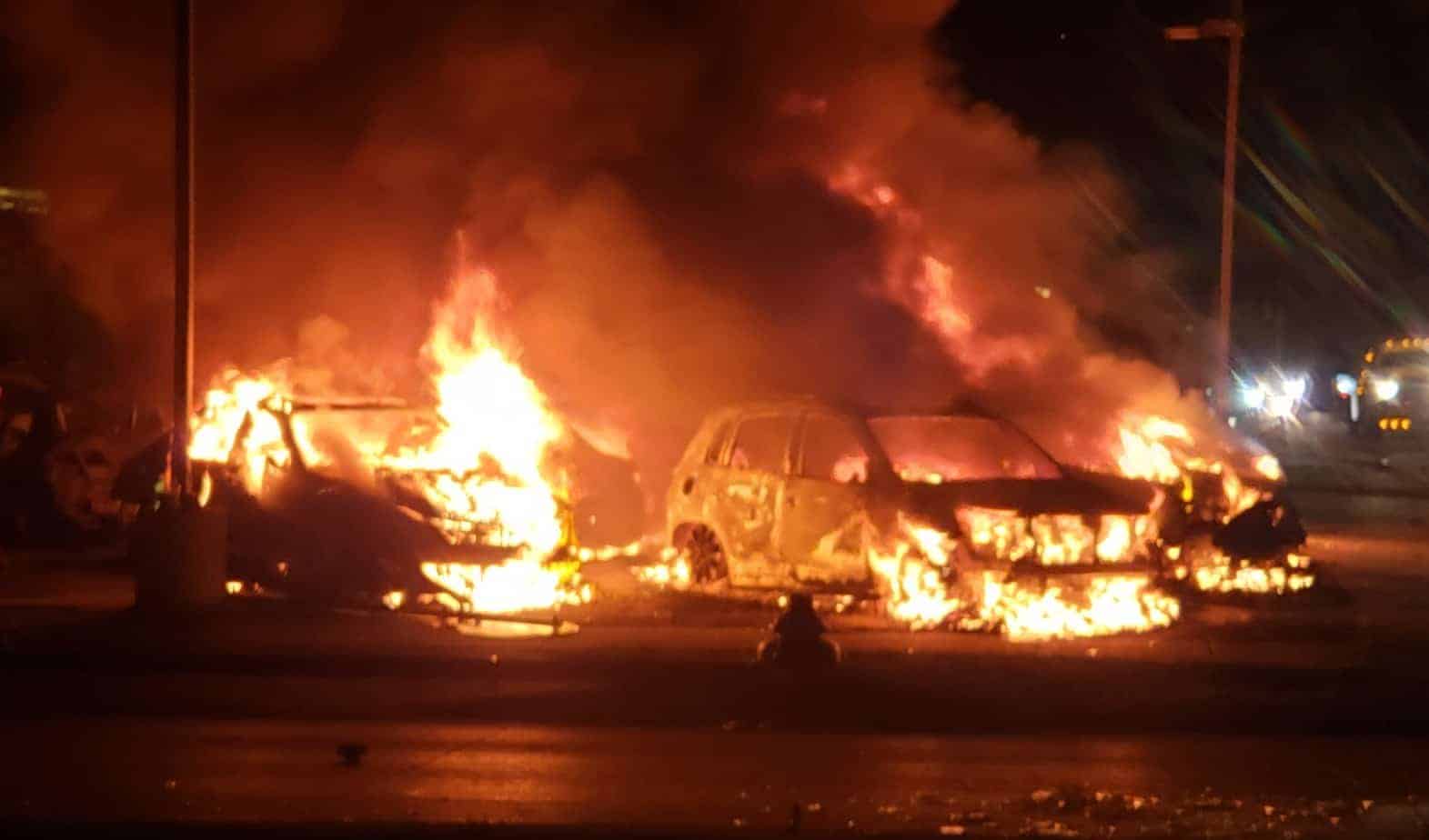 Trump said he supports effective policing methods. "When you enforce the law, order follows, and we need order. We can't have cities run like these cities are run…they gave a little…and all of a sudden, they've lost these cities."
Biden said: "I want to be clear about this: Rioting is not protesting. Looting is not protesting. Setting fires is not protesting. None of this is protesting — it's lawlessness — plain and simple. And those who do it should be prosecuted. Violence will not bring change. It will only bring destruction."
Biden also seemed to blame Trump for recent violence, saying of the president, "He keeps telling you if only he was president it wouldn't happen. He keeps telling us if he was president you would feel safe. Well — he is president. And it is happening. And you don't. And it's getting worse. And we know why. Because Donald Trump adds fuel to every fire."
Biden claimed, "Frankly, I believe if I were president today, the country would be safer and we would be seeing less violence."
However, Trump countered that Biden was using "Mafia talking points – the mob will leave you alone if you give them what they want." That never works, though, he said.
Trump also appears to suggest that Kyle Rittenhouse has a defense, stating "I guess he was in very big trouble, he probably would've been killed."
Trump actually offers a defense of Kyle Rittenhouse, his right-wing supporter who killed two protesters.

"I guess he was in very big trouble, he probably would've been killed." pic.twitter.com/XFBtDOHP8y

— Pod Save America (@PodSaveAmerica) August 31, 2020