"Hello CPAC, do you miss me yet?"
That question was asked by former President Donald Trump to the audience on the fourth and final day of The Conservative Political Action Conference (CPAC) in Orlando in which he suggested in his 90-minute speech that he may run for a third term and that conservatives' journey with him is "far from being over." Trump's speech, along with the atmosphere inside and outside the convention hall, was like another Trump Rally. One artist displayed a golden Trump statue.
Trump didn't announce he will run again in 2024, but he signaled it's possible, saying "Who knows, I might even decide to beat them for the third time."
Trump trashed the immigration policies of President Joe Biden, telling the audience Biden has had a "disastrous first month" and saying, "In one short month we have gone from America First to America Last." Trump called Biden's campaign "all lies." Trump called Biden "anti-jobs, anti-families, anti-border, anti-energy, anti-women and anti-science." During the former president's speech, there were chants of "We love you."
The 2021 Conservative Political Action Conference (CPAC) was considered a referendum on Trump's role in the future of the Republican Party. It was his first post-presidential speech. Trump received some mentions during the four-day convention, but most of the attention on him came on the last day. However, he placed first among all candidates in a straw poll on 2024 preferences, with Florida Gov. Ron DeSantis coming in a distant second. He received a warm welcome at CPAC during his speech.
Cancel culture was the theme of the four-day convention which was moved to Orlando from Washington D.C. due to the COVID-19 pandemic. Wisconsin Right Now was there to cover the convention and Trump's speech.
https://youtu.be/z3KQLEB6IVE
Trump said powerful interests "want to silence us… we will be victorious and America will be stronger and greater."
Trump ruled out creating a new party, calling those reports "fake news."
"I stand before you today to declare that the incredible journey we began together four years ago is far from over," he said.
"Our security, our prosperity and our very identity as Americans is at stake like perhaps at no other time."
Trump CPAC 2021
The former president painted the moment as historic.
"As we gather this week, we are in the middle of a historic struggle for America's future, America's culture, America's institutions, borders and most cherished principles," he said.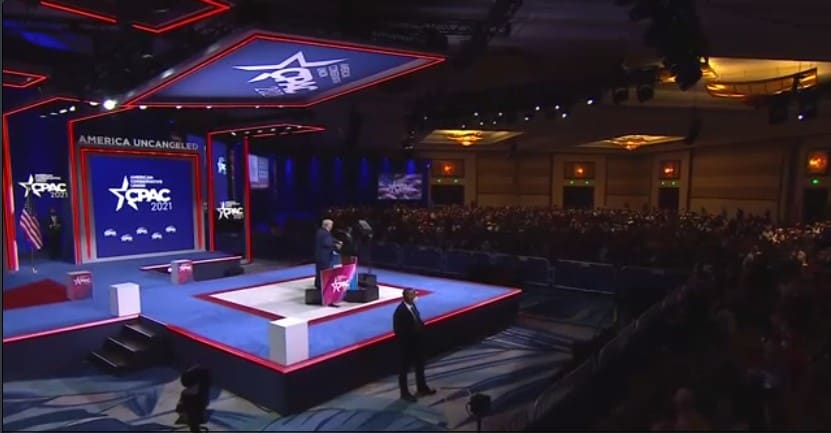 He trashed Biden for creating a "sanctuary nation" and called on him to get the nation's schools open. "On behalf of all the moms and dads, I call on Joe Biden to open the schools and get them open now," said Trump, adding, "Joe Biden has shamefully betrayed America's youth, and he is cruelly keeping our children locked in their homes, no reason for it whatsoever." He told the CPAC audience that migrants at the border are getting an education, but America's own citizens are not. He accused President Biden of "selling out America's children to the teachers' unions."
Trump called the Democrats' plan to pass a $1.9 trillion a "boondoggle" to open schools.
He told the audience that Republicans must hold Biden accountable for ripping up asylum cooperative agreements with Northern Triangle countries.
"By recklessly eliminating our border, security measures, controls, all the things we put into place, Joe Biden has triggered a massive flood of illegal immigration into our country like we've never seen before," he said.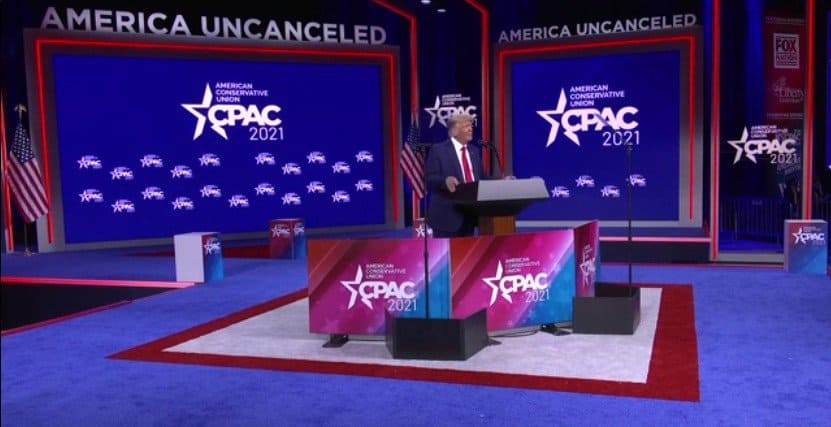 "It took the new administration only a few weeks to turn this unprecedented accomplishment into a self-inflicted humanitarian and national security disaster," Trump said.
"He revoked an executive order cracking down on sanctuary cities and has effectively ordered a shutdown of ICE, halting virtually all deportations," added Trump of Biden.
Trump took credit for the COVID-19 vaccine rollout and said Democrats are "following our plan."
"He's increased refugee admissions by nearly 10 times but in effect, it'll be hundreds of times as millions of people flow up through our soon-to-be open borders," Trump said.