Six of a Seven Chapter Series
WRN has been told that members of the State Assembly will meet this coming week and will discuss Bowen's actions. Another assembly member speaks out. 
Read: Chapter One; Chapter Two; Chapter Three; Chapter Four; and Chapter Five.
Wisconsin Right Now can exclusively reveal two new videos showing Rep. David Bowen (D-Milwaukee) carrying toilet paper out of a Target store shortly before the violent attack on then Wauwatosa Police Officer Joseph Mensah, as well as another video which shows the extent of the violence at Mensah's police officer girlfriend's home.
Bowen is visible in close proximity to the violence in the second video as multiple people physically attack Mensah and his girlfriend (who is in the white tank top). One person smashes a megaphone over Mensah's head. Yet despite being a close eyewitness who could sort out who did what, Bowen has refused to speak with police in the felony investigation. We've tried to reach him for comment and did not receive a response.
The new video shows that the attack scene was much more violent than previously reported, and it makes it clear that Mensah and his girlfriend were being attacked and were not the aggressors as Bowen claimed in a public statement.
We also obtained new photos showing the injuries suffered by Mensah's police officer girlfriend in the attack.
The toilet paper is significant because the caravan of Peoples Revolution members left the Target store and went to Mensah's girlfriend's home, where some members vandalized the property by throwing toilet paper around before the violence erupted. Police reports indicate Bowen was at Target with other Peoples Revolution members.
In the toilet paper video, Bowen walks out of the store with Tiffany Henry, the Milwaukee office director for U.S. Sen. Tammy Baldwin. He clutches a large package of toilet paper.
Police reports also indicate the two officers were punched and scratched by multiple people during the attack, and a Peoples Revolution member, Ronald Bell, is accused of a felony for discharging a gun near the officers. In addition, Mensah's girlfriend's property was vandalized with broken windows. However, Bowen released a public statement trying to pin the blame for the incident on Mensah.
Republicans in the Assembly are poised to discuss possible discipline requested by Wauwatosa Police Chief Barry Weber, who says Bowen lied to the public about the attack. We've also obtained a letter that attorney Kimberley Motley wrote to the District Attorney explaining that Bowen would not speak with the police. Bowen has not been arrested or charged in connection with the incident, nor has Henry.
We obtained the two new videos through an open records request.
The toilet paper video shows Bowen is wearing a distinctive Howard University T-shirt and red face mask. Henry is next to him. The video also captures him walking into the Target. Bell, the accused shooter, gave conflicting accounts about whether Bowen threw toilet paper at the house. In one statement, he said Bowen did throw toilet paper; in another, he said he didn't throw toilet paper "at" the house. There are also conflicting reports about what Henry, who did not return a request for comment, did at the scene.
We found a photo posted by the Milwaukee Independent's photographer from July 2020 on Facebook that shows Bowen wearing the same distinctive Howard University T-shirt. In addition, a source confirmed to us that Bowen is the man in the Target and Mensah attack videos.
https://www.facebook.com/photo.php?fbid=1460112047523490&set=a.1460110977523597&type=3
Police reports also describe Bowen being in the Target parking lot in Henry's car when the caravan was there. We previously detailed how Bell and another Peoples' Revolution member told police that Bowen lied in his statement to the public about what happened at Mensah's house that day. In addition, Bell told police that Bowen "encouraged" him not to turn himself into authorities.
According to reports, while referring to a bullhorn that was cracked over Mensah's head, Bowen told protesters, "It was good that we got at him, and now Alvin Cole's mom has a souvenir." Bell told police that Bowen "never tried stopping the protesters."
An officer said that a group of 7-10 males surrounded the U-haul truck parked near Mensah's home, climbing on the hood and opening the read door. He observed other individuals shouting, throwing toilet paper and other objects into the trees and at his house. The officer heard fireworks, car horns, and the chant, "Murderer, murderer." A neighbor said he heard a gunshot and the group chanting phrases such as "murderer" and "fck 'em, fck 'em all."
---
Fellow State Representatives Finally Speak Up
We recently told you about comments from Speaker Robin Vos in which he called Bowen's actions "abhorrent."  State Rep. Jim Steineke, the Assembly's Majority Leader, also promised a constituent that Assembly Republicans will finally discuss Weber's September request that the Legislature discipline – and consider expelling – Bowen.
This week we spoke with State Rep. Janel Brandtjen regarding Rep. Bowen's actions, she said,
"Rep. Bowen has not been honest about his involvement in the shooting at Officer Mensah's house, not even submitting to questioning. Rep. Bowen's false allegations against Chief Weber who has submitted to multiple 3rd party investigations on officer conduct is unconscionable. The final insult of calling Chief Weber racist is laughable as officer Mensah is African-American."
She's referring in part to a press release Bowen issued after Weber announced his retirement. "Unfortunately, Chief Weber's legacy will not be one of change or a willingness to listen and adapt – instead, his legacy will be one of overt and outright hostility to even the suggestion of reform, to the detriment of the community and the possibility of progress," he said.
Here is Rep. Bowen's public statement he issued after the Mensah incident. If you wish to contact your legislator to let them know your opinion on Rep. Bowen's conduct, you can find them here.
---
Attorney Motley Letter to Milwaukee County DA Chisholm
On Aug, 17, Attorney Wotley wrote the District Attorney that Wauwatosa police and Chief Weber "as (sic) this point made absolutely no attempt to contact and/or question Bowen." She was referring to Weber going on the Belling show on August 11.
Here's the letter.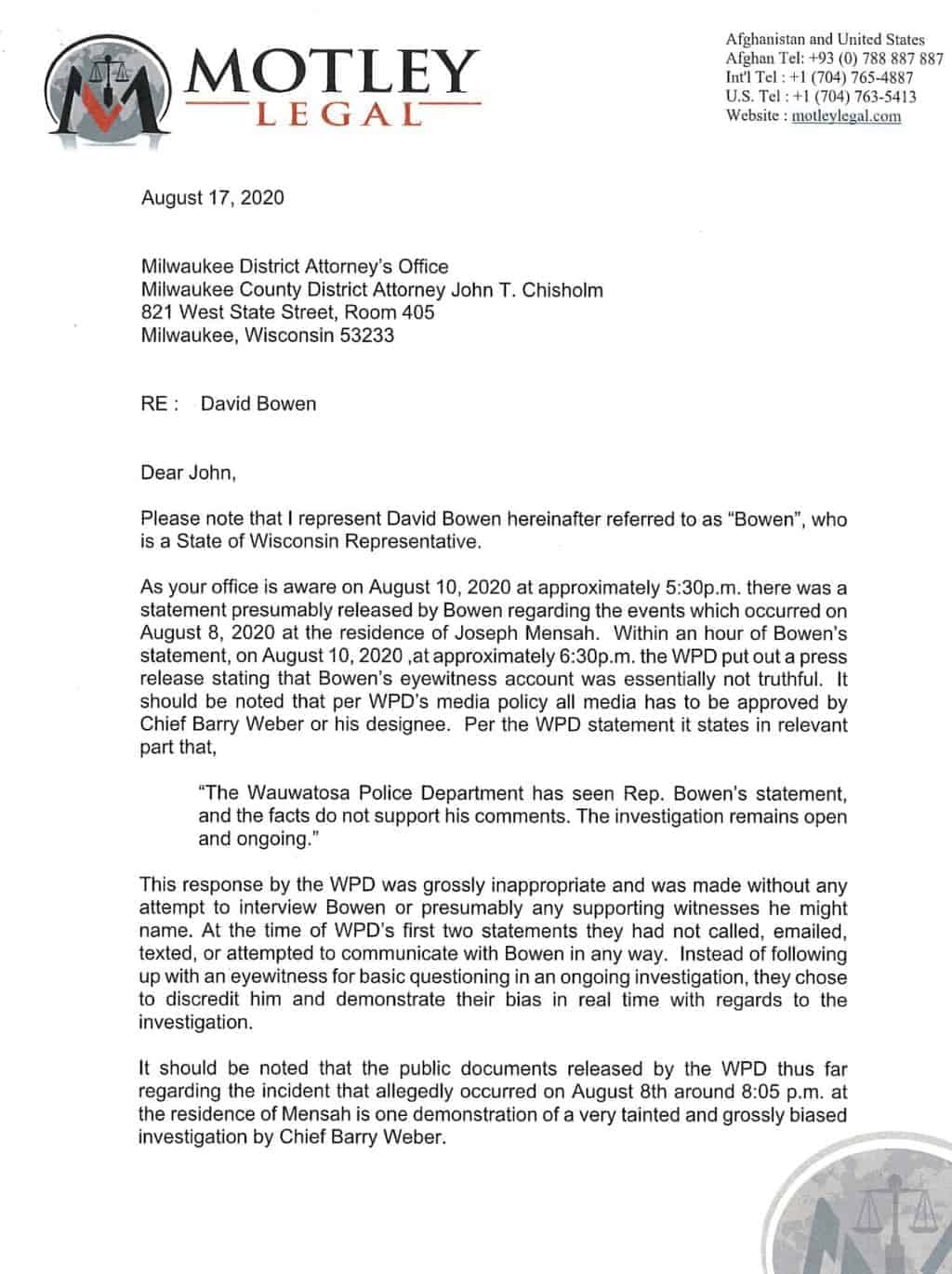 Here are all of the times Wauwatosa police tried unsuccessfully to interview Bowen about what he saw.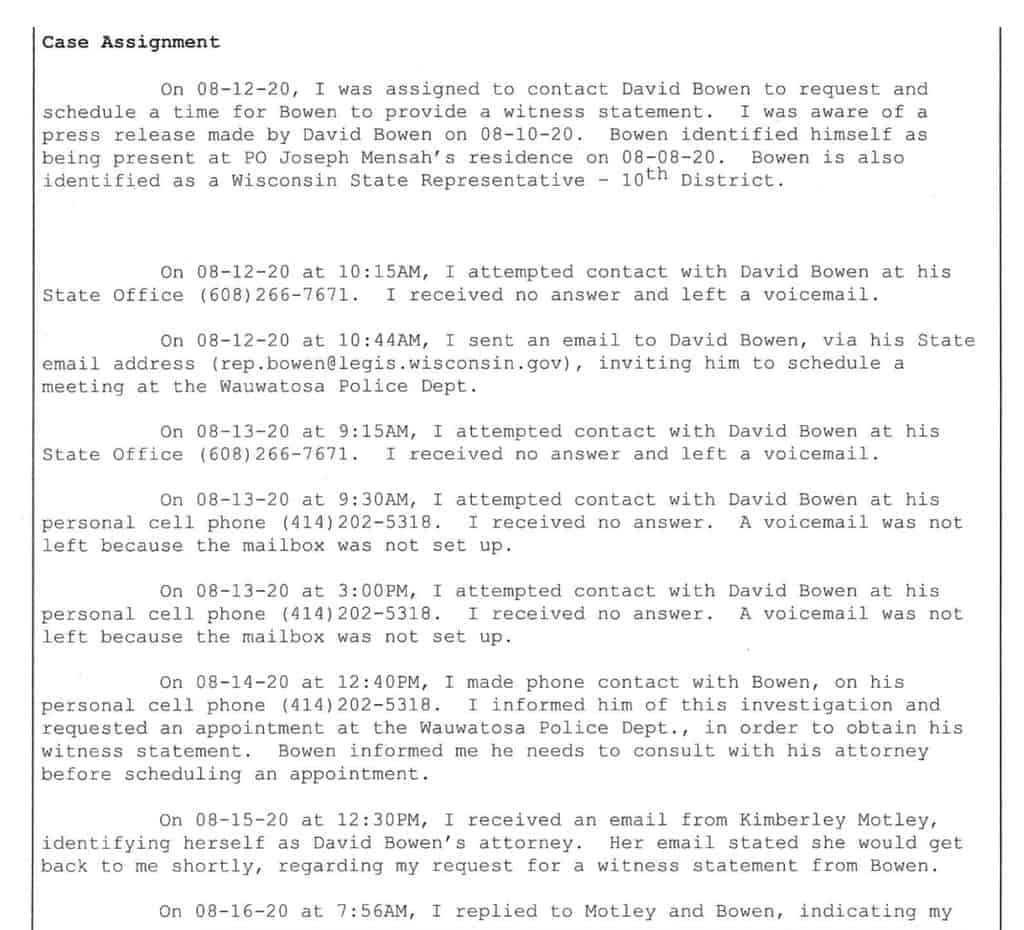 Disclosure: WRN contributor Jessica McBride is the niece of Wauwatosa Mayor Dennis McBride. Jim Piwowarcyzk, the owner of WRN, is the author of this story.