Five of a Seven Chapter Series
"I was like, wait a second. You're screaming black lives matter, but you're going after a black cop for shooting two black individuals and a Latino?" – Protester Jeremy "Hippie" Henderson to police.
Protester Corey Kirkwood didn't mince words when Wauwatosa police asked him about the Peoples Revolution and whether the protest/riot group is tied to street gangs. Other Peoples Revolution members didn't hold back, either, when asked by police about the organization.
What he alleged was pretty stunning; Kirkwood, a long-time protester who once stood on an American flag outside the GOP debate in Milwaukee and has open criminal charges as a habitual repeater, told Wauwatosa police he believes the Peoples Revolution "is gang related because he has seen (its leader Khalil) Coleman wearing a facemask with the G and star affiliated with the Gangster Disciples. He has heard that Coleman is a general in the gang, (Ronald) Bell is a hitter, and that the other security personnel are low level gang members who will do whatever Coleman instructs. Kirkwood stated he doesn't know the ultimate objective of the organization but wouldn't be surprised if Coleman was leading up to a war between the gang and police."
It's not the first time such allegations have surfaced, although they certainly run counter to the glowing profiles of Coleman and the Peoples Revolution in the news media. Kirkwood was one of the Peoples Revolution members at the scene when then Wauwatosa Police Officer Joseph Mensah was attacked last August, newly released police reports say. Coleman was there too, according to the reports, and what they say he was doing is disturbing.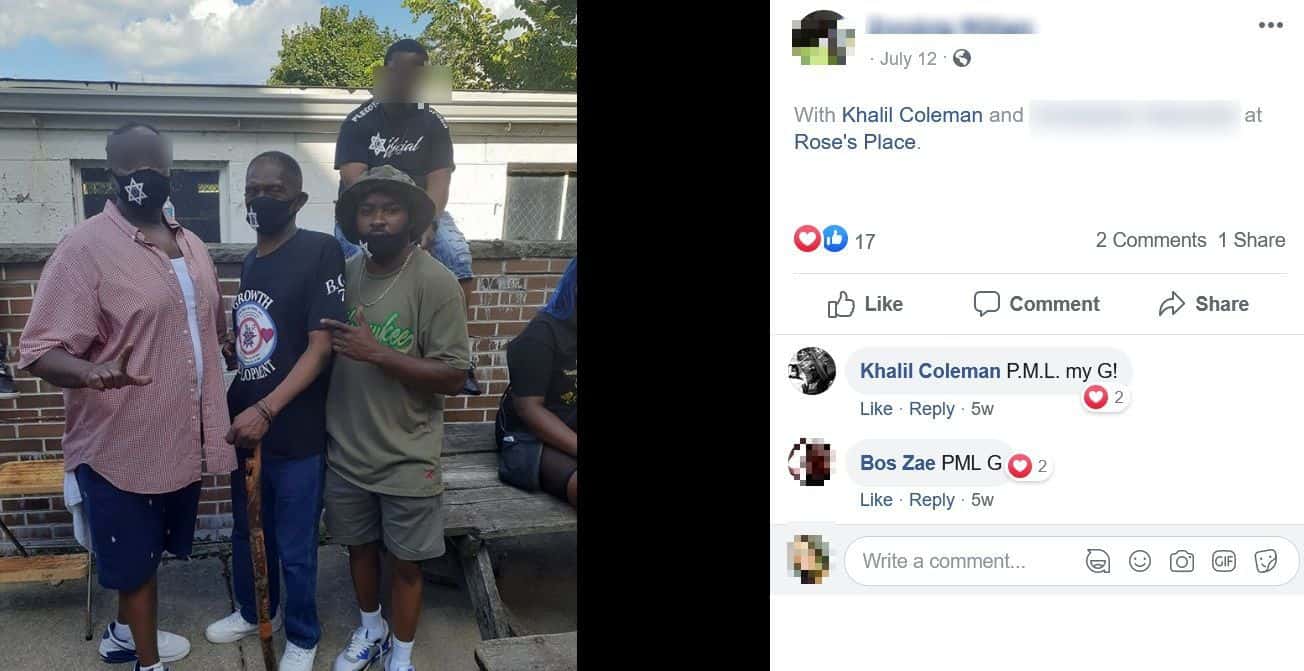 The gang allegations are just one of many comments in the newly released Wauwatosa police reports that give a far less flattering picture of the Peoples Revolution – often in their own words – than the previous media coverage and Milwaukee County Board commendation would indicate (the resolution praised the group for making the city safer). For months, members of the group have been tying up traffic and hurling abuse at and even injuring police officers in a series of Wauwatosa protests and riots, police reports indicate.
We previously reported extensively on Coleman's ties to members and founders of the notoriously violent Gangster Disciples street gang. Although he openly wears the gang's symbols and colors and uses its lingo and admires its imprisoned leader Larry Hoover and recently met with one of Hoover's oldest associates (a Chicago founder of the Supreme Gangster gang that merged into the Gangster Disciples) in a Milwaukee tavern, Coleman denied any involvement in its criminal activities. He claimed instead to be a follower of G&D not the GDs: "Growth & Development," Hoover's long-ago attempt to rebrand his notorious and violent gang into a do-gooder community group and essentially rename it. Prosecutors convinced a jury that, to Hoover at least, G&D was simply a continued front for criminal activity – a gangland Potemkin village. You can read our story on Coleman and the Gangster Disciples here, as well as watch a video that gives his side of it all.
On Jan. 25, Coleman – described by various Peoples Revolution members as the organization's leader – posted a certificate of achievement from the Growth & Development organization, complete with GD symbol and lingo. You wouldn't know any of this from the news; the Milwaukee Journal Sentinel, for example, once compared Coleman to legendary Chicago Bulls coach Phil Jackson in a glowing profile that said Coleman was Milwaukee's key organizer of the largest Black Lives Matter protests.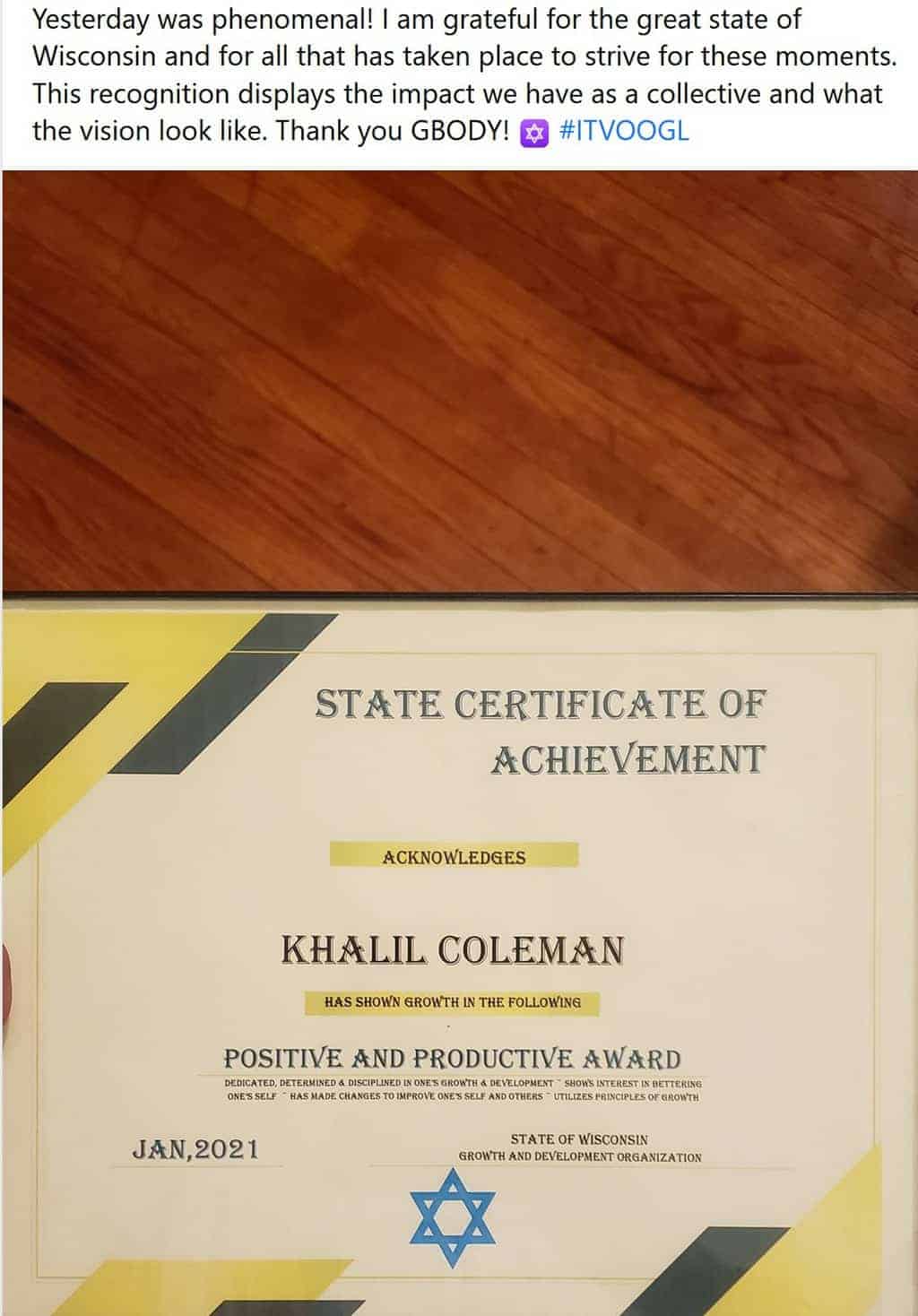 As for Bell? Bell is the Peoples Revolution member who is accused of a felony for discharging a shotgun toward then Wauwatosa Police Officer Mensah during a melee at his girlfriend's home. We previously reported that Bell had a Hoover tribute on his Facebook page as well. Bell was already wanted on a misdemeanor warrant for battery-domestic violence with a dangerous weapon when the Mensah attack occurred.
Wisconsin Right Now obtained the voluminous police reports via an open records request. In part, as we've previously reported, they describe in great detail the violent assault against Mensah (now a Waukesha County Sheriff's Deputy) and his police officer girlfriend in the yard at their own home. Both were left with physical injuries after being punched, scratched, and shot at by multiple members of the Peoples Revolution. Bell and two others (Niles McKee and William Lofton) are facing serious criminal charges..
The police reports provide a bird's eye view into the inner workings of what has become Milwaukee's most determined and, in some cases, violent protest/riot group. The behavior described in the reports doesn't much resemble the peaceful protesting described in many sanitized media accounts, although to be sure some members of the group have engaged in peaceful protest. The new reports, though, also raise questions about the actions of a state representative (David Bowen – which we previously reported) and the Milwaukee director for the office of U.S. Senator Tammy Baldwin (Tiffany Henry) as well as the group's leader, Coleman. The group has demanded significant reforms, including defunding of local police departments and the firing of police chiefs, succeeding with the Fire and Police Commission's demotion of Milwaukee Police Chief Alfonso Morales, which was overturned by a judge. We counted at least 10 open felony charges against various members of the group.
Bell told police in a lengthy interview that Khalil Coleman is the "organizer of the revolution." He also named Bowen, a male named P (later named as Percy "Godking" Hayes), and "Tiffany" as leaders of the group, along with three other women.
"Bell stated none of the protests they have been doing lately have been peaceful," the reports say. He stated the group "marches around the city and researches who was killed. The group is advised about Common Council meetings and Fire and Police Commission meetings." Bell described a previous incident in which protesters left a church service and bought toilet paper at a Dollar Tree to toilet paper Wauwatosa Police Chief Barry Weber's house. Bell stated the group asked Coleman if it was OK if they toilet papered Weber's house, and Coleman allegedly told the group "it was OK and that the chief was a piece of trash."
The reports also indicated that some Peoples Revolution members didn't seem to really understand what they were protesting for in the first place, as they got key details wrong and admitted that the actions being protested seemed justified after all.