Also, for the first time, court documents reveal why the District Attorney declined to issue charges against Vaun Mayes for the bizarre incident in which a Milwaukee house was targeted by a crowd over unproven sex trafficking accusations.
As recently as Oct. 1, 2020, the U.S. government argued in court that giving Black Lives Matter activist Vaun Mayes the names of juvenile and other witnesses would pose a significant safety risk to those confidential informants in Mayes' long languishing federal case in an alleged police precinct firebombing plot.
Prosecutors allege that he "abused his mentoring responsibilities to children" through a community program, Program the Parks, that he ran in Sherman Park "by encouraging them to attack police and teaching them how to make Molotov cocktails," court documents show. Mayes' lawyer wrote in one court document that Mayes' community group had a city contract at one point and was up for consideration for county funding.
Records obtained by Wisconsin Right Now show that the Milwaukee County Board voted to give the group $37,000 in government money in November 2017 for "youth programming services." However, then County Executive Chris Abele returned it unsigned, writing, "While I support the enriching of our urban parks with programming for youth, I do not support cherry-picking from many able non-profit organizations based on Supervisor relationships." We reached out to the city for the history of funding to the group but didn't hear back.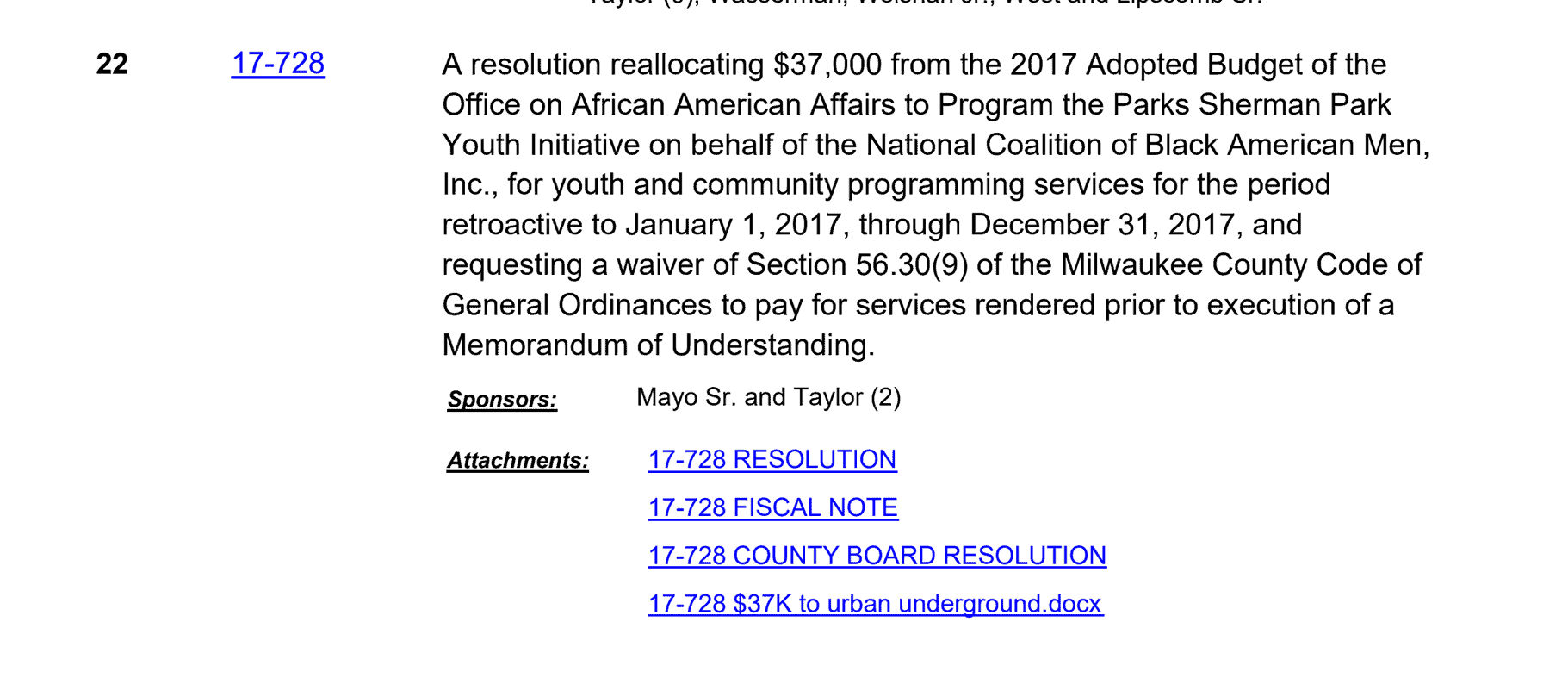 The Program the Parks group still is active, and Mayes remains involved, according to its Facebook page. He has sought donations through a Cashapp. The program was featured in a positive profile story in 2017 after getting corporate donations to give kids cocoa and coats.
Mayes has positioned himself as one of the key leaders of BLM in Milwaukee, showing up at protests, criticizing the police in inflammatory terms, and being arrested after a bizarre incident in which a Milwaukee house was targeted by a crowd over unproven sex trafficking accusations. Court documents filed by his lawyer reveal for the first time that the District Attorney "no processed" that case. We asked Deputy District Attorney Kent Lovern about that, and he confirmed the DA decided not to charge Mayes for the incident relating to the house, saying, "We completed our review of this matter during the summer and determined there was not sufficient evidence to support a criminal charge against Mayes because no other person at the scene was identified who could indicate why he was in the residence. There was no evidence that connected Mayes to items taken from the residence or to the subsequent arson of the residence."
Most recently, Mayes tracked Wauwatosa Police Officer Joseph Mensah down to a Milwaukee restaurant, where he live streamed the officer and his girlfriend, calling Mensah a "punk." He is one of the three most prolific BLM leaders. Protester Ronald Bell is charged with a felony for allegedly discharging a firearm at Mensah and his girlfriend, who was left with bruises, in a previous incident. Was Mayes there when all of that went down? That's not been established either way. Mayes has not been charged or accused of any wrongdoing in connection with the Bell situation.
In a positive profile in the Neighborhood News Service in January 2018, Mayes described how he was a homeless youth lacking direction. He ended up in an alternative high school and was involved in car theft and rock fights with police, the article says, before starting Program the Parks, which the story says "offers meals, karate lessons, a Single Parents Club and educational programs including Intro to Arts, Know Your Rights, Road Safety and Community Patrols/Safety Training."
That's not the picture the federal court documents paint despite the flattering news coverage of the program over the years.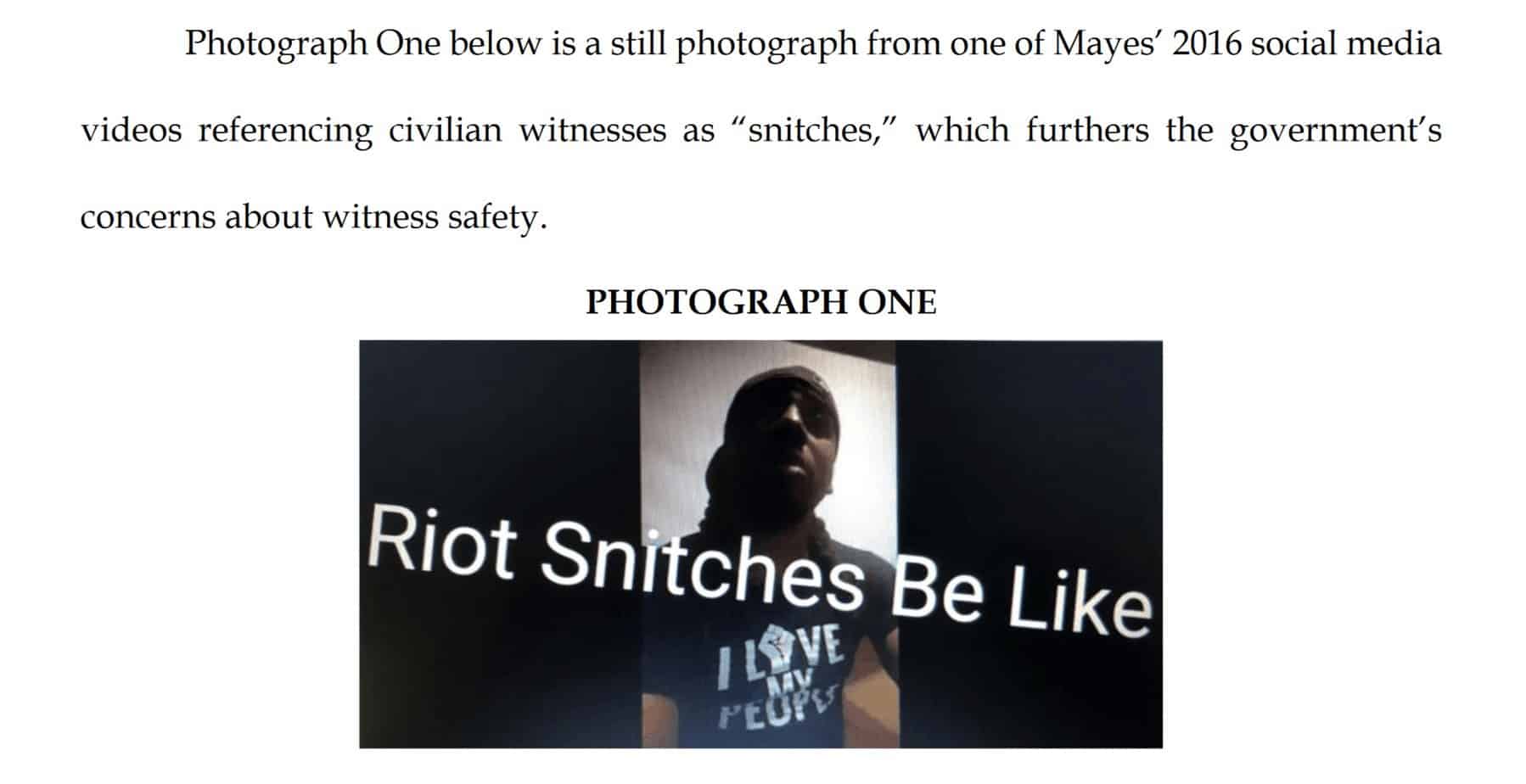 We've been asked by multiple people to investigate why Vaun Mayes' federal case is still pending (the federal charges, which stem from the 2016 Sherman Park riots, were filed in 2018). People also wonder why he's still out on the streets on pretrial release. In an attempt to answer those questions, we reviewed every document in his federal court file, more than 101 entries. Some are sealed, including documents relating to pretrial release reports and bond studies, so the rationale for keeping him on the streets now is not clear. However, a magistrate judge, William Duffin, overruled the government, which wanted Mayes detained in 2018 while the case pended, and allowed him to be released into the community. The judge said Mayes had strong "community support" and his felony criminal conviction for driving a vehicle without owner's consent was old.
A September 2019 document does note that a federal probation officer was "waiting for investigative reports regarding a traffic stop of Mr. Mayes and an alleged violation of the recently imposed curfew."
The criminal complaint described how it all started, in the government's view: During riots in Sherman Park in 2016 after the police shooting death of Sylville Smith, the ATF found a brown cardboard box in a dumpster containing 10 glass bottles with gasoline and a dark-colored fabric wick. (A jury acquitted the officer in Smith's death; all the same, the new Milwaukee city attorney is asking the Common Council to pay $4 million to Smith's family.)
The court documents allege the Molotov cocktails were made out of bottles from Mikes' Hard Lemonade, Everfresh juice, and Seagram's escape wine coolers. The complaint alleges Mayes was seen "wearing gloves and filling the bottles with gasoline, dipping ripped shirts into a bowl of gasoline and placing the soaked fabric into the tops of the bottles."
It adds, "Some of the youth who participated in Mayes' Program the Parks were present for the manufacturing of the Molotov cocktails and were asked to throw rocks at police."
In one video he recorded his face covered with a mask and is heard saying, according to court documents, "they killing their ass with these mothercking rocks. Rocking their sht. Sht going down" and "Who got the rocks? Fck you all! Punk ass cops. Getting they ass rocked!"
---
Why Mayes Was Released