Tiffany Henry, Milwaukee office director for Democratic U.S. Senator Tammy Baldwin, arrives at the interview first. Wearing a black mask emblazoned with the word "vote," she says that Khalil Coleman, one of the area's most prominent anti-police protest leaders, will soon meet us. Her face drips with slight but unmistakable disdain. She hovers throughout the interview, a caffeinated personality with large statement glasses, sometimes blocking questions, even standing to signal when the interview should stop. People need to "understand and know who the leadership is," Henry says. A cameraman is in tow.
Coleman, called Milwaukee's key organizer of the largest Black Lives Matter protest marches by the Milwaukee Journal Sentinel, gives off a different vibe. When he arrives at Milwaukee's ornate City Hall, his eyes flash with determination and intelligence. He appears eager to be understood. He's not a fan of politics, and he says he's not affiliated with the national BLM organization. Coleman is a leader in the "People's Revolution" group that has been shutting down Mayfair Mall for months, in protests that have sometimes spun into violence and disorder. Coleman, 34, seems driven by the cause. He's a somewhat diminutive man in a Milwaukee Brewers jacket with coiled energy. You can watch his full, raw and unedited interview here:
We first reached out to Coleman after learning that he openly expresses affinity for the "GDs" on social media. He insists he's not involved in crime. To him, "GD" (or G&D) stands for "Growth and Development." To federal authorities, it stands for "Gangster Disciples."
Federal prosecutors say the Gangster Disciples, then and now, are one of the most monolithic, violent, and organized criminal street gangs this country has ever seen. A professor told us the GDs, which originated in Chicago, have ties to the Italian Mafia. Gangster Disciples created mayhem on Milwaukee's north side in the 1990s when homicide was at its apex (around the time Coleman was born). We've found indictments of GDs throughout the country, including charges in 2020, one of a "regional boss." They span from Georgia to Wisconsin. In 2016, a sweeping indictment charged 48 alleged Gangster Disciples in Georgia.
Authorities alleged the "gang protected its power and operation through threats, intimidation, and violence, including murder…It also promoted the Gangster Disciples enterprise through member-only activities, including conference calls, birthday celebrations of the gang's founder, the annual Gangster Ball, award ceremonies." Money came through "drug trafficking, robbery, carjacking, extortion, wire fraud," the feds claimed. In 2017, in Milwaukee, authorities accused 11 Gangster Disciples of being responsible for violence, heroin and cocaine sales.
Due to Coleman's stature in the protest community and with Milwaukee's political leadership – he even appeared at a press conference with then Fire and Police Commission Chairman Steve DeVougas a couple hours before Milwaukee's police chief was demoted – we felt that his G&D alliances were newsworthy. It was Coleman who told the media that the press conference was over and thanked them for coming.
His G&D ties have gotten no ink in Milwaukee's media. The Journal Sentinel story exulted Coleman as the Phil Jackson to BLM leader Frank Nitty's Michael Jordan, referring to the Chicago Bulls' storied basketball dynasty. Coleman is "the key organizer of the largest local daily demonstrations that erupted after the death of George Floyd in Minneapolis. Coleman directs medics, security and traffic control and makes sure a certain order holds," the JS wrote. Coleman is sometimes overshadowed by the flashier Nitty. Don't underestimate his influence.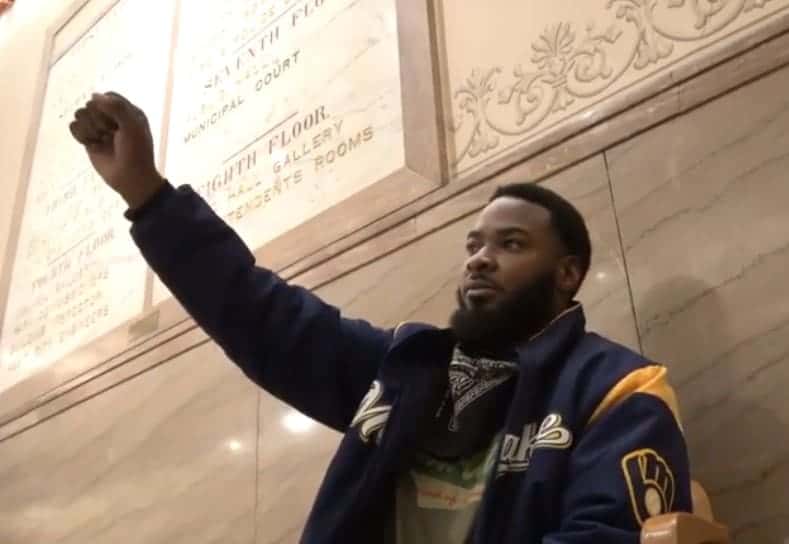 "Khalil Coleman started the movement and it goes unnoticed because he moves silent," a woman gushed recently on Coleman's wall. Another man wrote, "I need to be in Wisconsin with my G Khalil Coleman fighting a worthy cause…definitely a soldier at heart." G means "gangster."
Coleman is extremely open on Facebook about this. He uses the organization's lingo ("PML," "Folks," "NTML", etc.) routinely (he says the former means plenty much love), wears the organization's six-pointed star, meets with its co-founders and OGs (original gangsters), wears its colors, and expresses admiration for its charismatic, legendary leader Larry Hoover, a convicted murderer who ran the GDs from a state prison cell and is now in federal supermax with El Chapo and the Unabomber. In one photo, Coleman's shirt has Hoover's face captured inside the Wisconsin state outline. His Facebook profile in July was Hoover's picture inside a circle of the GDs' six-pointed stars intermingled with the words "Black Lives Matter."
"FREE LARRY HOOVER SR.," he declared.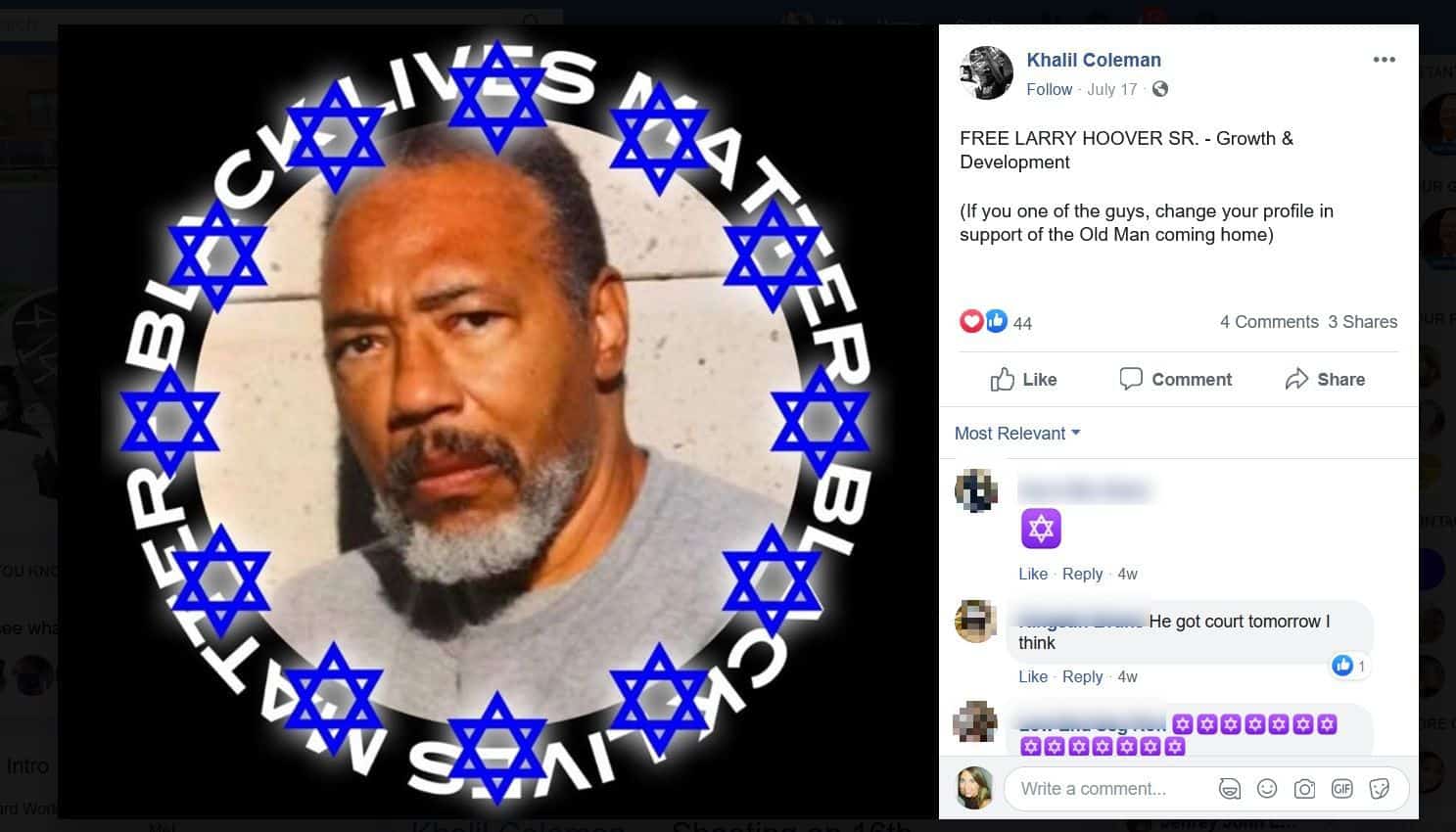 Coleman is a more compl