The Sheriff's Department says the investigation "remains active."
Two Milwaukee teenagers, ages 17 and 15, are under arrest in the vicious beating attack and murder of Ee Lee, whose body was found at Washington Park in September.
In a news release on Feb. 6, the Milwaukee County Sheriff's Office announced that it had taken "two people into custody in connection with brutal homicide investigation."
The two teenagers were "wanted in connection with the brutal assault and homicide that took place in Washington Park on Sept. 16, 2020," says the release.
Lee, 36, was discovered unresponsive in the park "with severe injuries," according to the release.
She was taken to the hospital, where she died three days later.
Initially, the teenagers, who were not named due to their ages, were persons of interest. But on Feb. 5, the Milwaukee County Sheriff's detectives "took the two individuals into custody."
They are males ages 17 and 15, both from Milwaukee, and both in custody pending a review from the Milwaukee County District Attorney's Office.
"The Sheriff's Office worked tirelessly to bring to justice the persons responsible for this senseless tragedy," Sheriff Earnell R. Lucas said in the statement. "We trust this will begin the healing process and bring some closure to the family of Ms. Lee."
The Sheriff's Department says the investigation "remains active."
We obtained the police dispatch CADD sheet through an open records request from Milwaukee police. It says a female was found "bleeding from the face" and by the lake. The Sheriff's Department then took over the case.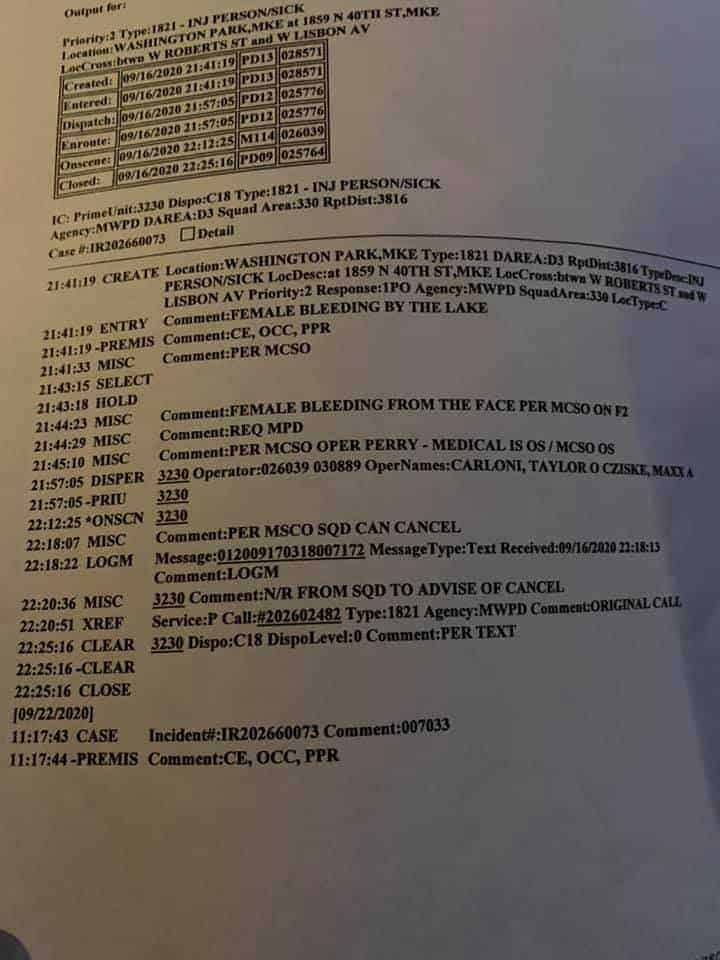 Earlier, a search warrant revealed that investigators think a group of 11 teenagers may have been involved in the brutal sexual assault and beating that caused the death of Lee near a Washington Park tree and lagoon.
Since Ee Lee's body was found in a Washington Park lagoon last September, what happened to her has been shrouded in secrecy. We'd heard that Milwaukee Police Department cops who initially responded to the scene were horrified by what they saw.
According to Fox 6, investigators now claim that Lee "was beaten by a group near a tree and then ran towards a pond, where the assault continued." The television station reported that the search warrant indicates investigators suspect that the group of "young males" may have "attacked and assaulted" Lee near the tree. Although she ran toward a pond to get away from them, she was "dragged and later found beaten, unclothed and unconscious," reported Fox 6. There was evidence of sexual assault, and cameras captured 11 people leaving the park after the attack.
Lee led a very troubled life. In 2007, she was charged with first-degree intentional homicide, child abuse, and recklessly endangering safety in the death of her 6-week-old daughter. A 2010 notation in court records says, "Court finds the def is presently not competent to proceed in this case and she is not likely to become competent within the statutory commitment period. Ct ordered def shall be released from custody; the DA's office shall inform the court of the def's legal and mental status every 12 mos."
Authorities previously released this photo of Lee in a supermarket before the attack in the park.
The Milwaukee County Medical Examiner's Office said there was a non-disclosure on the report but confirmed to Wisconsin Right Now that the death was ruled a homicide.
The medical examiner's face sheet was released. It says that Lee was 36-years-old and homeless. She died at the hospital.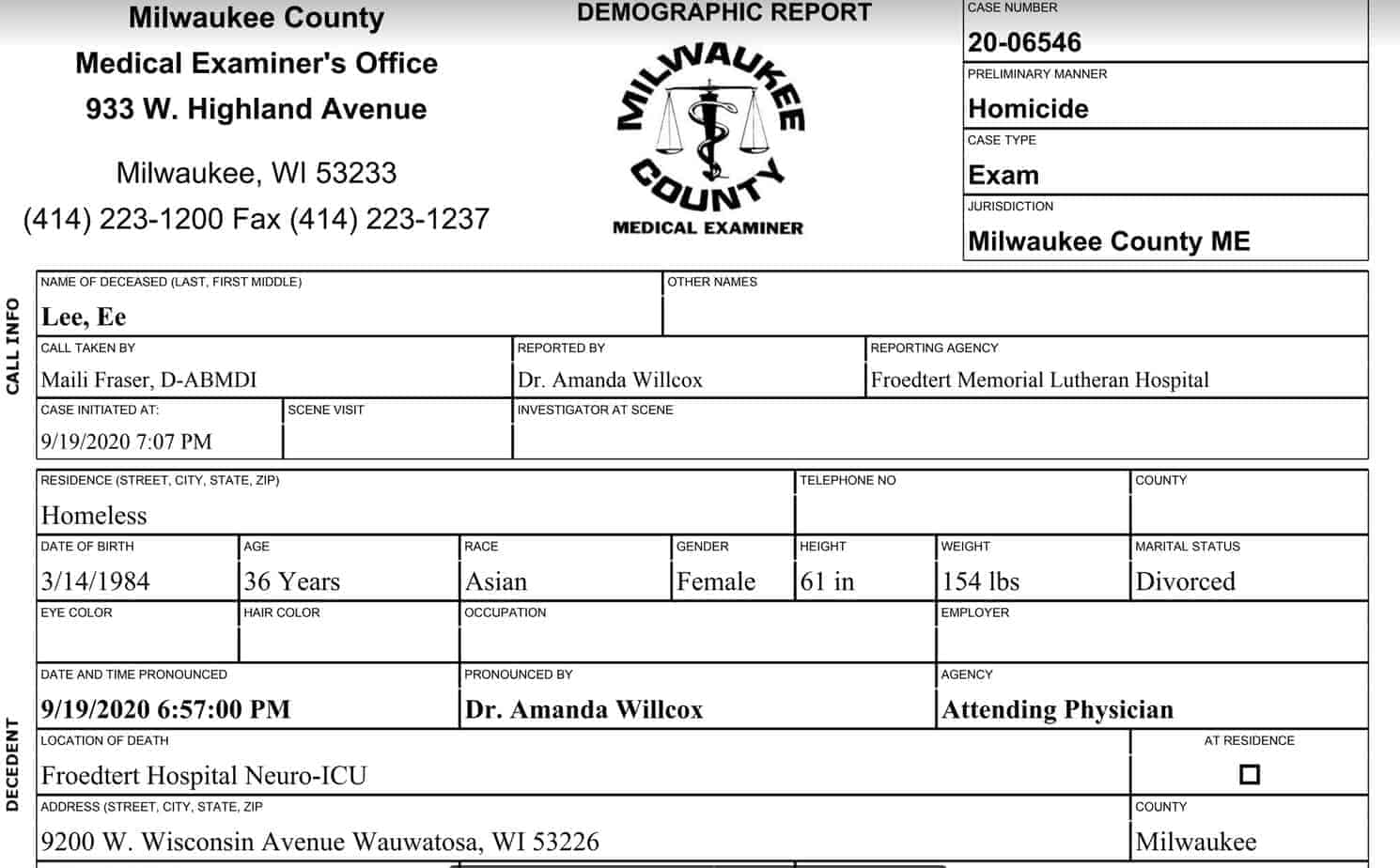 Lee was discovered around 9:30 p.m. Sept. 16 at the Washington Park Lagoon. The Hmong community previously held a vigil in Lee's name. Her sister Nancy Lee told The Milwaukee Journal Sentinel that Lee was quiet and a music lover and she was going through an "unstable time," but the sister was trying to help her through it.
The Sheriff's Department previously called the death a "fatal incident."
A Sheriff's Department press release issued at the time of the death said:
On Wednesday, September 16, shortly after 9:30 p.m., Milwaukee County Sheriff's deputies and Milwaukee Fire Department personnel responded to the Washington Park Lagoon for a report of an unconscious female subject. Upon their arrival, first responders located 36-year-old Ee Lee of Milwaukee. Ms. Lee was transported to an area medical facility, where she died on Saturday, September 19.

The Sheriff's Office is investigating Ms. Lee's death and actively pursuing multiple investigative leads. Members of the public with information regarding events in Washington Park between 6:00 p.m. and 10:00 p.m. on Wednesday, September 16 are asked to call (414) 278-4788.

Additionally, members of the public who may have observed or encountered Ms. Lee in the vicinity of Washington Park between 5:45 p.m. and 8:00 p.m. are asked to call (414) 278-4788. Shortly before 6:00 p.m., Ms. Lee was observed at 4900 W. North Ave. wearing a light blue-and-gray hooded sweatshirt and carrying a green coat and yellow bag. At 6:18 p.m., Ms. Lee was observed walking in Washington Park near the Washington Park Lagoon.