By Kevin Nicholson
With 5 'Backing the Badge and Building Bridges' Town Halls under our belt, our No Better Friend Corp. team has heard one consistent message across the state of Wisconsin: law enforcement officers take their duty to serve and protect seriously, and they appreciate the support of their communities.
"Law enforcement is the guardian to our community. There is a nobility in serving," said former Madison Police Chief Mike Koval at the first event in New Berlin on April 24th. "We are, in many cases, the only advocate for those who are voiceless and for those who are most vulnerable."
Given the many challenges law enforcement professionals are facing across our state and nation, our No Better Friend Corp. team decided to host these Town Halls throughout Wisconsin to allow local law enforcement leaders to directly address their communities about their challenges and the solutions to our problems.
At our first stop in New Berlin, our speakers made it clear that real and effective solutions to the plague of violence in our communities includes better schools, less drugs, intact families, and economic growth – and not 'defunding the police.'
"When it comes to law enforcement defunding, I can speak to the Milwaukee Police Department: we've been defunded for 15 years – but we still get the calls and respond," Former Milwaukee Police Chief Alfonso Morales said in New Berlin. "The ones doing the work are the ones getting it done. I've lived it, worked it, and experienced it in Milwaukee."
At our second stop in La Crosse, our speakers emphasized that this isn't the time to cater to the demands of the anti-law-and-order, anti-civilization mob – and our media is no help.
"The unrelenting narrative by our media – whether it's social or mainstream – they won't let up," Winnebago County Sheriff John Matz said in La Crosse on May 6th. "We need to let them know that we're not going to let it stand. We need to let politicians and the media know that using events for political gains will not be tolerated."
At our third and fourth stops in Green Bay and Hudson, our speakers further emphasized how the mistakes of politicians across our state and nation have led to a spike in violent crime – and cops are left to pick up the pieces.
Ryan Windorff, the President of the Wisconsin Fraternal Order of Police spoke at several of the events and encouraged those in attendance to become the vocal and visible majority who stand up to dangerous policies and thinking that emboldens criminals and endangers the honest, hard-working people of our communities.
In Wausau, speakers emphasized similar points, but also highlighted the stories of cops that who made the ultimate sacrifice while serving our country – Chicago Officer Ella French, State Trooper Trevor Casper, Detective Jason Weiland, among others. Marathon County Sheriff Scott Parks also discussed the recent shooting of Oconto Falls Police Officer Nicole Blaskowski – who fortunately is in recovery from her injuries.
"I am very blessed that I am the Sheriff in Marathon County. The reason I say that is because I have 218 people who go out every day to give their all for you," Sheriff Parks said on August 19 in Wausau.
Fond du lac District Attorney Eric Toney and UW-Madison Law Professor Ryan Owens joined our team at most of our events, and expressed a strong defense of law enforcement, while also pointing out their frustrations with the anti-law enforcement actions and statements of current Attorney General Josh Kaul [Wisconsin Right Now note: Both are running as Republicans for Attorney General].
Ultimately, we need leaders who will stand with law enforcement – and we the people must support those tasked with keeping the peace. That's why our team will continue to support law enforcement and help them gather with the people they serve and protect to build a better future. The outstanding attendance we've seen at these events makes it clear: we need to maintain close ties to those who keep our communities safe, so that we can work together to build a better future.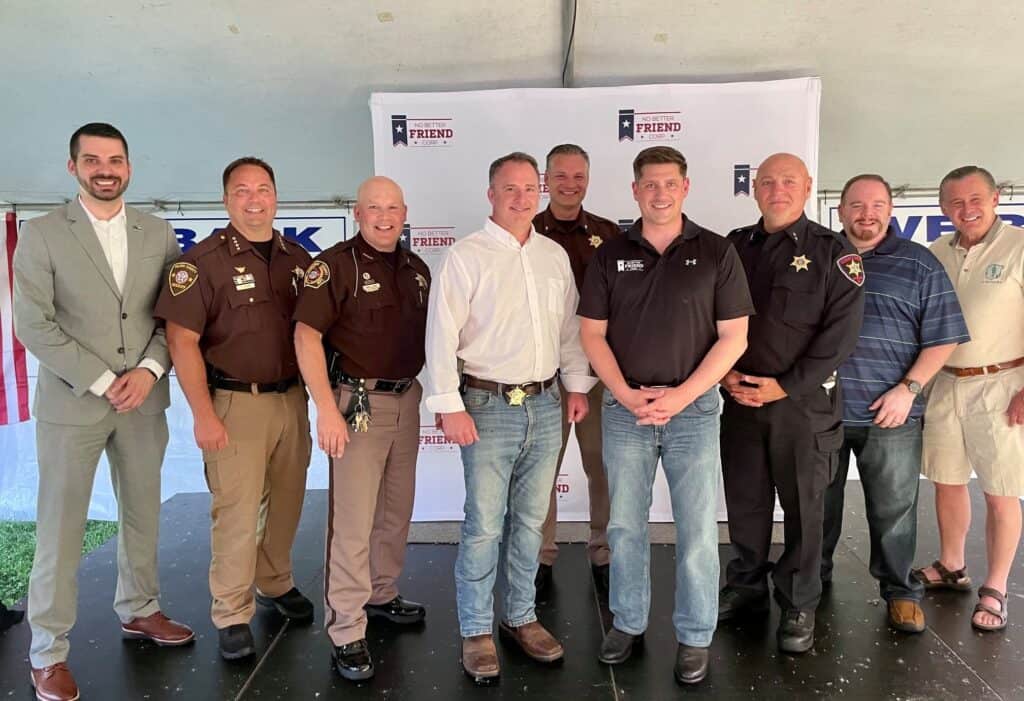 My advice to Governor Evers, Attorney General Kaul, and other leftist politicians, is to stop stabbing police in the back so as to sabotage relationships between law enforcement professionals and Wisconsin's communities. If Governor Evers cannot do at least that – it is clearly time for him to go.
Join us at No Better Friend Corp. as we take this fight – and the fight for the future of our state and nation – across Wisconsin.
Kevin Nicholson is a businessman and volunteer president and CEO of No Better Friend Corp., a conservative public policy group in Wisconsin. He is a combat veteran of the U.S. Marine Corps (Iraq, 2007 and Afghanistan, 2008-2009) and was a Republican candidate for the U.S. Senate in 2018. Follow him on Twitter @KevinMNicholson.