A total of 6 people have come forward as either eyewitnesses or corroborating witnesses to the elder abuse allegations against Supreme Court candidate Janet Protasiewicz. Yet most of the news media is censoring the allegations.
Two of the people are eyewitnesses who say they personally witnessed the abuse; the other four are corroborative witnesses who say they heard about it years ago, either from Protasiewicz's then-husband, Judge Patrick Madden, or from Madden's son Michael.
There are 2 named witnesses who have come forward regarding the racial slur allegations. They are Protasiewicz's former stepson and a self-described liberal former restaurant/bar owner named Jon Ehr.
Six people have accused Wisconsin Supreme Court candidate Janet Protasiewicz of elder abuse, and two people say they heard her use racial slurs, yet most of the Wisconsin media are censoring the allegations.
The allegations date to 1997, when Protasiewicz, then 34 and an assistant district attorney in Milwaukee County, was married for less than a year to staunchly conservative retired Milwaukee County Judge, Patrick J. Madden, then 70. Madden is now deceased. Although she has not responded to us, Protasiewicz has denied the allegations to other media outlets.
Her opponent in the state Supreme Court race, Dan Kelly, says the allegations are "credible," and should be investigated. Kelly and U.S. Sen. Ron Johnson have slammed the media for not covering the allegations more widely. All television stations, for example, have censored them.
Janet Protasiewicz Elder Abuse Allegations Rounded Up
1. Michael Madden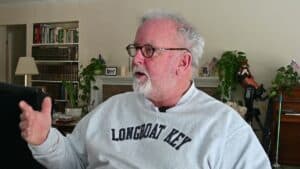 The former stepson of Wisconsin Supreme Court candidate Janet Protasiewicz alleges that Protasiewicz repeatedly assaulted her then-husband – his elderly father Patrick J. Madden – by allegedly slapping Madden with an open hand so hard that she left part of a handprint on his face and aggressively pushing the 70-year-old veteran judge so forcefully that he injured his shoulder and almost fell.
"I saw it with my own two eyes," he said.
"It was physical abuse brought on and fueled by alcoholism," Michael alleged. He said he would "absolutely" characterize the abuse as assaults by Protasiewicz. "I would say it was elder abuse." He says he would be willing to testify under oath and challenged Protasiewicz to sit with him at a kitchen table with journalists and discuss it.
Michael Madden lived in the house with Protasiewicz and his dad throughout their short marriage, court records confirm. Protasiewicz has slammed Madden for 31-year-old drug convictions, although he says he took responsibility for them and has had no brushes with the law for three decades.
The Madden/Protasiewicz marriage broke down into an ugly divorce in which Protasiewicz even tried to get a family grave plot, which would have seen her buried next to the judge's deceased first wife, who died of cancer.
---
2. Jonathan Ehr
Jonathan Ehr, 65, is a former Milwaukee restaurant and bar owner who is long-time friends with the Madden family. His now-deceased attorney father was also friends with Judge Madden for decades. Ehr, a self-described "liberal" who used to run the Ardmore on the Marquette campus, was at the Madden home growing up and throughout the years, including during the judge's 1997 short-term marriage to Protasiewicz, he said.
"Physically, I, you know, I saw her like push and shove him, and that kind of thing. You know, 'I don't want to go, I'm not up for that, I don't want to do it,' and, you know, she's, kind of, kind of abusive that way. I don't think she realized that he was as old as he was, you know. She shouldn't have been treating him that way. It's the age difference again, you know. She just didn't understand how to handle him. She had some other issues as well that I remember the judge saying and talking about."
Listen to Ehr's full interview here:
---
3. Dr. Mark Madden
Dr. Mark Madden, the second former stepson of Supreme Court candidate Janet Protasiewicz to come forward, told Wisconsin Right Now that he remembers his brother, Michael, telling him in 1997 that Protasiewicz allegedly "slapped him (her husband) around a bit," referring to their father, retired Judge Patrick J. Madden.
Dr. Mark Madden, who is a retired orthopedic surgeon from Virginia with no criminal history, previously told Wisconsin Right Now that he did not know about the alleged abuse, but he told us that he meant then only that he did not actually see the alleged abuse himself, because he did not live in the house or state. In contrast, he said, Michael Madden lived in the home with the couple, and court records confirm that.
Dr. Madden told us that he heard about the abuse at the time because Michael Madden called him during the 1997 marriage between Protasiewicz, 34, and Judge Madden, 70, and told him about the alleged abuse at that time.
He also said that Michael alleged that Protasiewicz was "drunk again and pushing dad around." He said Michael made it clear that he was alleging that Protasiewicz was pushing Judge Madden around physically.
---
4. Arizona Woman
An Arizona woman who is married to a prominent business executive told Wisconsin Right Now that Judge Madden told her in 2000 or 2001 that Protasiewicz was physically abusive to him.
She requested that we not print her name, although we know it, and we have spoken to her on the telephone at length.
"She slapped the judge around," the Arizona woman alleged of Protasiewicz. "Oh my gosh it was at least 20 years ago, when my little guy was small, but Michael and I would talk, and he told me right away about his stepmom."
She said she heard about the physical abuse allegations from both Michael Madden and Judge Madden.
"Both. I heard it from both. The judge mentioned it a couple of times. Judge – he had said she was physically abusive. He was a much older man. I'm listening. I kind of raised my eyebrows. He said, 'She slapped me a few times,' and I thought, really? I didn't want to be nosy. I was just more shocked than anything at the way she treated him."
The Arizona woman said that Judge Madden also said Protasiewicz was mentally abusive in addition to physically. "There was some drinking going on as well. The judge brought it up a couple times; he was saying he had a wonderful first marriage. but the second marriage was a bad marriage, a troubled marriage, a short one too, thank God. It should have ended a lot sooner."
She added of Michael Madden, "Michael is a good man. He screwed up when he was younger. That should not follow a person for the rest of their lives. He helps out people all the time. For years and years."
"He (Michael) had said she had slapped his father around and was horribly mentally abusive. It was terrible, he said. It was just terrible." The Arizona woman said she heard all of this in 2000 or 2001.
---
5. A Family Friend
A family friend offered a point of corroboration, telling Wisconsin Right Now in a separate interview that Michael Madden told him on two occasions in 1997 that Protasiewicz had physically abused his father.
"I can corroborate him (Michael) telling me about this in the time frame of that marriage," the man said. We have his full name and interviewed him for some time. However, he wanted to stay anonymous because of the contentiousness of the state Supreme Court race.
---
6. Rita
In her 80s, Rita lives in a Florida condo complex where the judge would stay after his divorce. She still lives there. We have Rita's last name, but she also did not want it printed because of the contentiousness of the state Supreme Court race. She said we could print her first name, however. We spoke to her on the phone from her home in Florida.
"I know she was abusive to him. She was very abusive. The whole thing was very sad. It was a bad situation. He was not proud of that moment," said Rita of Protasiewicz. Rita said she was told Protasiewicz "was not a nice person."
Rita said she learned this all years ago, but she couldn't remember whether she heard it from Judge Madden's son Michael Madden or Judge Madden himself because it was so long ago. "She's not fit to run in the office," concluded Rita.
The allegations are not mentioned in the divorce file and police were not called; the Madden brothers say their father was a private man, an elderly Navy veteran of a different generation, who would not have shared something like that in public.
---
Protasiewicz Racial Slur Allegations
1. Michael Madden
Madden, Protasiewicz's then stepson, said in a videotaped interview that he heard Protasiewicz use the "N-word" to refer to blacks who were involved in court cases while she served as a prosecutor in Milwaukee County Children's Court, including the parents of black children and blacks accused of crimes.
Specifically, he recalls her using the "N-word" to refer to parents of black children in Children's Court cases and also called them "lowlifes," he said. At another point, he said she also referred to criminal defendants as the "N-word."
---
2. Jon Ehr
Jon Ehr, a former Milwaukee restaurant/bar owner and self-described "liberal," told Wisconsin Right Now that Protasiewicz used the "N-word' in front of him to refer to blacks and also used a racial slur to refer to Hispanics.
"I think it was the "N-word" and then I thought she said, I could have sworn she said, beaner, or something, beaner," he said.
Asked again if he ever heard Protasiewicz say a racial slur, Ehr said, "I did." He added that he did not "know what they were talking about at the time" because it was so many years ago. "I was surprised, and I don't even know what they were talking about," he said. However, he said it was clear Protasiewicz meant it in a derogatory fashion.
Asked who he meant by "they," Ehr said, "Janet and the judge were talking. And I remember, Judge, I never heard anything bad come out of that man. Seriously, he was a very, very nice guy."